14 September - 09 October 2020 00h00 - 00h00
/ Duration: 26 DAYS
Cyber Security: A Virtual Learning Journey
 An in-depth examination of the core legal, technical, social and political aspects of today's cyber security landscape
Cyber security is about technology AND people, not technology OR people.
This course provides an innovative and dynamic virtual learning journey exploring the core legal, technical, social and political aspects of today's cyber security landscape.
Our unique learning approach means that you will participate in interactive virtual workshops while taking advantage of both self-paced and social learning opportunities.
On this learning journey you will explore new resources and engage with your peers through an interactive online platform, enjoy discussion fora with participants and experts and take advantage of opportunities for deeper and meaningful online conversations. It means that on this journey, together we will:
Discover: learn about the cyber security issues facing the world today;
Connect the Dots: engage in conversation, cooperation and creative solution-building with experts in the fields of cyber law, cyber defence and cyber crime; and
Achieve Impact: use your new skills and knowledge to make a difference in your work and life.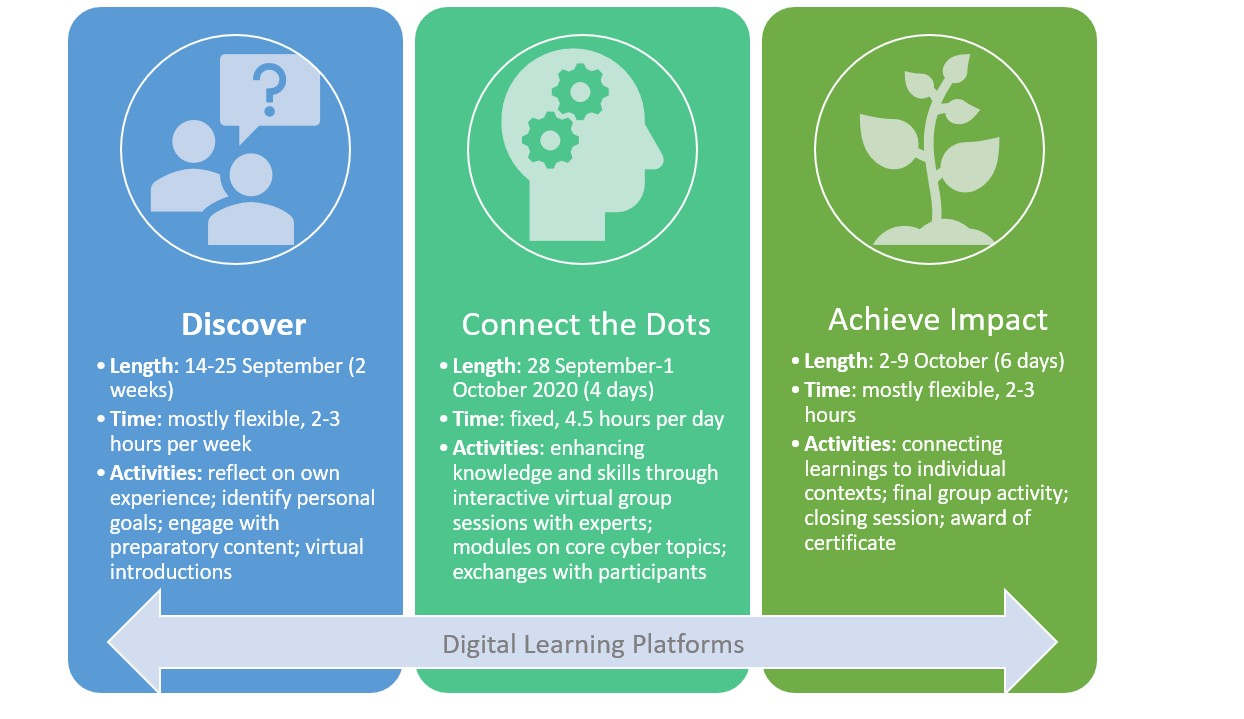 Learning Outcomes on this Journey
Participants on this virtual learning journey will understand how technical and non-technical aspects of cyber security connect with each other in order to help you develop holistic and creative solutions to today's cyber security challenges. By combining scenario exercises, expert presentations and dialogue amongst course participants, the course promotes an active learning approach to the core fundamentals of cyber security.
Schedule
Phase 1 - Discover: 14-25 September 2020
Phase 2 - Connect the Dots: 28 September - 1 October 2020
Phase 3 - Achieve Impact: 2 - 9 October 2020
Note:  This course runs from Central European Time (CET).
This course is intended for those wishing to extend their knowledge of cyber security as well as related cyber trends including:
Government officials (including diplomats, military officers, intelligence analysts)
Staff from international organisations
Representatives from the non-profit sector
Private sector actors.
750 CHF
GCSP Alumni qualify for a 20% discount on the standard rate of 750 CHF.
Bring-a-friend discount: 650 CHF per confirmed application (ensure your friend or colleague mentions your name in their online application)