Integrated Risk Management (IRM) and Critical Infrastructure Protection (CIP)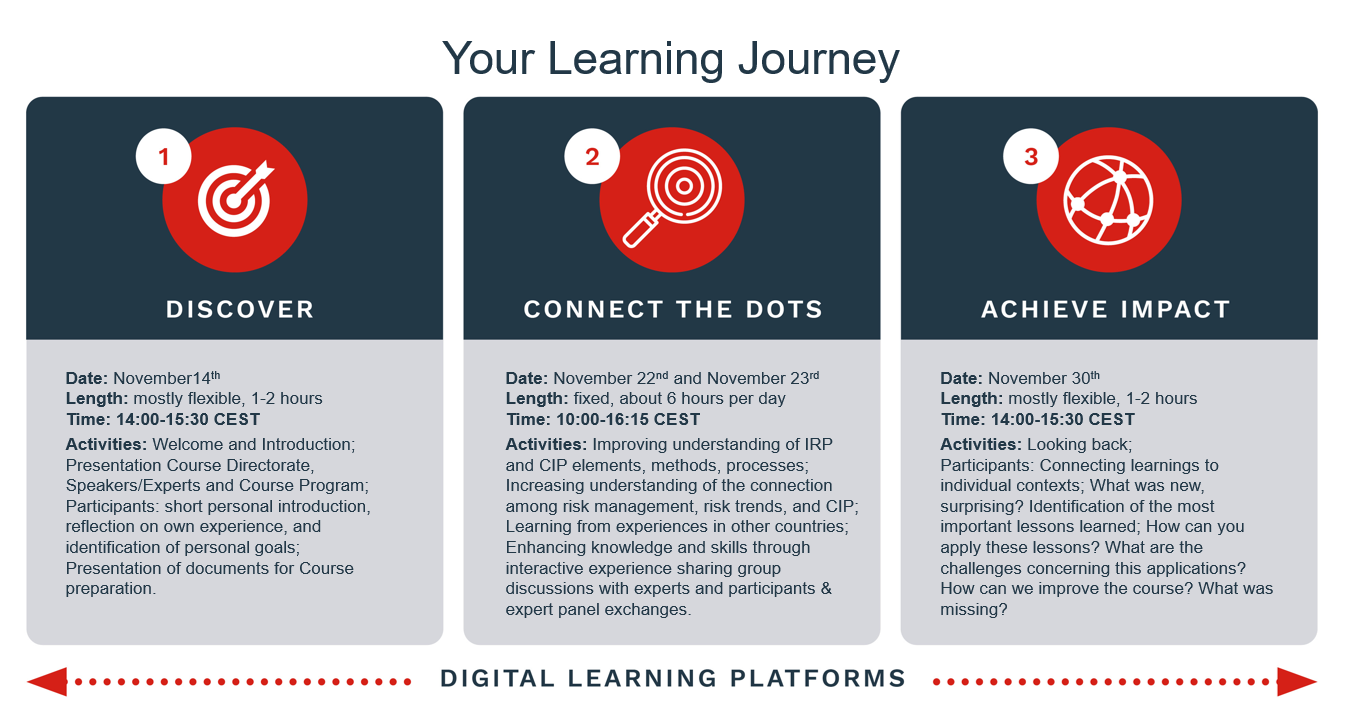 By knowing current and emerging risks all over the world, in my country, and in my specific situation
By anticipating new risks
By understanding IRM/CIP elements, methods, and processes
By knowing the experiences of other countries and organisations, the lessons learned from past and actual disasters, and the level of best practices
By identifying and prioritisation risk reduction processes

By implementing the most important and urgent risk reduction actions
You will be confronted with State-of-the-art knowledge concerning global risks, risk trends, IRM/CIP elements and methods, risk reduction processes and actions, the best practice level and lessons learned from past and actual disasters, together with experts and course participants from different countries and organisations
Learning Objectives
Recall and identify key elements, methods, and processes related to IRM (Integrated Risk Management) and CIP (Critical Infrastructure Protection).

Recognize the connection between risk management, risk trends, and critical infrastructure protection.

Explain the fundamental concepts and principles of IRM and CIP.

Learn how to identify new or emerging risks and how to deal with uncertainty.

Apply the acquired knowledge of IRM and CIP elements to real-world scenarios.

Discover global interdependencies and learn how to reduce supply chain risks.

Evaluate different experiences and case studies from various countries in the context of IRM and CIP.

Assess the effectiveness of risk management approaches in different scenarios.

Critique and compare different approaches to risk management and their impact on critical infrastructure protection.

Assess the strengths and weaknesses of current risk management practices.

Generate innovative strategies and solutions to enhance IRM and CIP efforts.

Develop recommendations for improving risk management practices and strengthening critical infrastructure protection.
If you are working in the field of Risk Management in general, if you are responsible for or interested in Critical Infrastructure Protection, you will highly benefit from this virtual learning journey.
For those who are interested in the actual global risks, the risk trends in general or in specific countries, the issue of resilience of countries and organisations, this virtual learning journey offers participants the opportunity to learn from international experts and participants from all over the world.
500 CHF
15% Early-Bird Discount if you apply before 21 September 2023.
GCSP Alumni qualify for a 20% discount.
Application Deadline: 7 November 2023