Insights
Our multi-disciplinary experts bring you fresh perspectives and timely, relevant analysis from across the globe. Join our upcoming events, read our insights and publications, and follow live discussions and interviews through our digital hub.
Didn't find the event you were looking for? May we suggest a related
topic
or
upcoming course
?
You can also register for our newsletter to make sure you never miss out on another course or event!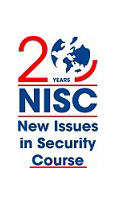 On 26 June 2019 the GCSP together with the 20th NISC participants, former NISC directors, alumni, fellows and staff celebrated the 20th New Issues in Security Course with a workshop on Emerging Issues in International Security.
News
This one week-long course is aimed at Swiss professional (regular) colonels attending the Weiterausbildungslehrgang 2 (WAL 2). GCSP provided expert training on international. The course was directed by Colonel (GS) Christian Bühlmann, Head of Diplomatic Dialogue and coordinated by Mr Thierry Randon.
News
22 January 2019
GCSP: 2019 Course Videos Promo Video