13 April - 06 May 2021
/ Duration: 3.5 WEEKS
Lead and Influence with Impact - #LIMPACT: A Virtual Learning Journey - April Edition 2021
Lead and Influence with Impact (#LIMPACT)
An in-depth opportunity to expand your skills to lead and influence and increase your impact 

#LIMPACT is a journey to equip professionals with strategies to lead with impact in a rapidly changing context

The programme addresses the need for future-focused leadership by exposing you to new perspectives, knowledge and tools to grow your leadership skills and capability.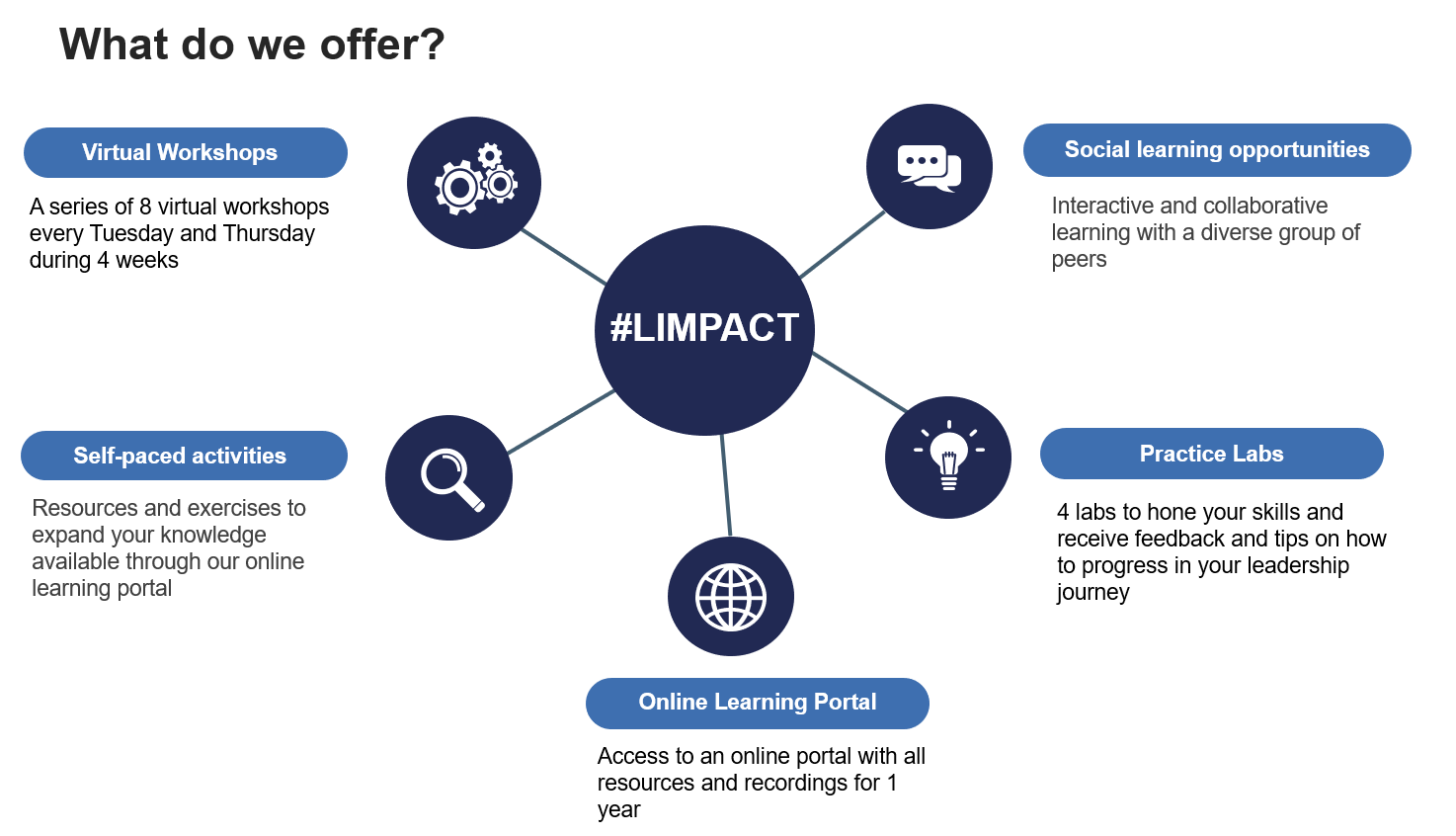 Why is this course important right now?
There is an increasing need for people who can mobilise and influence others towards achieving common goals, especially leading out of crisis. Your ability to influence sets you apart. During this 4-week course, composed of eight 90-minute virtual workshops and 4 practice labs, you will explore practices that will motivate, focus and equip you and those around you. 
This highly-rated course has been running for 5 years with the most recent face to face edition given an overall 5 out of 5 rating by the participants. As circumstances have changed, we have adapted this course into a fully online yet deeply collaborative learning experience meaning you can now participate from anywhere in the world.
After completing the course, previous online #LIMPACT participants experienced on average a 40% improvement in influence capability and knowledge compared to pre-course measurements. You will emerge from this experience better equipped to help yourself and the people you work with get results and achieve meaningful impact.  
Methodology
Our blended learning approach means that you will actively participate in expert-led virtual workshops twice a week and take advantage of both self-paced and social learning opportunities. 
Sessions will be participative, engaging and applied, leveraging expert insight with learning with and from a diverse group of talented peers. Action-learning design is used so you will directly apply practices and give and receive feedback from peers on your own and others' leadership challenges. You will practice influence and leading, starting from where you are.  
Schedule and Modules

*Each module will feature both virtual workshops as well as self-paced and social learning activities. Each virtual workshop will last 90 minutes. You will be expected to dedicate in total, including online sessions, up to 6 hours per week to the course. Timing is GMT+2.
What makes this course unique and impactful?
The online course is highly rated both overall and for its content. It is based on practices and researched-based frameworks adapted and curated from leading practitioners and leaders
The Key Leadership Challenge (KLC) that runs throughout the course means you will straight away be able to apply what you learn to your work. The KLC anchors your learning in your work/life
The 4 Practice labs provide immediate and lasting impact. Past participants report productive progress during the course, not just 'afterwards'
You will receive a fully personalised Influencing Style Assessment report that brings personal insight
Your peers will be diverse (nationality, culture, sector, seniority) bringing relevant and innovative views. They will become part of your network, and you will gain access to the GCSP's global community of thousands of experts and practitioners
Testimonials
This course is for you if you want to advance in your career by: 
Improving your ability to build trust and influence diverse stakeholders when working on challenging issues
Adopting leadership practices to quickly create and sustain collective direction, alignment and commitment
Learning how to adapt your communication and leadership style to the context in order to have more influence and impact
Putting everything you learn into practice immediately and get support from an international network of influential professionals 
1'250 CHF 990 CHF

Due to the ongoing impact of COVID-19 and the increased importance of how leadership is practiced at this time, the Geneva Leadership Alliance is offering this course at the most accessible rates possible.

Special offers:
Bring a friend: 690 CHF
(ensure your friend or colleague mentions your name in their online application)

GCSP career support initiative: 490 CHF
(upon provision of evidence that your professional status has been directly impacted due to the current situation and you are unable to perform your job)

*Alumni: GCSP Alumni qualify for a 20% discount on the standard rate of 990 CHF
**A limited number of scholarships may be granted on a case-by-case basis. You will have to complete a scholarship application.