19 October - 12 November 2020
/ Duration: 4 WEEKS
Legal Dimensions of Contemporary and Future Use of Force 2020: A Virtual Learning Journey
Virtual live sessions (three ½ days plus introductory & concluding sessions) and additional expert guided independent work and exchange.
The use of force is increasingly regulated by a complexity of legal instruments and norms.
High-quality analysis of conflicts and effective policy making is not feasible without mastering the respective legal landscape.
This learning journey convenes a variety of professions from different continents; promotes innovative exchange of opinions and ideas and fosters a unique global network.
On this learning journey you will explore the legal dimensions of the contemporary use of force and engage with your peers through an interactive online platform, enjoy discussion fora with participants and experts and take advantage of opportunities for deeper and meaningful online conversations. It means that on this journey, together we will:
Discover: learn about international law on the use of force, as well as its effects and limits;

Connect the Dots: engage in practical exercises and conversation with experts in the fields of the law of armed conflict, human rights law, peace operations and emerging technologies;

Achieve Impact: use your skills and knowledge to make a difference in your work and life.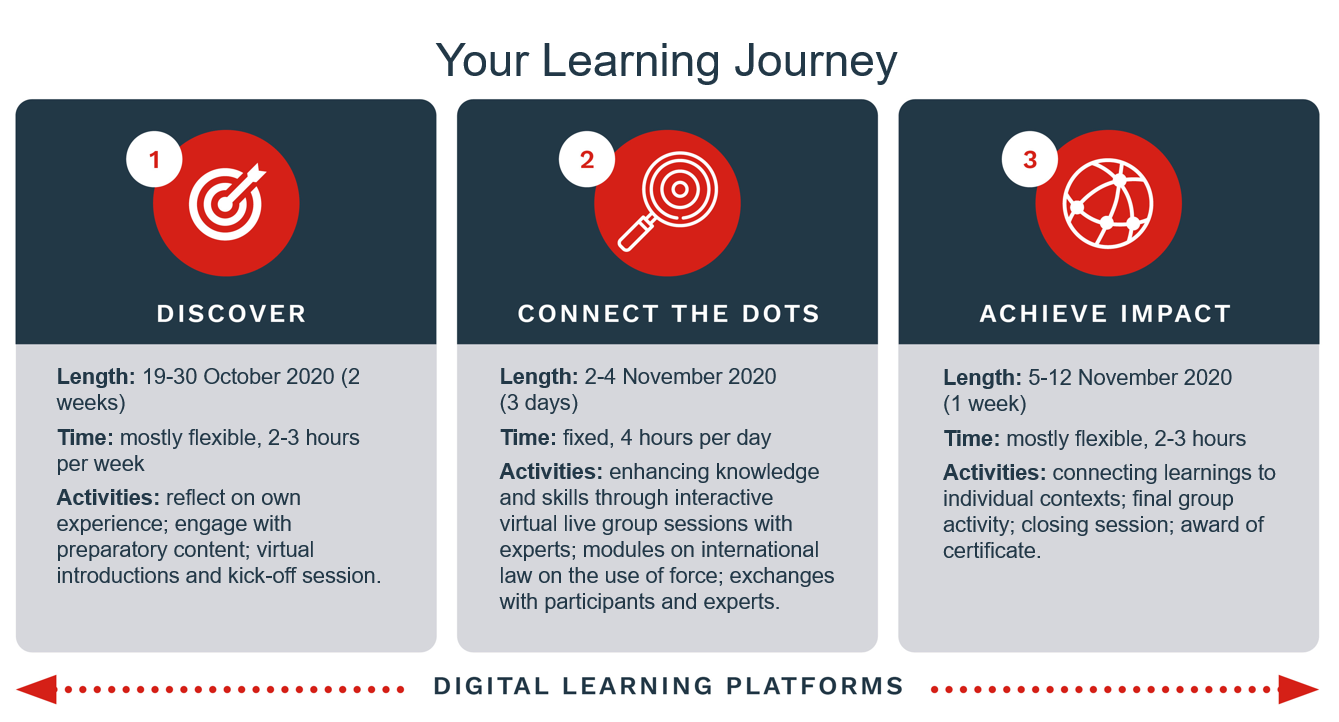 Our educators include the GCSP's international team composed of academics and practitioners with broad experience in security policy, diplomacy and/ or military affairs, as well as guest speakers who are government officials, military officers, representatives from international institutions and civil society, academics  and researchers.
Learning Objectives on this Journey
Participants on this virtual learning journey will:
understand international law on the use of force, as well as its effects and limits
analyse international legal processes and documents
articulate legally sound security policy decisions
influence the development of new international law on and related to the use of force
The following professionals will benefit from attending the course:
military staff
diplomats
government officials
staff of international organisations
security experts
humanitarian actors
750 CHF
GCSP Alumni qualify for a 20% discount on the standard rate of 750 CHF.
Bring-a-friend discount: 650 CHF per confirmed application (ensure your friend or colleague mentions your name in their online application)