01 - 31 March 2021
/ Duration: 1 MONTH
Leverage Diversity to Increase Performance - A Virtual Learning Journey
The course introduces you to key mindsets, toolsets and skillsets to lead more inclusively and generate successful collective outcomes
Organizations are more than ever required to leverage the diversity of their employees and teams to thrive in this ever-changing and highly competitive world.
Substantial evidence demonstrates that diverse and trusting teams in the public and private sectors may enable the advancement of peace, security and sustainable development.
However, leveraging diversity demands an environment of inclusion and equality. And this is where things get tricky for organizations. Most organizations approach diversity, inclusion and equality as a problem to solve or a tick-box exercise instead of being a series of polarities that they have to understand, balance and lead. To read more about polarities, please find this op ed "Diversity and Inclusion: applying ancient wisdom to shift mindsets for more sustainable outcomes."
This course is run with the Geneva Leadership Alliance, a first-of-its-kind partnership that brings together in-depth understanding of peace, security and policy issues at the GCSP, as well as over 40 years of research and expertise developing leaders through the Center for Creative Leadership (CCL).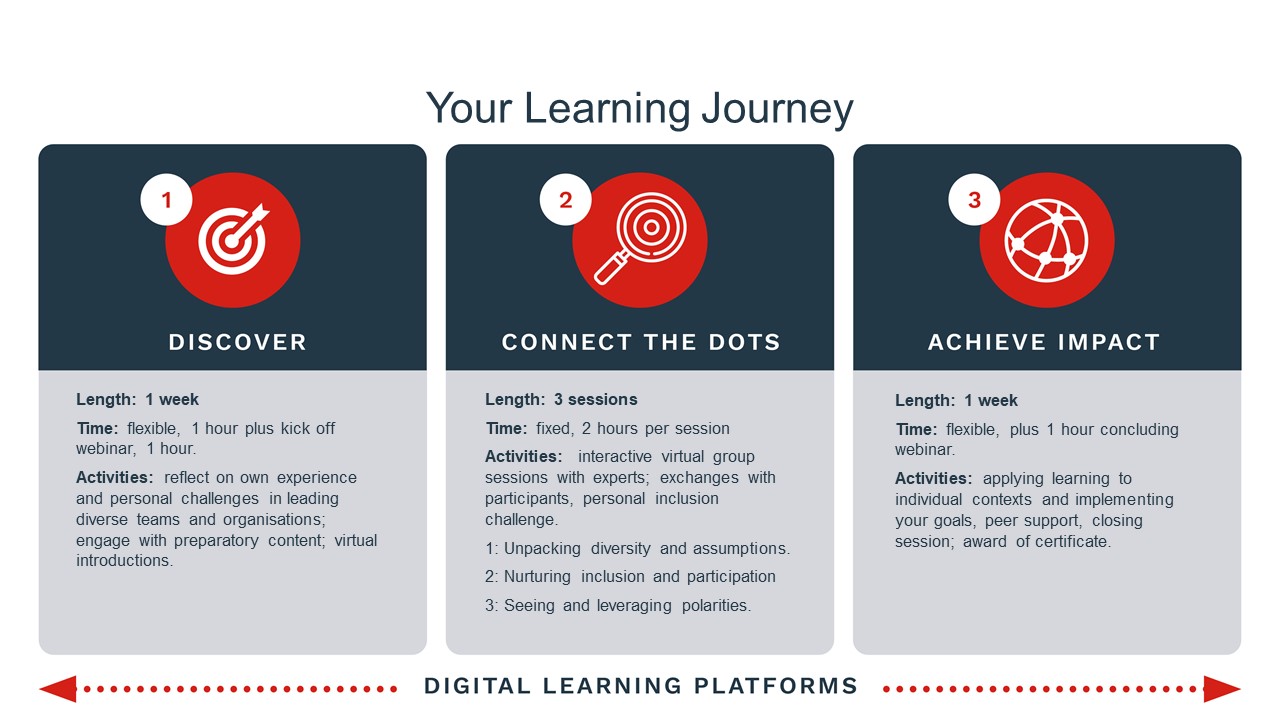 Learning Objectives
The modules of the course will enable you to:
Understand different aspects of diversity and the factors that contribute to high performance in teams;

Learn and share with other professionals the best practices to nurture participation and inclusion for enhanced team performance;

Apply a tool to see, map and leverage different polarities (tensions) within teams and organisations;

Build your network of professionals.
This course is designed for professionals seeking to advance diversity and inclusion within organisations as well as team leaders and aspiring team leaders with at least 5 years of professional experience, who are critical in creating a culture of inclusion and enabling diverse teams to grow. 
375 CHF
Due to COVID19 situation and the understanding of the need for specific soft skills and leadership good practices particularly at this moment, the GCSP is offering the programme with more accessible prices.


Special offers:
GCSP Alumni qualify for a 20% discount on the standard rate of 375 CHF

Bring a friend: 300 CHF (ensure your friend or colleague mentions your name in their online application)