Team Pallas Athena from University of the Bundeswehr Munich Wins the 9th Geneva Cyber 9/12 Strategy Challenge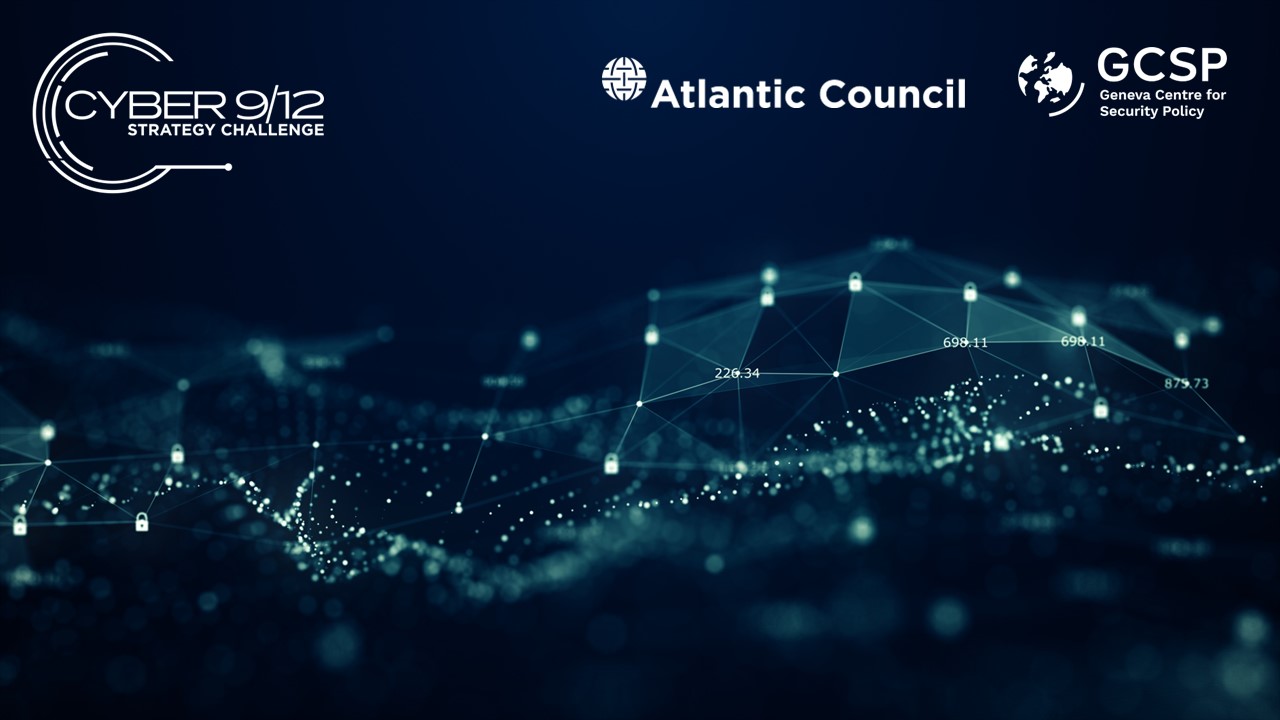 Team Pallas Athena from University of the Bundeswehr Munich Wins the 9th Geneva Cyber 9/12 Strategy Challenge
Team Pallas Athena from University of the Bundeswehr Munich is the winner of the 2023 Geneva Cyber 9/12 Strategy Challenge co-organised by the Geneva Centre for Security Policy and Atlantic Council 
This two-day virtual event took place on 13-14 April 2023. The competition received a record number of application. 28 teams, comprising nearly 150 competitors and coaches, were selected. As the most international edition of the Cyber 9/12 Strategy Challenge series, this year's Geneva competition involved competitors from 33 academic institutions in 16 countries including Belgium, Czech Republic, Germany, Denmark, Estonia, France, Hungary, Italy, Netherlands, Serbia, South Africa, Sweden, Switzerland, Uganda, United Kingdom and the United States. 
Four teams competed in the third and final round: 
The Geneva Cyber 9/12 challenges university students to respond to an evolving cyber crisis scenario in real-time. This year, the scenario revolved around a massive DDoS attack targeting the network of a European telecommunications company and coinciding with the product launch of a major tech giant. Over the two days, the teams had to quickly respond to new developments and offer policy recommendations to a panel of seasoned cybersecurity experts, who served as judges and roleplayed as the leadership of ENISA. The students were assessed based on the quality of their proposals, analysis, creativity and presentation skills. 
Team awards:  
More than 40 seasoned cybersecurity professionals participated as judges. They include: 
Dr Carlos Anastasiades, Senior Manager, KPMG Switzerland 
Mr Robin Andreasson, Manager, KPMG Sweden 
Dr Christopher Ankersen, Clinical Professor, NYU Center for Global Affairs 
Ms Sarah Backman, PhD Candidate, Stockholm University 
Ms Carla Baker, Senior Director, Public Policy, Palo Alto Networks 
Mr Johnny Bengtsson, Forensic Expert, Swedish National Forensic Centre 
Mr Mattia Caniglia, Associate Director, DFRLab, Atlantic Council 
Dr Rafik Chaabouni, Cyber Security Architect, Swiss Armed Forces Staff 
Ms Kaja Ciglic, Senior Director, Microsoft 
Prof. Lynne Coventry, Director, Abertay cyberQuarter, Abertay University 
Prof. Frederick Douzet, Professor, Institut Français de Géopolitique 
Brigadier General (res.) Rami Efrati, Former Head of the Civilian Division, Israel National Cyber Bureau, Prime Minister's Office 
Dr Amy Ertan, Cyber Policy Officer, NATO 
Ms Elvire François, Government Affairs Manager, Microsoft 
Mr Janne Haldesten, CSO, Sectyne 
Ms Verena Jackson, Lawyer/Researcher, Bundeswehr University Munich 
Mr Saldys Jusu-Sheriff, Managing Partner, Africa Risk Management and Compliance Partners 
Dr Mazaher Kianpour, Postdoctoral Research Fellow, Norwegian University of Science and Technology 
Dr Djordje Krivokapic, Associate Professor, University of Belgrade 
Dr Marina Krotofil, Senior Technical Advisor, ISSP 
Ms Sonia Kumar, Senior Manager, Cyber Defence Incident, Vodafone Group Ltd 
Prof. Clara Maathuis, Assistant Professor, Open University of the Netherlands 
Ms Merle Maigre, Programme Director of Cybersecurity, e-Governance Academy 
Dr Nebile Pelin Mantı, Academic, cyber/space law, Istanbul University 
Mr Nicolas Mayencourt, Founder & CEO, DreamLab Technologies AG 
Mr Inge O. Moen, Senior Advisor, Norwegian University of Science and Technology 
Prof. Simin Nadjm-Tehrani, Professor in Computer Science, Linköping University 
Dr Tim Nedyalkov, TISO, Commonwealth Bank of Australia 
Dr Brett van Niekerk, Senior Lecturer, Durban University of Technology 
Ms Dixie O'Donnell, Strategic Risk Manager, Trust & Safety, Google Ireland 
Mr Floyd Pernisch, Cybersecurity & Privacy Leader – Investment, IKEA 
Mr Jody Prescott, Lecturer, University of Vermont 
Dr Trishana Ramluckan, Research Fellow, University of KwaZulu-Natal 
Ms Zainab Ruhwanya, Lecturer in Cybersecurity, University of Cape Town 
Dr Josef Schroefl, Deputy Director, Col S&D, European Centre of Excellence for Countering Hybrid Threats 
Mr Daniel Seiler, IT Project Manager, Swiss National Cyber Security Centre 
Dr James Shires, Senior Research Fellow, Chatham House 
Ms Limor Shmerling Magazanik, Owner, Leshem Cyber Consulting 
Mr Nick Small, Strategic Advisor, Cyber Resilience for Development (Cyber4Dev) 
Ms Szilvia Toth, Cyber Security Officer, OSCE 
Ms Noëlle van der Waag-Cowling, Cyber Program Lead, SIGLA, Stellenbosch University 
Several ceremonies and side events took place in parallel with the competition. Mr Lorenz Inglin, Head of Cyber Defence at Swisscom, kicked off the event with a keynote speech on "5G and Beyond: Security of Future Mobile Infrastructures." Swisscom and Ernst & Young, two of the competition's sponsors, hosted online career briefings for the participants about the various opportunities they offer in cybersecurity. 
On Day 2, Ms Christina Orisich, Deputy Director of the GCSP, moderated a panel discussion on careers in cybersecurity. The participants later received an expert briefing by Ms Heli Tiirmaa-Klaar, Director of the Digital Society Institute and former Estonian Ambassador for Cyber Diplomacy, on geopolitical cyber risks and lessons from the 2007 Estonia cyber-attacks. Finally, Ms Safa Shahwan Edwards, Deputy Director of Atlantic Council's Cyber Statecraft Initiative, moderated the "Scenario Masterclass" panel where judges weighed in on this year's fictional cyber crisis.  
The event closed with a keynote address by Mr Märt Volmer, Undersecretary for Global Affairs at the Ministry of Foreign Affairs of Estonia, before the winners were announced by the Competition Director, Mr Gazmend Huskaj, and Head of the Atlantic Council's Cyber Statecraft Initiative, Dr Trey Herr. 
The following 28 teams participated (alphabetical order):   
Team 405 Found, IMSISS programme 
Team Aalborg University, Aalborg University, Denmark 
Team Colonials Pipeline, George Washington University, United States 
Team Cyber Punks, Vrije Universiteit Amsterdam, Netherlands 
Team Cyber Sailors, US Coast Guard Academy, United States 
Team Cyber Transcendence, European University Institute, Italy 
Team Cyberiyada, University of Belgrade (et alia), Serbia 
Team CyTroopers, Makerere University, Uganda 
Team Error 451 Unavailable for Legal Reasons, Swedish Defence University, Sweden 
Team Four-Byte Force, OTH Regensburg, Germany 
Team GSD_makeyouWannaCry, Geneva School of Diplomacy, Switzerland 
Team Hydra, ETH Zurich, Switzerland 
Team International Cyber Tigers, Geneva Graduate Institute, Switzerland 
Team Mak Shields, Makerere University, Uganda 
Team Moravian Malware Melee, Masaryk University & Brno University of Technology, Czech Republic 
Team Name`; DROP TABLE users, Masaryk University & Brno University of Technology, Czech Republic 
Team nETHics, ETH Zurich, Switzerland 
Team Pallas Athena, Bundeswehr University Munich, Germany 
Team PetyaPirates, University College London, United Kingdom 
Team Solid Cyber, Tshwane University of Technology, South Africa 
Team Special Defence Service, Swedish Defence University, Sweden 
Team TalNups, TalTech & National University of Public Service, Estonia & Hungary 
Team The Phishing Phighters, Masaryk University & Brno University of Technology, Czech Republic 
Team togETHer, ETH Zurich, Switzerland 
Team Trolling Thunder, Brussels School of Governance, Belgium 
Team USMA Golden Knights, US Military Academy, West Point, United States 
Team W0LV3R1NES, Utah Valley University, United States 
Team Watchdogs, ETH Zurich (et alia), Switzerland 
Testimonials from the competitors 
Poni Henry, who competed on Team Mak Shields and won the award for Best Teamwork shared her thoughts on this year's Geneva competition: "The Cyber 9/12 Strategy Challenge was an intense and immersive experience. It provided us with a unique opportunity to gain valuable insights into cybersecurity issues and sharpen our critical thinking and problem-solving skills. I encourage everyone interested in cybersecurity to participate in this competition, and I am confident that it will be a life-changing experience." 
"It was a challenging and rewarding experience, and I'm grateful for the opportunity to showcase my skills and knowledge in cybersecurity and policy" said another competitor, Víctor Tuxans Pajares, who reached the final with Team GSD_makeyouWannaCry. "The competition has tested my ability to think creatively and critically, as well as my teamwork and communication skills." 
The GCSP thanks our sponsors at Swisscom, the Permanent Representation of Estonia to the UN in Geneva and Ernst & Young for making the 2023 Geneva Cyber 9/12 Strategy Challenge possible. We look forward to welcoming many of you in 2024! 
Screenshots from the competition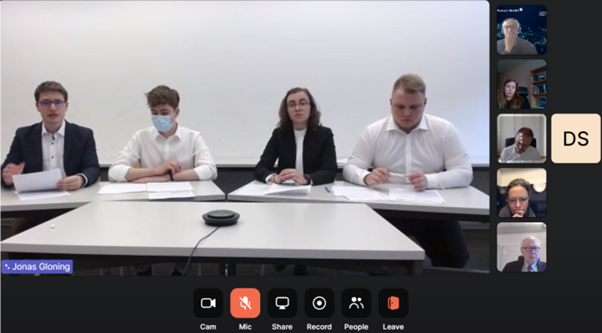 Team nETHics from ETH Zurich presents to judges including Ms Sarah Backman, Ms Dixie O'Donnell and Mr Daniel Seiler during the final round.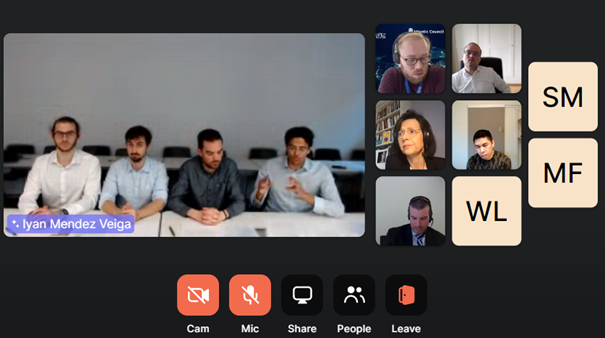 Team Watchdogs from EPFL, ETH Zurich and Hochschule Luzern answers questions from the judges including Mr Daniel Seiler, Professor Frederick Douzet, Dr Tim Nedyalkov and Mr Johnny Bengtsson.