Three Ground-breaking Security Projects with Exceptional Promise Are Honoured with the 2022 GCSP Prize for Innovation in Global Security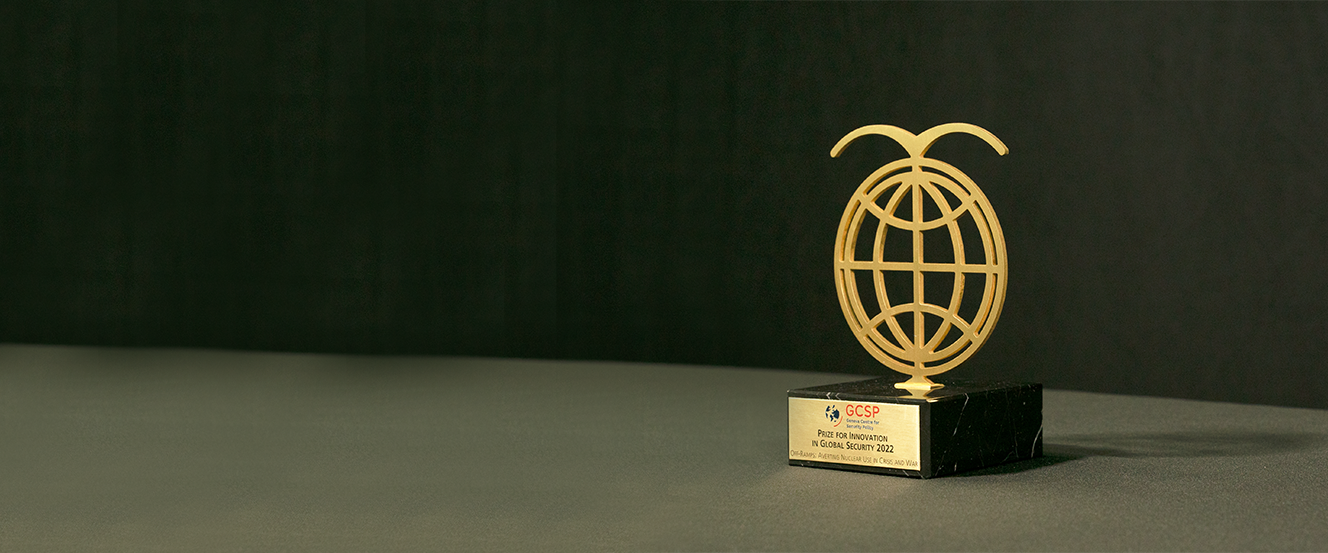 Three Ground-breaking Security Projects with Exceptional Promise Are Honoured with the 2022 GCSP Prize for Innovation in Global Security
The GCSP has announced the winners of its competition to recognise the year's most inventive, inspirational and ground-breaking security projects. The annual GCSP Prize for Innovation in Global Security award ceremony was held online on 23 November 2022 as part of GCSP Innovation Day.
This year, a total of 157 projects were submitted to the GCSP for consideration for the prize. The final three award recipients were chosen following a rigorous review of 15 shortlisted projects by the prize jury.
The 2022 winners of the GCSP Prize for Innovation in Global Security are:
This project wins CHF 10,000 and a GCSP Certificate of Excellence.
This project wins a Certificate of Recognition.
3rd place:

Cyber Attacks in Times of Conflict Platform #Ukraine, submitted by the

CyberPeace Institute

, Geneva, Switzerland
This project wins a Certificate of Recognition.
Watch the ceremony
The project in first place, Off-Ramps: Averting Nuclear Use in Crisis and War, is aimed at developing an authoritative, practical toolkit and framework to assist policy practitioners in planning "nuclear off-ramps" to avert the use of nuclear weapons during a time of tensions or conflict. The further development of this policy resource will give humankind a vital lifeline that it can use to smoothly move a conflict situation into a position of greater safety during critical phases and, in doing so, curtail the potentially disastrous need for leaders to consider the actual use of nuclear weapons. No tool like this exists, although the need to pioneer its creation holds promise for achieving a significant global impact.
Dr Rishi Paul declared:
This award is a recognition that expanding our nuclear policy community beyond its current confines to also include a wide range of experts from other disciplines is necessary for advancing research and making new discoveries, with the ultimate aim of improving our understanding of nuclear weapons as a "wicked problem".
The project in second place, Sophia – The World's First Chatbot Empowering Survivors of Domestic Violence, is the world's first chatbot designed to assist victims of domestic violence (DV) to gather potential evidence and seek help. Sophia globally maps the local help available for survivors of DV and makes the relevant information easily accessible no matter where they are in the world, in many languages, and without leaving any digital trace. With servers based in Switzerland, Sophia is easily scalable, because "she" has a simple but highly secure architecture that facilitates the integration, country by country, of local information on the help available to survivors of DV, their rights, and the preservation of potential evidence and important documents.
The project in third place, Cyber Attacks in Times of Conflict Platform #Ukraine, seeks to track how cyber attacks and operations are – and have been – targeting critical infrastructure and civilian structures. It is important to document such attacks wherever they occur, because they pose real threats to people, critical infrastructure and the functioning of society. Cyber attacks are also having wide-ranging consequences for the safe, secure and trusted use of technology.
Data is aggregated and analysed on a weekly basis, with more than 447 cyber attacks and operations affecting some 22 sectors in more than 32 countries being recorded between January and September 2022. Analysis of these attacks provides insights to inform policy recommendations on how to better protect people. The interactive timeline sheds light on how cyber attacks and operations have evolved over time, not only in Ukraine, but also in the Russian Federation and the rest of the world.
The jury for the 2022 GCSP Prize for Innovation in Global Security included:
Ambassador Gabriel Lüchinger, Head of the International Security Division at the FDFA State Secretariat in Bern

Lt General (Retd) André Blattmann, Former Chief of the Swiss Armed Forces

Ms Angela Kane

, Senior Fellow at the Vienna Centre for Disarmament and Non-Proliferation

Professor Jane Royston, Entrepreneur and Member of the Swiss Science Council

Ms Lauren Anderson

, Founder and CEO of LC Anderson International Consulting and a former FBI Executive

Professor Nayef Al-Rodhan

, Head of the Geopolitics and Global Futures Programme at the GCSP and Honorary Fellow at St Antony's College, Oxford University, UK

Ambassador Thomas Greminger

, Director of the GCSP
The GCSP Prize for Innovation in Global Security is an annual event, and the GCSP will issue a call for the submission of projects for the 2023 award in Spring 2023.
Media coverage of the event: