15 March - 16 April 2021
/ Duration: 1 MONTH
Inspiring Women Leaders 2021 - A Virtual Learning Journey
Building on the insights of hundreds of participants from across sectors and continents over four years, this course is designed specifically for women, by women.
For the September 2021 Edition, click here to apply
Do you have the strategies you need to overcome the barriers you face, fulfil your potential and leverage your unique strengths to lead?
Take time for yourself to develop the mindsets, behaviours and practices that will accelerate you along your path to career success.
Our expert team of facilitators will guide you on a month-long journey of self-reflection and self-discovery to explore the seven themes women navigate and develop concrete actions towards career success. We will provide you with leadership tools and techniques to enhance your influence, collaboratively engage others and build your resilience, confidence and presence. We will create a unique space and structure for you to exchange with peers, benefit from expert insights and feedback, and discover what works for you.
Methodology
Discover: Access videos, articles, self-assessments and an introduction to core content, through our interactive online platform. We will host a 'kick off' virtual session to connect facilitators and participants to each other and get in the right mindset for the programme.
Connect the Dots: Dig deeper into the concepts and exchange with peers and facilitators through online plenary and small group conversations. Explore what your self-assessments mean for you, capture your insights in your reflection journal and begin to apply some of the tools and strategies to your personal challenges.
Achieve Impact: Develop your concrete goals and start implementing them into your daily practice. Check in with peers and facilitators for support. We will close the course with certificates and feedback, but hope that the course continues to be a platform to build relationships and life-long learning.
Learning outcomes on this journey
Understand the mindsets and behaviours of high achieving women to overcome gendered barriers;
Deepen your perception of yourself, and develop your confidence and resilience;
Discover and practice tools and techniques to effectively lead, influence and collaboratively engage with others;
Build relationships with peers from across sectors and exchange experiences;
Create a strategy for your career growth and begin to apply it.
Schedule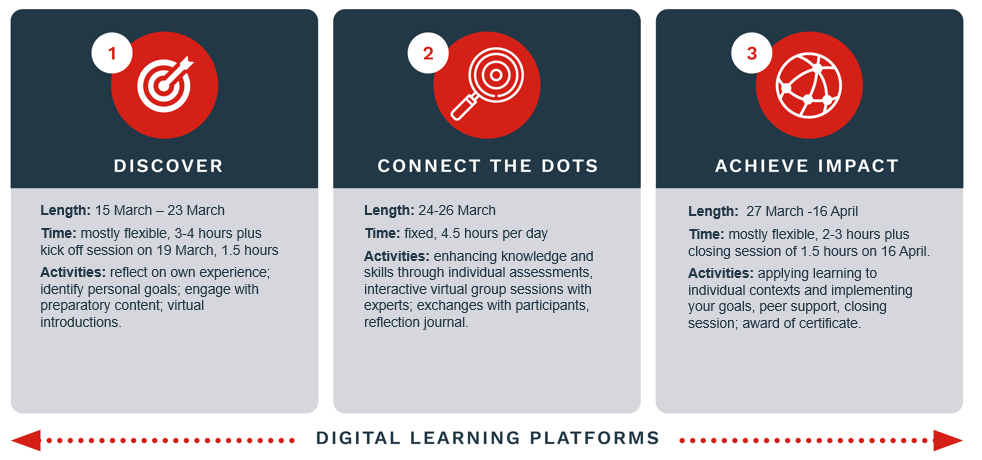 Mid-career women from across sectors.
750 CHF
Special offers: GCSP Alumni qualify for a 20% discount on the standard rate of 750 CHF
Bring a friend: 650 CHF (ensure your friend or colleague mentions your name in their online application)