Leadership for Peace through Conflict Analysis, Resolution and Management – Pilot Virtual Course Launched in Georgia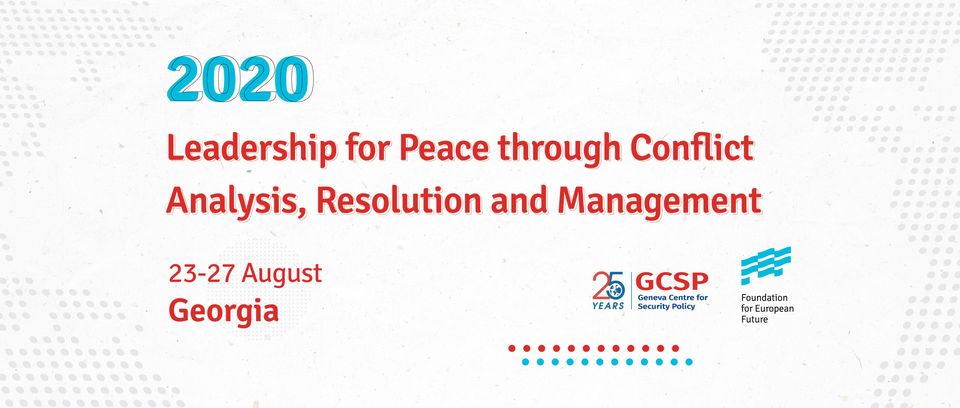 Leadership for Peace through Conflict Analysis, Resolution and Management – Pilot Virtual Course Launched in Georgia
High level speakers and peace and security policy practitioners gather in Georgia for an intensive course on Leadership for Peace. More than 20 Participants from public sector, NGOs and Academia will have a unique opportunity to acquire knowledge and skills to increase their effectiveness and enhance their ability to generate constructive policy responses and solutions.
 The course is a joint initiative of the Foundation for European Future (FEF) and the Geneva Centre for Security Policy (GCSP) – a collaboration between a young non-governmental Geneva-based international NGO, aimed at promoting and consolidating democracy, rule of law, human rights and fundamental freedoms in Georgia and the Caucasus and an International foundation with 25 years of experience in promotion of peace, security and stability through education.
"It is vital to strengthen and empower the current and emerging Leaders for Peace in order to meet the crisis and uncertainties of today as well as the mounting challenges for tomorrow," says Ambassador Christian Dussey, Director at the Geneva Centre for Security Policy.
The course is structured into eight modules covering topics such as: Framing the Issues - Leadership for Peace; Conflict Analysis, Resolution and Mediation; Conflict Management, Peace Operations, Peacebuilding; Good Governance; Humanizing Tomorrow - Human Rights, Transitional Justice, Dealing with the past and Operationalizing Leadership for Peace - Putting Theory into Practice. It provides simultaneous theoretical and practical approaches as one of the many advantages of the course, the level of expertise being another. FEF and GCSP have gathered a team of experienced professionals - former United Nations Assistant Secretary-General - Mr. Charles Petrie, the Deputy Minister for Foreign Affairs of Georgia - Mr. Lasha Darsalia, Founder of Foundation for European Future - Ms. Teona Telia; Head of Peace Operations and Peacebuilding of GCSP - Annika Hilding Norberg, and Head of Arms Proliferation at Geneva Centre for Security Policy - Mr. Marc Finaud and others.
Discover more about Peace Operations and Peacebuilding at the GCSP