21 June - 16 July 2021
/ Duration: 5 DAYS
Making the Difference in Peacebuilding, Security and Development - RBM and Beyond 2021 - A Virtual Learning Journey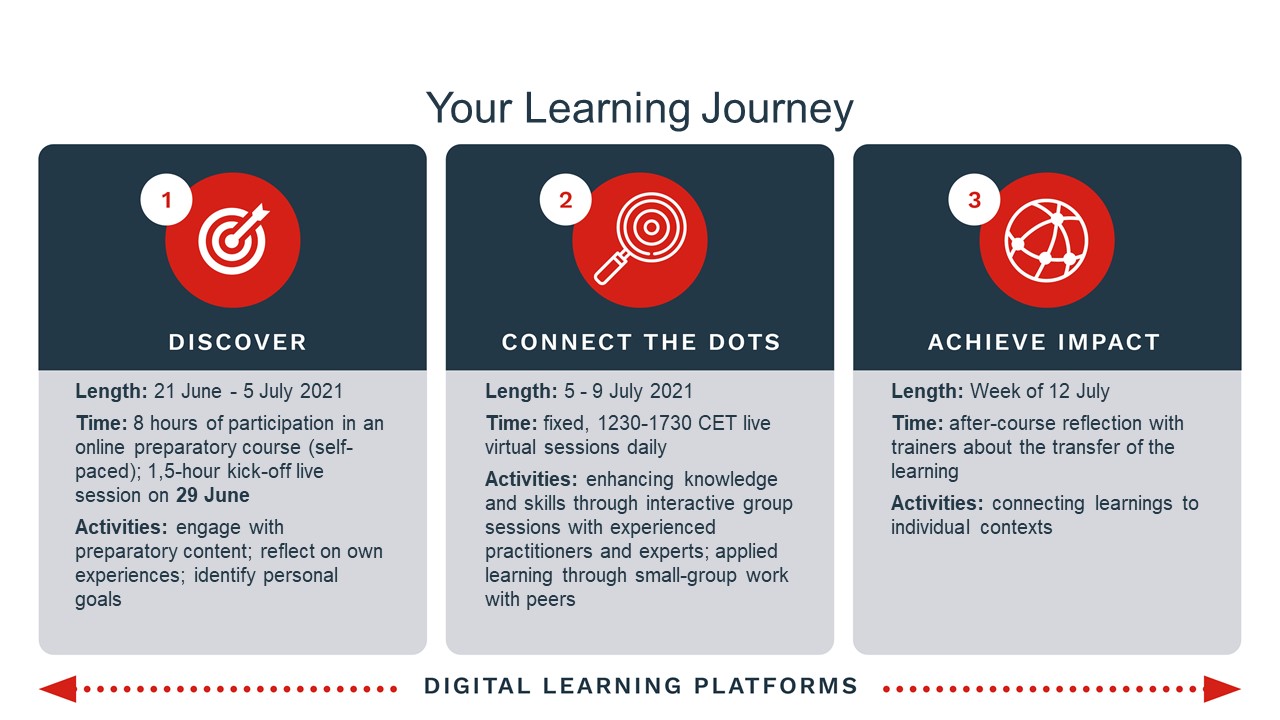 Policymakers and practitioners in the field of peacebuilding, security and development still lack critical skills in results-based management (RBM) and monitoring, evaluation and learning (MEL). This course, now in its 11th year, provides skills development in results-based approaches and theories of change, implementation of monitoring and evaluation considering gender responsiveness and implications for Agenda 2030.
Learning objectives
The overall learning goals for the course are:
design a project or programme using RBM and theories of change

plan and implement monitoring, evaluation, accountability and learning frameworks and activities

plan and implement an evaluation based on an evaluation matrix

manage a project or an annual review based on results and impact

resolve problems of demonstrating results, especially for gender-related issues

understand and work in complex environments
Modules
The course consists of instruction in essential tools and techniques, current lessons from the field, guidance from experts, and hands-on practice developing skills for peace, security and development programmes. About 40% of the course time is spent in a small group setting working on relevant problems.
 Course modules include:
RBM, results and impacts

Theories of change

Evaluation questions and design

   

Indicators and data gathering

Theories of change for the complex domain
Schedule
To make the best use of the time during the 5-day virtual live sessions, in Phase 1 of the learning journey all participants are required to complete an online preparatory course to ensure a common baseline. The preparatory course takes 8 hours. The live course further emphasizes complex environments with outcome mapping, outcome harvesting, and the Cynefin framework included. The learning focuses on practical work in small groups, based on case studies.
Registration requirements
All applicants must include a 200 word (max) summary of a problem relevant to the course - the work in small groups will be based on actual issues submitted. The problem should fall within the following categories:
Challenge of thinking through a coherent 

approach, planning for results, defining (and 

updating) theories of change, understanding the context and identifying assumptions, investing 

time in defining and collecting baseline data (challenges of planning before work starts).

Challenge of setting-up and using a MEL system,

 

collecting the data for indicators, costs of the

 

collection of data in difficult environments, using

 

the information from the MEL system, especially

 

ensuring that the "learning" is effectively used by

 

decision-makers (challenges of MEL).

Challenge of monitoring and evaluating outcomes

 

and impact, and learning from these results; going

 

beyond measuring what is done to identifying the

 

difference that is achieved, using evidence-based

 

results (challenges about making a difference

 

with RBM).

Challenge of applying RBM and MEL tools in

 

peacebuilding, conflict prevention, and security

sector reform (challenges of the complex domain).
This course is designed to build the skills of practitioners who already work in results-based management, monitoring, evaluation, accountability and learning, or complexity, in the fields of peacebuilding, security and development:
National development, peace and security officials, representatives from local and international development, political and security agencies

Technical advisors/programme officers from UN and other relevant agencies

Key policymakers from violence-affected countries

Officials from security and development agencies from donor countries

Independent experts and specialists in the peace sector

 
The needs of individuals from both public and non-governmental institutions will be addressed.
The course will be held in English; no translation will be provided.
The course costs are covered by the Government of Switzerland. Participants will be selected from the application pool on a competitive basis.
Participants must provide their own computer or tablet, and web-cam, and have access to an internet connection capable of continuous video conferencing.
Participants are expected to give 100% attention to the course during the hours it runs. Timesharing participation in the course with day-to-day work is negative both for the individual concerned and for other members of the learning group. Full participation in all sessions is required for a course certificate.