GCSP Alumna Flying High in the Pakistan Air Force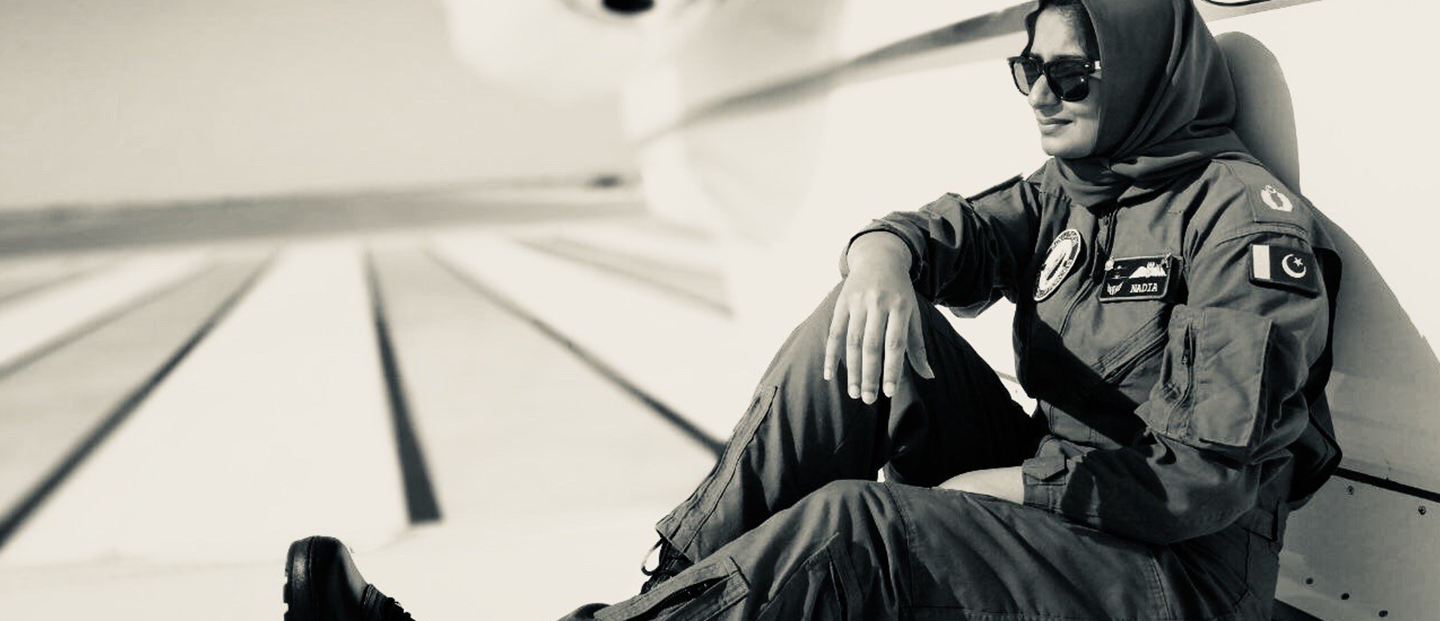 GCSP Alumna Flying High in the Pakistan Air Force
Wing Commander Nadia Gul shares her motivation for her career path.
Wing Commander Nadia Gul is a Squadron Pilot in No. 41 VIP Communication Squadron of the Pakistan Air Force, entrusted with the responsibility of carrying high officials and dignitaries nationwide and around the world. From 2014 to 2015 she was posted to Air Headquarters, where she worked as Deputy Director Foreign Flights and ensured the successful completion of relief flights and operational missions such as flying exercises in various countries, which involved coordination at foreign embassies. Nadia completed the GCSP Leadership in International Security Course and Master of Advanced Studies with the University of Geneva in 2021 and shares her motivation for her career path.
GCSP: You have quite a unique background. What oriented you towards a career in the Air Force?
Wg Cdr Nadia Gul: I belong to Bahawalpur, the city in the southern Punjab of Pakistan where women have few opportunities to break the conventional barriers and prove themselves in a male-dominated society.
"Once, I saw an advertisement inviting people to join the Pakistan Air Force as a pilot that stated, 'EQUAL OPPORTUNITIES FOR MALES AND FEMALES'.

This caught my attention".
I always aspired to serve my country to the best of my abilities and I have strived ever since to fulfil my dreams of paving the way for other women through hard work and dedication. Choosing a career in the Air Force helped me to contribute towards the betterment of society as a woman in particular.
GCSP: You were part of the first graduating class that included women. What enabled you to push through all the obstacles you must have encountered to achieve that goal?
Wg Cdr Nadia Gul: It was a rocky journey, I must admit. If I look 20 years back, it was not easy. Acceptance of women working on the same grounds as or shoulder to shoulder with men was very low. But every hurdle, every challenge made me stronger, because I had my dream to pursue. I always told myself that someone has to do it, and if it has to be someone, that someone is going to be me. It is through sheer hard work and devotion to my duty that now everyone supports and recognises that women can also do what I have done. They trust and appreciate flying on my wings, which encourages me to strive for more. The trust my organisation had in me has moulded me into what I am today, and I stand tall as an accomplished individual.
GCSP: Moving to the LISC, which you attended in 2020-2021, what do you remember most about your course experience?
Wg Cdr Nadia Gul: Looking back at LISC 2020-2021, our course was unique, due to COVID-19. The virtual journey was not easy. But, with time, we got used to it and had the best learning experience. The course is packed with a host of knowledge from various experts. You have the opportunity to interact with experts and scholars, which otherwise you can't.
GCSP: What challenges did you meet upon your return?
Wg Cdr Nadia Gul: Immediately, as I returned to work after the course, I was assigned a managerial role as second in command while looking after the flying operations at the same time. The LISC developed the leader in me.
With the experience of the regular collaborative work in the course, I was able to accomplish the tasks in a much smoother manner and overcame hurdles that others thought would be challenging. The leadership ethos that the LISC taught assisted me in better decision-making and human resource management.
GCSP: Do you have a message to share with female practitioners who hope to pave their own path to leadership?
Wg Cdr Nadia Gul: To make this world a better place, we need leaders with a vision. We can only reach this profoundly challenging objective if we educate people about the importance of the leadership roles that we knowingly or unknowingly play in our everyday life.
In today's challenging times, women need to step forward and come up with innovative ideas and accomplishments. In whatever role, be it a mother, a teacher, a scientist or the president of a country, women have to contribute positively. The hindrances encountered on the way should not discourage any of you.
"You must take on the challenges you meet. Only then will you reach the heights where the world will recognise your efforts. It will enlighten you from inside and you will become unstoppable."