02 - 27 October 2023
/ Duration: 1 MONTH
Crisis Management: Navigating the Storm - A Residential Learning Journey Singapore 2023
Location
Singapore, Singapore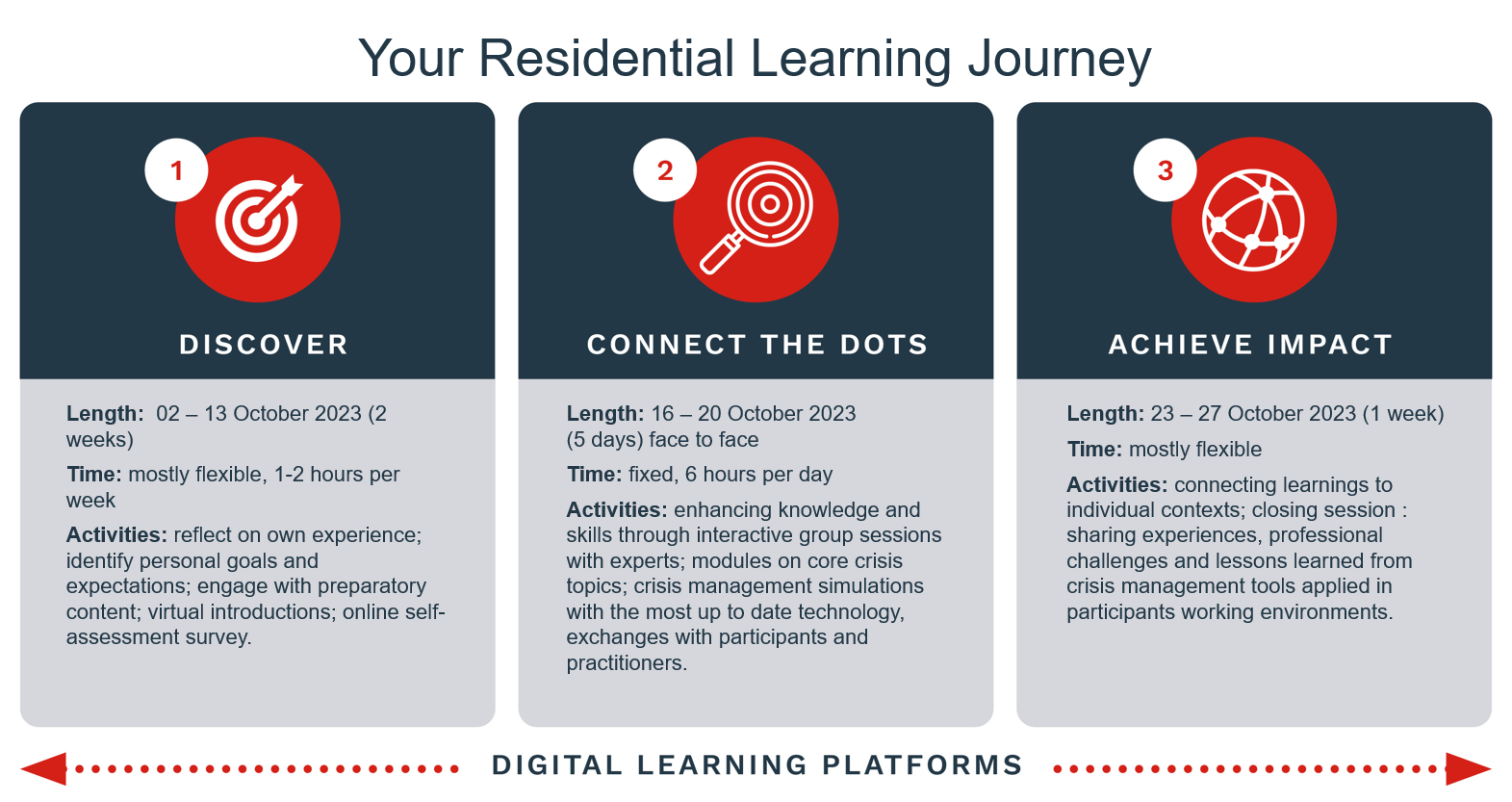 Overcoming the mindset of fear and developing the muscle memory of crisis response is the objective of the GCSP Crisis Management courses. Rather than a tick-box approach of a process driven response participants will learn to recognise and adapt the psychological and organisational elements of crisis management. This is achieved by combining latest theory, best practice and lessons learnt using real time simulations that enable participants to explore their resilience as individuals, team members and leaders.
Learning objectives
This course will provide you a powerful combination of critical knowledge, improved skills and new techniques that will enable you to have the confidence in your ability to face the rapidly evolving challenges of a rapid onset crisis.
Specifically, you will;
undertake a self-assessment that evaluates your preparedness as an individual and at an organisational level
deepen your understanding of the various characteristics of different types of crisis
improve your ability to analyse complex issues, assess various options and establish an effective crisis management team
understand the leadership and decision making challenges associated with crises and avoid the pitfalls of various psychological biases
experience in real time specific complex crisis that you will have to navigate and manage
The course combines the three pillars of the GCSP's holistic learning approach: the latest in high level academic expertise, the wisdom of experienced senior practitioners, and the collective experience of the participants. This unique dynamic energises discussions about challenging topics as you push the boundaries of your own capabilities in an interactive learning environment, exploring with the experts the knowledge, skills and behaviours that demonstrably produce high performance in challenging conditions.
Course components:
risk and trust in crisis
behavioural aspects of crisis leadership and decision-making
strategic decision-making in crisis situations
decision-making models and techniques in time sensitive and high-stake situations
impact of culture in foreign and security policy decision-making
The course is designed for officials and executives from:
government,
military,
international organisations,
non-profits and,
the corporate sector.
2000 CHF
The GCSP reserves the right to modify the programme dates, location and fee at any time.
15% Early-Bird Discount if you apply before 25 August 2023. GCSP Alumni qualify for a 20% discount on the standard rate of 2000 CHF.