Critical Incident Management - A Residential Learning Journey November 2022
Location
Geneva, Switzerland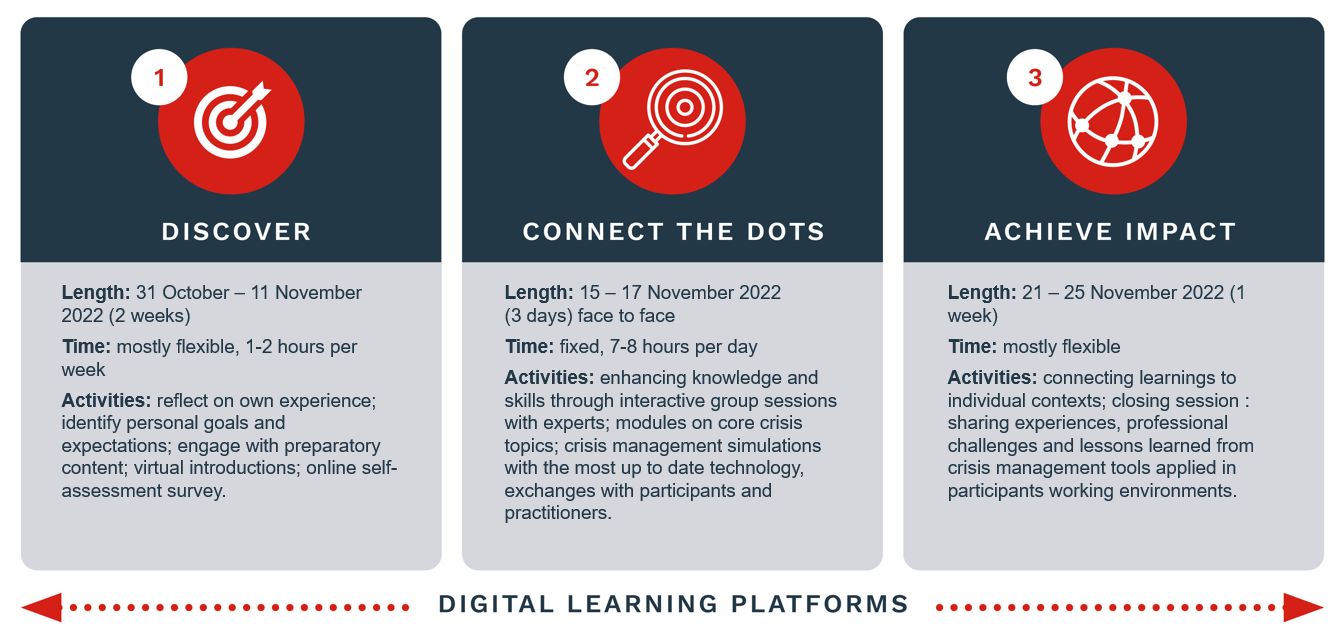 Understand the challenges around complexity, ambiguity and uncertainty in a crisis. Experience, evaluate and enhance your crisis management skills and procedures in a fully simulated critical incident, designed by technical experts based on real cases. Simulations enable you to assess and analyse crisis dynamics, communications, decision making and team management, allowing you to appraise the way you, your organisation and team responds under pressure.
Learning objectives
The course enables crisis management team (CMT) members to effectively enhance their response skills and collaboration. By working through a specifically designed and carefully crafted incidents, based on actual case studies, you are able to:
understand what constitutes a crisis
test your decision-making,
information management and analysis,
crisis response tools,
prioritisation,
crisis decision-making leadership,
and team management skills
The course combines the three pillars of the GCSP's holistic learning approach: the latest in high level academic expertise, the wisdom of experienced senior practitioners, and the collective experience of the participants. This unique dynamic energises discussions about challenging topics as you push the boundaries of your own capabilities in an interactive learning environment, exploring with the experts the knowledge, skills and behaviours that demonstrably produce high performance in challenging conditions.

Course components:
strategic decision-making in crisis situations
decision-making models and techniques in timesensitive and high stake situations
behavioural aspects of crisis leadership and decision-making
You will receive a GCSP certificate accredited by EduQua once you have completed all the course modules to the satisfaction of the course director.
The course is designed for officials and executives from government, military, international organisations, non-profits and, the corporate sector.
1000 CHF
The GCSP reserves the right to modify the programme dates, location and fee at any time.
GCSP Alumni qualify for a 20% discount.
Application Deadline: 27 October 2022