04 September - 02 October 2023
/ Duration: 1 MONTH
Cyber Security in the Context of International Security - A Virtual Learning Journey 2023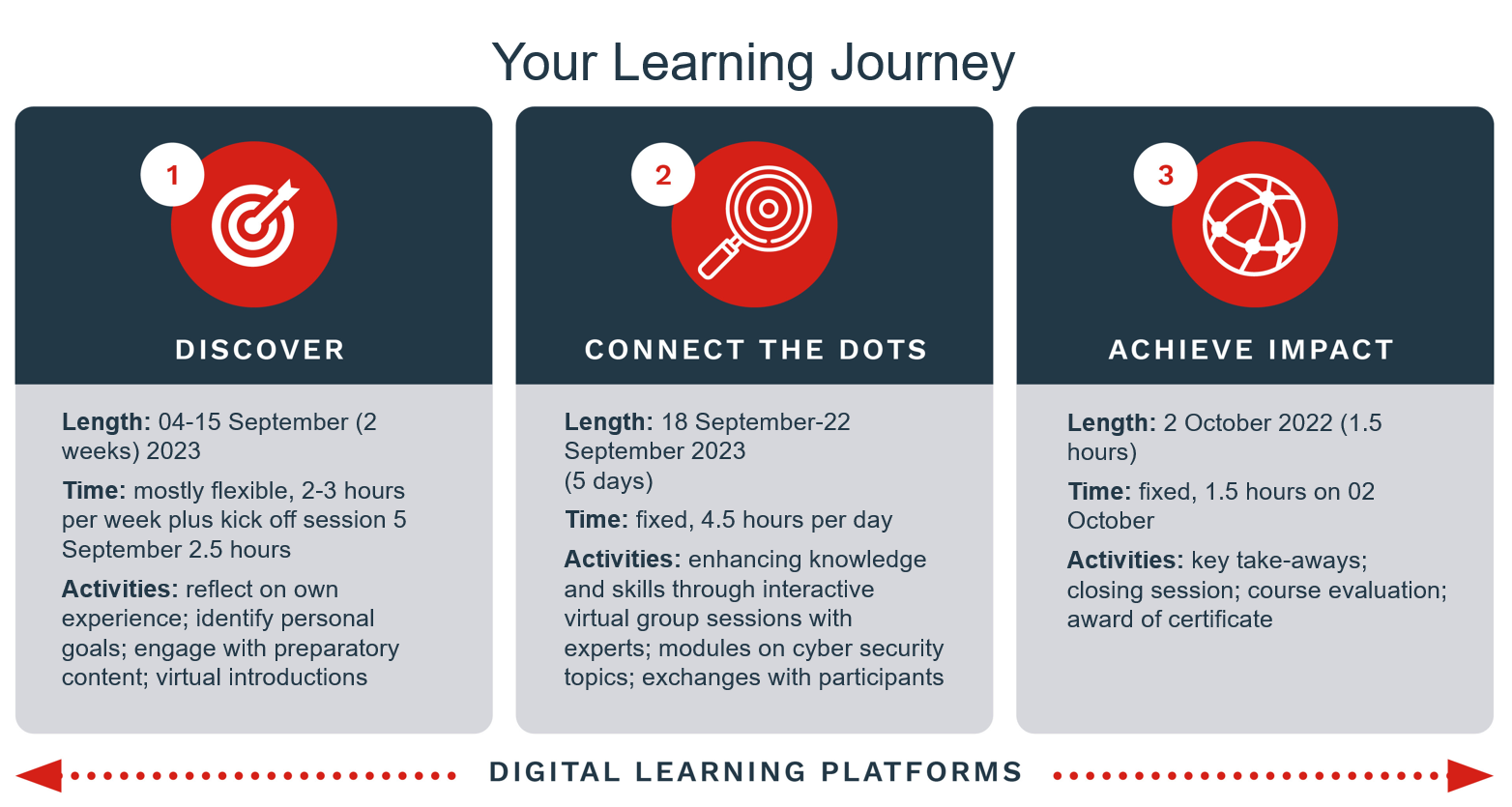 On 24 February 2022, the international security order as we knew it changed. Russia's armed force's entry into the territory of Ukraine is an armed aggression that combines cyber attacks, disinformation, and kinetic efforts. Threat actors include government agencies, state-sponsored threats, organized cybercrime groups, and hacktivists. Their motives can be to steal intellectual property (knowledge), espionage, destruction, or cybercriminal reasons. Many cases supporting this notion exist, such as WannaCry, NotPetya, and REvil. What are the current trends in threats, risks, and vulnerabilities? How do threat actors exploit vulnerabilities to conduct ransomware attacks? What are cyber-enabled disinformation operations?
Participate in understanding Cyberspace as an operational environment and strategies for addressing threats, risks, and vulnerabilities. The GCSP Cyber Security Cluster brings together policymakers, military-, intelligence, and legal "pracademics" (=practitioners and academics) to equip participants with a comprehensive program in cyber security. With a scientific base on holism, cybernetics and systems theory, and a mix of strategy and research, this program provides participants with an overview of threats, vulnerabilities and impact of cyber attacks, and effective responses to these challenges.
Learning objectives
Our unique learning approach means that you will participate in interactive virtual workshops while taking advantage of both self-paced and social learning opportunities.
On this learning journey, you will explore new resources and engage with your peers through an interactive online platform, enjoy discussion fora with participants and pracademics and take advantage of opportunities for deeper and meaningful online conversations during group works. It means upon completion of this journey, you will be able to:
Describe and analyze cyberspace as an operational environment (infrastructure, defense measures),

Identify and analyze threats, vulnerabilities, risks, and events, and apply this knowledge to inform defensive measures for Cyber Security on the organizational level,

Assess potential mitigating measures on the organizational level for an enhanced cyber security posture and assess its impact on cyber security policy (organizational level, country level),

Examine the role of Cyber Security in the context of International Security: how to protect political, military, economic, and personal security.
By combining hands-on exercises, expert presentations and dialogue amongst course participants, the course promotes an active learning approach to cyber security in the context of international security. You will also have an opportunity to produce a policy paper on a topic of interest and participate in a cyber simulation exercise.
Upon successful completion, you will be equipped with the knowledge, skills, and contacts to operate in cyber security.
What you will gain
Access to and engage with keynote speeches from renowned global experts, professionals and academics (pracademics).
Access to reading materials that cover the various parts of the ExEd.
Group sessions where participants can collaborate and exchange ideas on a virtual platform and related virtual meeting rooms for group discussions.
Reflection sessions where participants can discuss their thoughts and experiences, helping the participants to internalize the lessons learned.
Write a policy brief (optional) on a topic the participant's area of responsibility or interest which requires feedback.
Certificate – the participants will receive a certificate.
Participants will be part of a global alumni network of experts on various areas and levels.
Course requirement 
All information you need to know (language, certification, technical requirements and application process) before applying to the GCSP are available here.
You will receive a GCSP certificate once you have completed all the course modules to the satisfaction of the course director.
This course is intended for those working for an organization or are in a position responsible for or may soon be responsible for cyber security.
Regular participants come from a variety of professional backgrounds including:
Government officials (including cyber policy officials, diplomats, military officers, intelligence analysts),

Staff from international organizations,

Non-profits, and

The corporate sector.
3200 CHF

Apply before 3 July to qualify for a 15% discount. Alumni qualify for a 20% discount. Discounts are not cumulative. For groups of five or more participants from the same organisation, we offer special group rates. Contact us for further details.
Application Deadline: 28 August 2023