28 November - 14 December 2023
/ Duration: 3 WEEKS
Environment and Security - A Virtual Learning Journey 2023
This course offers a unique opportunity to strengthen your understanding of environment and security nexus and to better address its challenges including climate change.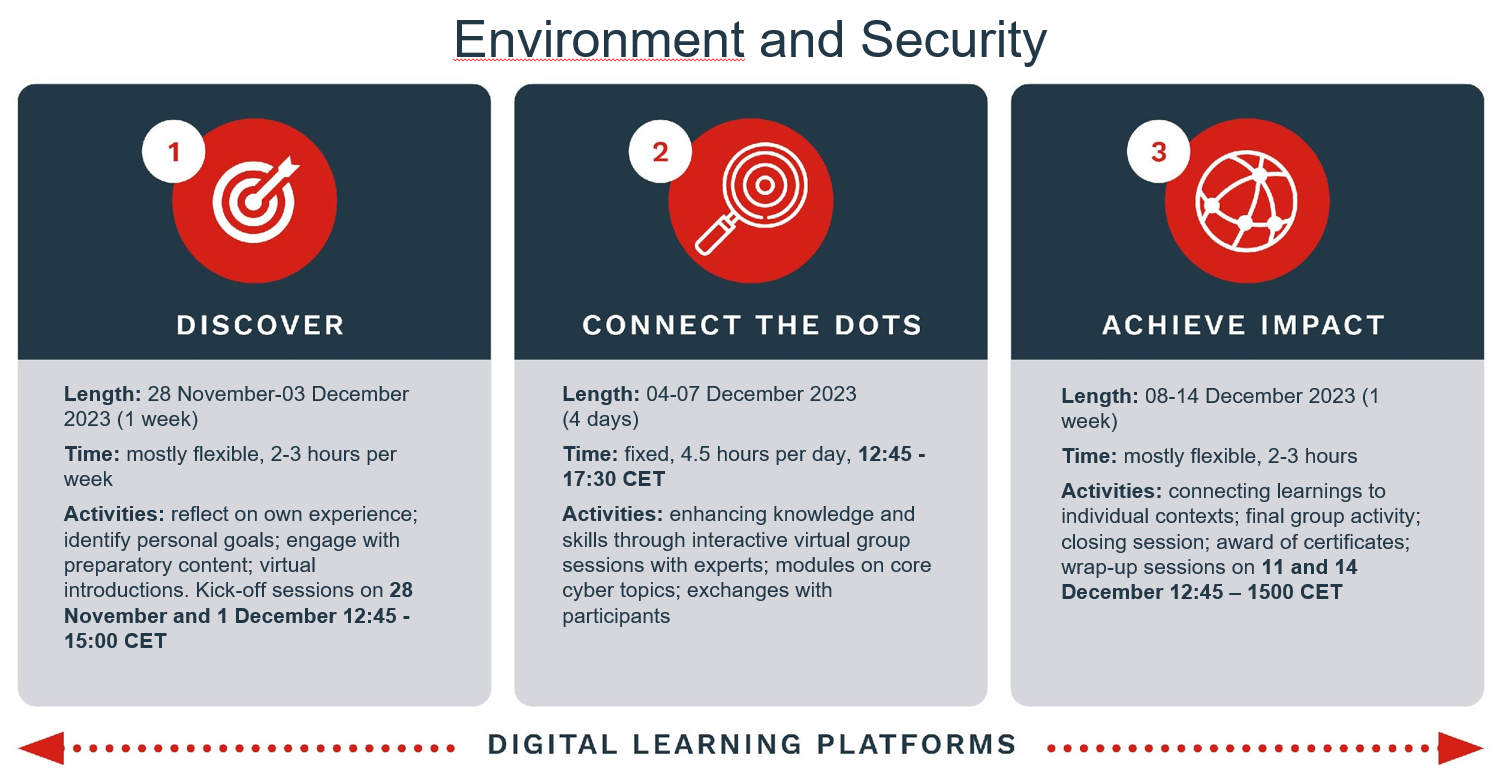 Natural resources such as water, soil and biodiversity are under increasing stress. Human activity is the main cause of this global crisis affecting everybody, but most particularly the vulnerable groups of our societies. The Paris Agreement and the Global Agenda 2030, among other legal instruments, are a testimony to the increasing awareness of governments and other international actors that environmental issues should be an integral part of addressing larger global challenges. Yet their implementation is dramatically lagging behind. Moreover, with the recent COVID-19 health crisis and the ongoing geopolitical tensions there is a risk of a weakened focus on the environment and security nexus. This is why decision makers need an understanding of the environment-security nexus in order to keep it high on the agenda. They increasingly need tools to come up with and implement new solutions and use different aspects of environmental cooperation as an instrument for peace and security.
Learning objectives
Deeper understanding of environment and security nexus in the current security context

Improved skills in addressing the environment and security nexus 

Increased network of experts and fellow professionals
Course requirement 
All information you need to know (language, certification, technical requirements and application process) before applying to the GCSP are available here. 
You will receive a GCSP certificate once you have completed all the course modules to the satisfaction of the course director.
This course target audience are environment and security professionals from public and private sectors.
civil servants;

diplomats;

military;

private sector representatives;

NGOs

International organisations
to create cooperation among actors from different sectors and break the silos.
750 CHF
The GCSP reserves the right to modify the programme dates, location and fee at any time.
15% Early-Bird Discount if you apply before 28/10/2023. GCSP Alumni qualify for a 20% discount on the standard rate of 600 CHF. Bring a friend: 600 CHF (ensure your friend or colleague mentions your name in their online application)