Integrated Risk Management - A Virtual Learning Journey 2022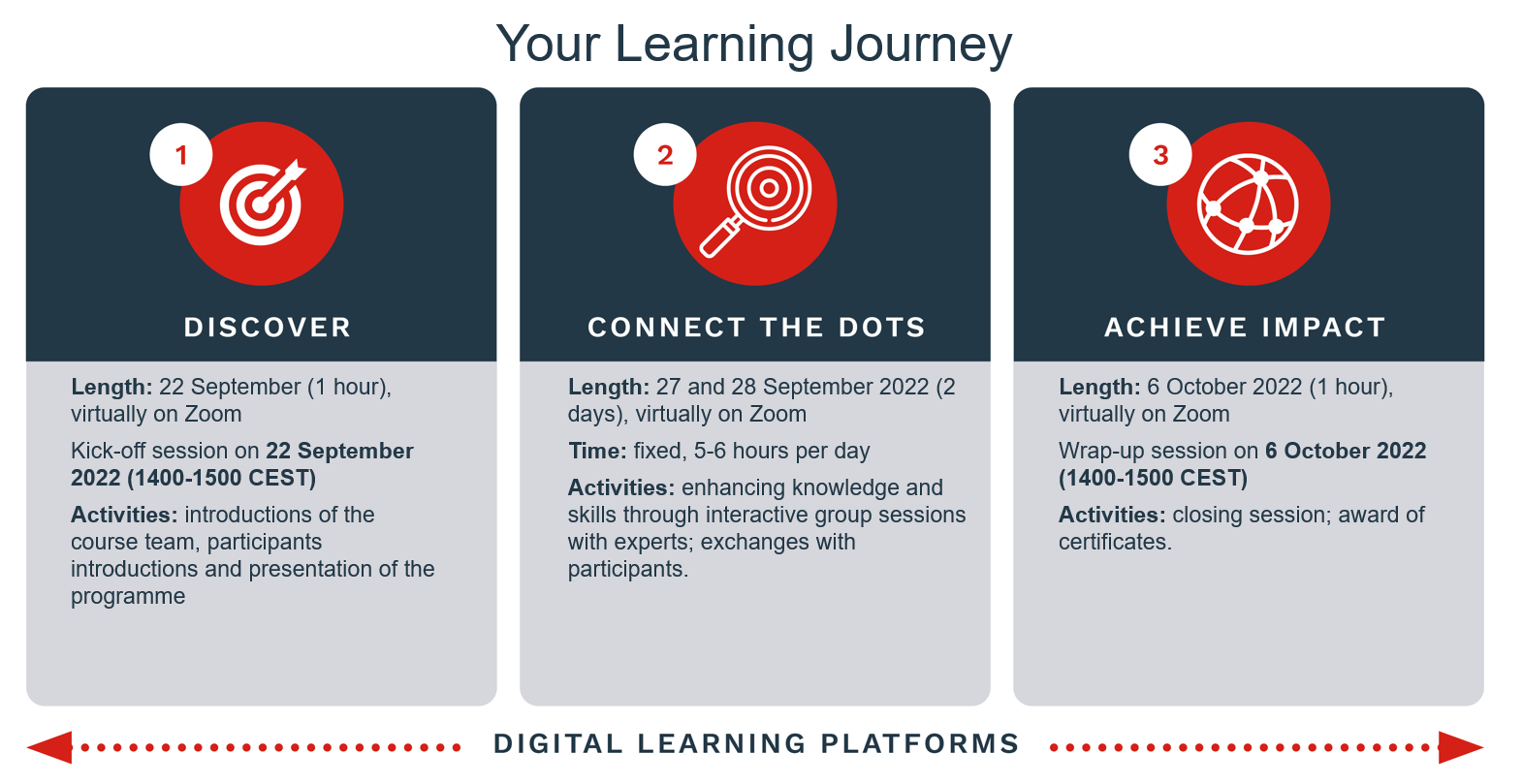 Countries and societies are increasingly interdependent and interconnected. They are also increasingly dependent on well-functioning infrastructures. At the same time, the number, scale and complexity of risks are rising. Violent conflicts, natural disasters, health crises and other emergency situations are accelerating. The management of complex risks and the protection of critical infrastructures is therefore becoming increasingly challenging.
Meeting these challenges requires leaders in government, security organisations, and critical infrastructures to:
be aware of the current global and emerging risk landscape and the specific risk profiles of their countries,

to anticipate new risks,

to understand the vulnerability of critical infrastructures and how they can be better protected.
Learning Objectives
What will the course achieve?
understand the concept of integrated risk management

get insights into relevant global risks and the drivers of tomorrow's risk landscape

learn about different country experiences in identifying and managing country risks

understand t

he concept of critical infrastructure protection

reflect on the most important critical Infrastructures in their countries or regions

exchange knowledge on the management of critical infrastructure and their protection based on their own experiences

Improve their knowledge on global dependencies, e.g. in the form of supply chains or energy dependency
Application
Applicants are requested to submit a short biography. Only applications completed with a short biography will be considered in the selection process.
You will receive a GCSP certificate accredited by EduQua once you have completed all the course modules to the satisfaction of the course director.
Experts and professionals in (integrated) risk management

Experts and professionals in critical infrastructure protection

Critical infrastructure operators

Security professionals in the public and private sectors

Members of

authorities in civil protection and critical infrastructure protection

Persons in charge for security and risk management in companies and organizations
500 CHF
15% Early-Bird Discount if you apply before 29 July 2022. GCSP Alumni qualify for a 20% discount.
Application Deadline: 21 September 2022