Leadership in International Security Course (LISC) 2022-2023
The 37th edition of this highly competitive eight-month course in international security is designed for high-performing professionals seeking to enhance their careers and effectively respond to the world's most pressing security challenges.
Our approach is comprehensive and multifaceted. This  course will not only update your knowledge, but will build your skillset and toolset to better prepare youto deal with our unpredictable international security environment.
During the eight month full-time course you will have the opportunity to learn from and network with over 200 members of the GCSP's global expert community, including high-level practitioners from governments, international institutions, non-governmental organisations, the private sector and civil society.
Learning Objectives
As a result of this course, you will:
Strengthen your leadership skillset within a

multicultural

and

cross-sectoral

environment
Acquire

tools

to

increase

your

effectiveness

as

a

security

policy

practitioner
Enhance

your

ability

to

generate

innovative

and

sustainable

policy

responses

and

solutions

Broaden

your

professional

network

of

peace

and

security

practitioners
Modules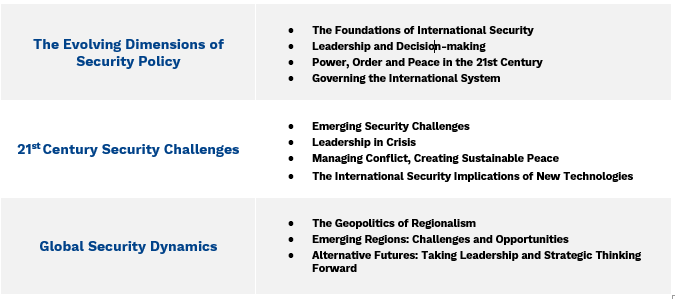 Open to mid-career professionals working in national ministries. Applications from IOs, NGOs, civil society, academia and the private sector will be considered on a case-by-case basis.
Candidates must have had exposure to peace and security issues. Serving officers must have completed an advanced military staff course.
Cost (Price and Devise) The course is offered free of tuition charges for participants as part of Switzerland's contribution to the Partnership for Peace Programme.
Application Deadline: 31 May 2022. Further information available at [email protected].