16 April - 01 May 2024
/ Duration: 5 DAYS
Leading Teams Through Disruptive Changes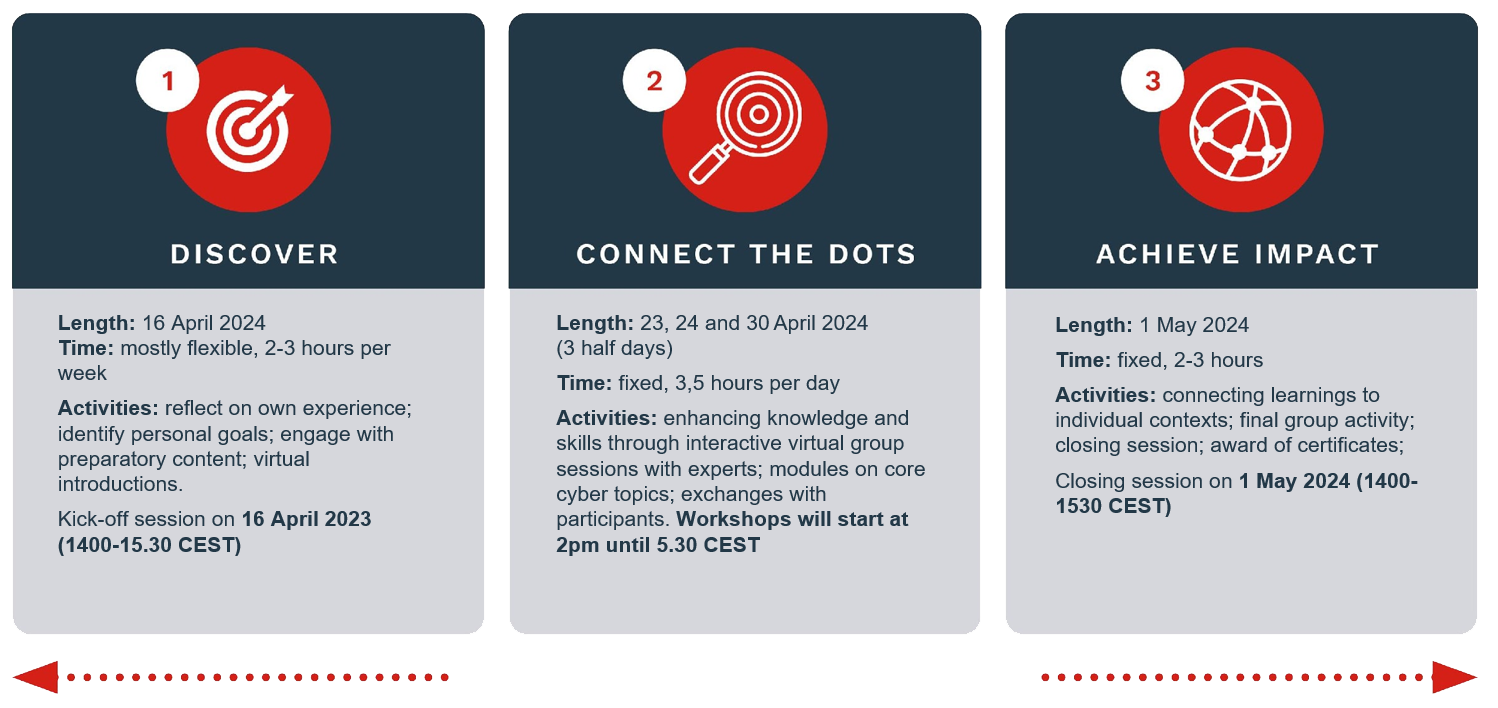 By strengthening your ability to:
anticipate and navigate continuous and disruptive changes.

mobilise your team with insightful and inclusive leadership approaches.

Develop leadership in others to strengthen team resilience and performance
Many managers across the peace & security landscape experience being in a kind of perpetual crisis mode. They are expected to anticipate and manage changes, while supporting and empowering their team, and deliver results during a time of multiple social, technical, political, and operational disruptions.
This requires strengthened ways of leading often highly diverse teams, continuously making sense of and quickly adapting to evolving scenarios.
An innovative blend of Leadership approaches, increased self-awareness, and Strategic Foresight practices form the core of this course, grounded in real-world scenarios.
Participants will learn to collectively think and envision different situations and possible decisions and actions to be taken in an interactive and exchange rich programme.
This combination of human-centered leadership approaches, increasing your self-awareness, and Strategic Foresight practices has been unique designed to meet the needs of today's teams.
The course will be led by GCSP and Center for Creative Leadership (CCL) experts in Leadership and Strategic Foresight.
Participants will grow their network and access to like-minded peace and security professionals from around the world.
Learning objectives
Learn to better anticipate and navigate disruptions and change

Gain an understanding of common change preferences that often lead to diverse reactions and needs in teams

Apply foresight tools and practices to current personal and professional challenges and prepare for the unexpected

Gain a deeper understanding into how you are personally affected by disruptive changes and ways to strengthen your leadership

Learn how to cultivate leadership mindsets across the team
Current and future leaders and managers of teams in NGOs,

Foundations, ministries, missions, multi-lateral, and international organisations, both small and large.

Ambassadors and Heads of Missions

Country Managers
750 CHF
The GCSP reserves the right to modify the programme dates, location, and fee at any time.
15% Early-Bird Discount if you apply before 01.03.2024. GCSP Alumni qualify for a 20% discount on the standard rate of 750 CHF. Bring a friend: 595 CHF (ensure your friend or colleague mentions your name in their online application)
Application Deadline: 01 April 2024