#LIMPACT Emerging Leaders: Lead & Influence with Impact – A Residential Learning Journey 2023
Location
Engelberg, Switzerland
An in-depth opportunity for the next generation of leaders to expand their leadership skills to lead and influence in order to increase their impact
#LIMPACT is a self-growth journey to equip young leaders with strategies to ensure their development initiatives create the results they wish to see.
Together with 30 diverse leaders from 10 different countries, you will: Learn the art of influencing others and your own influencing style, reflect on being an authentic leader, practice public speaking, learn different techniques on giving and receiving feedback, explore ways to find common Direction and Alignment with others, enjoy peer consulting on your own professional challenges, and way more!
Learning Objectives
To enhance the participants' ability to build trust and influence diverse stakeholders when working on challenging issues

To sustain participants to adopt leadership practices that quickly create and sustain collective direction, alignment, and commitment

To assist participants to adapt their communication and leadership style to the context in order to have more influence and impact

To put all learnings into practice immediately and get support from an international network of influential professionals

To offer the opportunity to meet potential partners and to design and generate impact together

To engage with "the next generation of leaders" so that they become efficient actors in the European context.
During this 7-day course, you will explore practices that will motivate, focus and equip you and those around you. This highly rated course has been running for 7 years with the most recent face-to-face edition given an overall 5 out of 5 rating by the participants. This edition is focus on the next generation of leaders for them to drive change from where they are.
The program's course will be based on non-formal education activities involving intercultural dialogue and communication, using a highly interactive approach.
Participants' prior experiences as young leaders will be important and used in the development of the learning process. Active teamwork, self-reflection outdoor activities, and plenary discussions, as well as theoretical inputs, will characterize the program.
Modules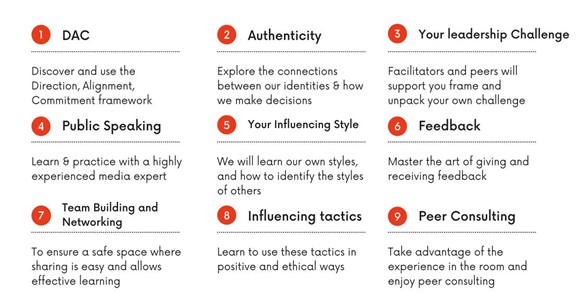 If you work in an international or multicultural environment where aligning with others and working together at different levels are a key part of your professional activity, you will highly benefit from this learning journey.
After completing the course, previous #LIMPACT participants experienced on average a 40% improvement in influence capability and knowledge compared to pre-course measurements. You will emerge from this experience better equipped to help yourself and the people you work with getting results and achieve meaningful impact.
1695 CHF
Accommodation and food are included in the price.

This programme has been funded by Movetia, the Swiss Youth Agency to support 30 young changemakers.

We want to open the doors to few more who are in the position to pay the full fee and join this unique experience with emerging leaders from 10 different countries.


Special offers: GCSP Alumni qualify for a 20% discount on the standard rate of 1695 CHF.

1295 CHF per participant, if you register together with a friend
Application deadline: 26 June 2023