Ayuen Maluk, Child Protection Officer in South Sudan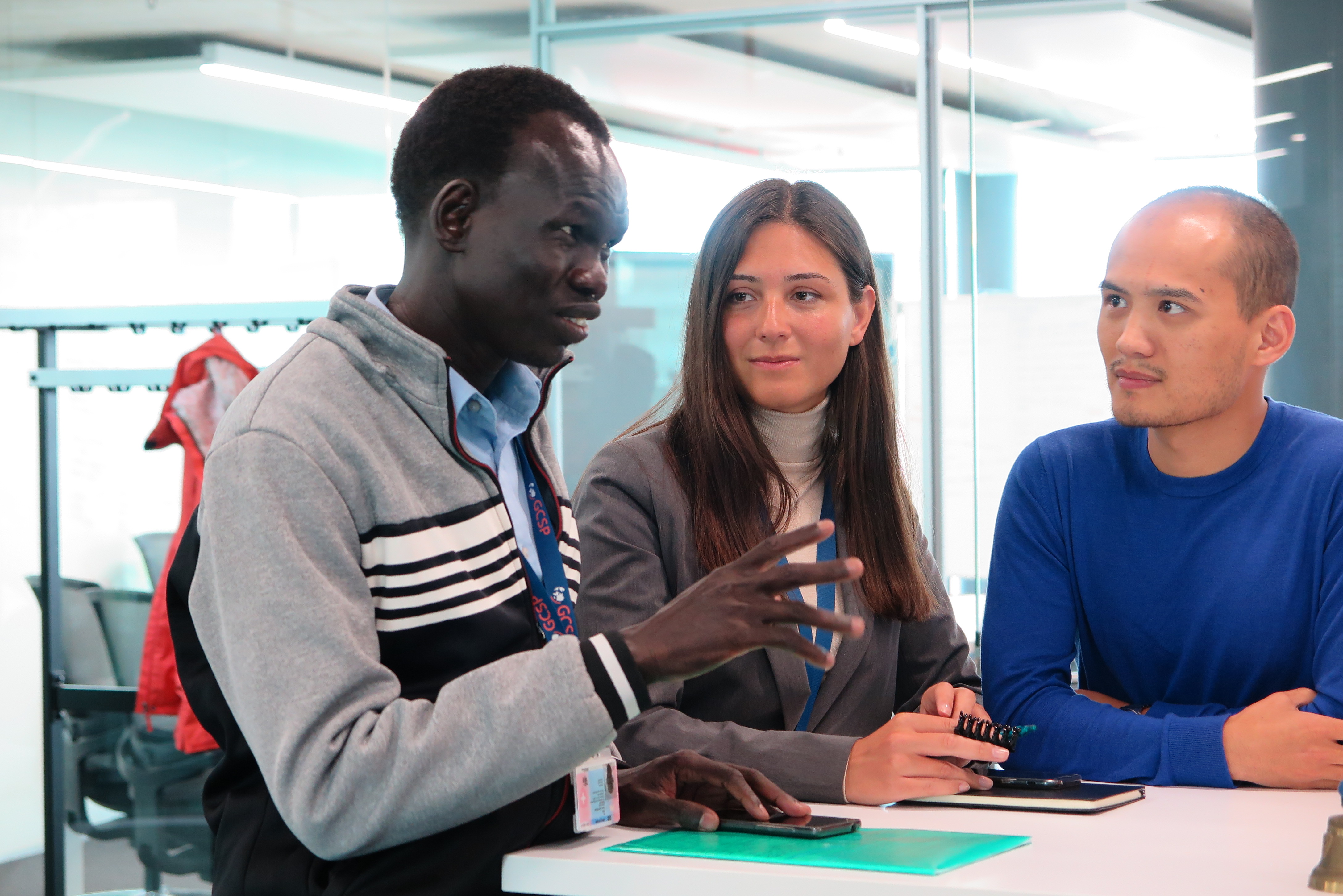 Ayuen Maluk, Child Protection Officer in South Sudan
GCSP Alumni are driven leaders, prompting a worldwide change in global peace and security. In this section, our Alumni share their projects, experiences and thematic insights with the GCSP community. Alumni Affairs: You've been serving in different intern
By
Ayuen Maluk
, Child Protection Officer in South Sudan
GCSP Alumni are driven leaders, prompting a worldwide change in global peace and security. In this section, our Alumni share their projects, experiences and thematic insights with the GCSP community.
Alumni Affairs: You've been serving in different international relief agencies in South Sudan before joining the 2018 Leadership in International Security Course (LISC) at the GCSP. Can you tell us about your current role and organization, since graduating in May? What are the most pressing issues that you are dealing with? 
Ayuen Maluk: It does not go unappreciated to have had that golden opportunity to live in Switzerland and study at the Geneva Centre for Security Policy (GCSP). I enjoyed eight months in the company of international peers and the GCSP's caring team. The lectures were amazingly enriching and there was not one single day when I had not wished to be in class. With my desire to learn, indeed, I got all I aspired for from the LISC course.
When I left Geneva for South Sudan, I passed through the Ugandan city of Kampala where my family is temporarily stationed. My children were overjoyed to see me back, in addition, with a suitcase filled with Swiss gifts (chocolate, clothing and toys). My stay with them was short, as I was on my way to join the humanitarian workers, serving children in war torn South Sudan. Consolingly, I knew I was going to make a difference in the lives of war ridden children.
However, I could not regret having only this little time with my children. I assured them that I would always find time to visit them and their mother, providing them the parental love and company that they deserve. I also assured them that I would return to assess their educational progress, as I want them to be better South Sudanese in the future.
My children have had the chance to be abroad, benefitting from peace and education in Uganda, unlike other South Sudanese children. But why should they stay in another country? A lingering question of mine revolves around bringing my children back to South Sudan and facilitating return successfully.
While I was still in Geneva, I was offered a temporary job by the United Nations Children Agency - UNICEF in the role of Child Protection Officer covering a state (an administrative unit of the same rating as a Swiss canton). I assumed this role after having worked for 10 years with different international organizations, including Catholic Relief Services, UNICEF (in another role), Aecom International, Saferworld and others. The position is lower than where I should be professionally, by now. However, what keeps me in this role, are the challenges related to the vulnerable members of society, the children.
 

I celebrate every time one child is released from a group of armed forces or is reunified with his family. After being released, that child can start going to school. 
Ayuen Maluk

 
As this child, is a soldier removed from unwanted war, there are many processes for reintegration. The issues I work on include family tracing and reunification for unaccompanied, separated and missing children; children's psychosocial support to help them cope with aftershocks of wars, displacement and war induced economic hardships; case management for children with inappropriate care; mine risk education, incorporated with the complicated components of UXO's (unexploded ordonnance); and system building for children, which is the main core of child protection in a stable state.
Most of these issues that we are dealing with are due to the fact that South Sudan is a war torn country. In a different situation, working in this role, I would be focusing on the system building aspects and mainly supporting the government in developing and enforcing polices that are child friendly. For example, ending other vices such as forced early girl child marriages; child detention; child labour; the basic right of a child; teeth removal; and disfiguring forehead marks/cuts which still exist in South Sudan. All these emergency issues including child protection have overshadowed the system building and social vices. This is where I am able to bring on board new skills learned at the Geneva Centre for Security Policy.
System building requires policy skills and I use analytical skills and network mapping of different actors and armed groups/forces. This is where we analyse and map children that are recruited, where weapon stockpiles are managed, and where explosives are in order to protect children.
Alumni Affairs: A peace deal has recently been reached in South Sudan, a step on the path to longed-for peace in your country. What are your hopes for the future of South Sudan? How do you wish to support this future?
Ayuen Maluk: South Sudan just recently came to the world stage. It is a country associated to its neighbour by name, but it has nothing tangible that was inherited from the Sudan where it seceded from. The basic infrastructure and institutions of governance do not exist in South Sudan. It is unimaginable, nothing virtually exists. However, the people are hopeful. They are tired of oppression, marginalisation and not seeing any of these core features of stability being developed for them and their region. They feel it is better to just have a land which they can develop on their own. Their hopes of forming a new state were well grounded, as they have access to natural resources such as oil and fertile arable land. They never expected that the next stage towards independence was another war over power among the leadership of the country, sponsored by those they thought they had left.
Now that this war is ending through a peace agreement, there is need to develop that peace among the people, including the leadership of the country. The development of the land, the establishment of democracy and transferring power by the will of the people not by force are long term goals. As peace sinks in, the focus will be making sure children wrongly recruited into armed forces are released, reintegrated into their communities. We will also focus on reconciling the communities that have been feuding over the last five years. South Sudan is the only home I have for myself and my children, it is a country I love, I fought for it when I was a child, without it I would not be who I am today. I wish to join its higher ranks either politically and or as a civil servant in the near future. I continue to contribute for the children and for the country to develop and to be hospitable, like any other part of the world.
Alumni Affairs: After 8 months of working with security policy professionals from across the globe, what is your key take-away to enable better cooperation in international peace and security?
Ayuen Maluk: Often times, living in a young, inexperienced and underdeveloped country like South Sudan within a world of countries that have existed for centuries and even millenniums, there are doubts that we will never reach the stage of a developed country. That doubt should no longer exist. People inhabiting these countries just need to gather all the zeal of conquering backwardness and bring up the spirit to fight on, to mobilize resources and to develop and catch up with the world. Such a country has unique challenges, including how the "old world" relates with it. But it has to be there, to tell its story!
The fact that my young country is at war or has not developed, has to be understood. It was such an opportunity to work with experienced colleagues from those developed and well established countries and be able to listen to their thoughts on the world. States have their own problems, challenges, weaknesses even when they have different levels of resources or experience, what just matters is who handles them and the amount of influence the country has.
Alumni Affairs: Do you have any message you would like to share with your former classmates and GCSP staff?
Ayuen Maluk: Each of us in this world of billions of people has useful contributions and influence to make regardless of the rank. Every time we are faced with a policy decision to advise on, let us never underestimate that our advice can someday reach the top including the Security Council. Our advice can change the world for the better, so let us not waste those opportunities. Let us be at the forefront, influencing the top and bringing a difference into the life of the people of the world ..….. what is made at the bottom binds the top.
GCSP Alumni, where are you now?
Share your projects with us at [email protected]
If you want to know more about Ayuen Maluk, you can reach him at this address: here