Cholpon Orozobekova talks about life after GCSP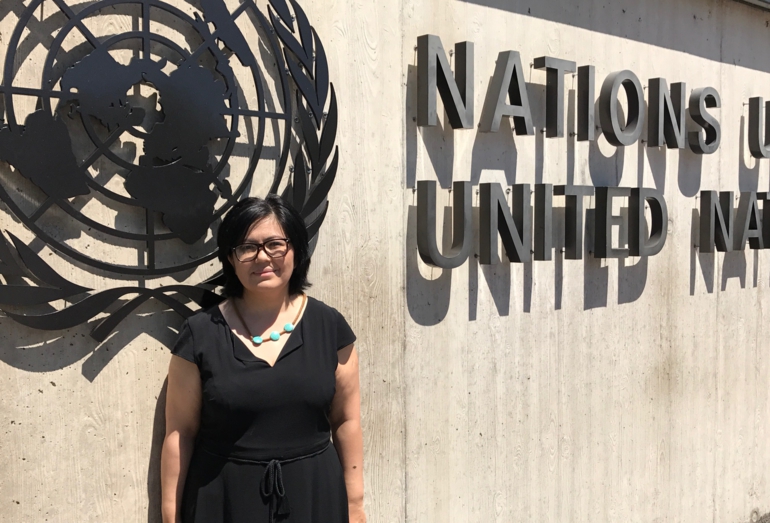 Cholpon Orozobekova talks about life after GCSP
GCSP Alumni are driven leaders, prompting a worldwide change in global peace and security.
By
Cholpon Orozobekova
, Co-Founder and Director of the Bulan Institute for Peace Innovations
In this section, we wish to demonstrate how our graduates make a positive impact on communities and the world. Cholpon Orozobekova, Co-Founder and Director of the Bulan Institute for Peace Innovations (ITC 2014, NISC 2016 Alumna) talks about life after GCSP and what she's working on now. 
Alumni Affairs: You graduated from the GCSP's ITC course in 2014 and completed a Masters at the University of Geneva in International and European Security. Since 2014, we had the chance of welcoming you back to the GCSP on numerous occasions and followed your publications and articles in the press. Today, you took a step further in the aim to promote stability, human rights and build dialogue in your home country, Kyrgyzstan and other Central Asian states. What brought you to decide in co-founding this NGO?
CO: Thank you. The idea of establishing an entity that works on the Central Asian issues came in 2014, when I was studying at the GCSP. I remember I had long discussions with my groupmates, and I received feedback from the people with different background in the group: diplomats, military officers, civilians, and analysts. I was able to ask advice from international experts, ambassadors and professors just after their sessions in the course. I remember in 2012, after having worked in journalism for almost twenty years, I had come to the decision to study and develop myself. I felt that was ready to do something bigger, to open a new door and face new challenges. As a result of the inspiration, my two Master degrees from Geneva-based universities and my study at the GCSP equipped me with deep knowledge and skills to analyze new emerging security challenges and international issues, to learn crisis management, and I gained all necessary skills to build a new project. After having worked in several NGOs in Geneva, and combining these jobs with my publications on the Diplomat Magazine, Jamestown Foundation and other platforms, in 2016 I started establishing the Institute after bearing in mind this idea for almost three years.  
Alumni Affairs: What are some of the challenges you faced in establishing the institute?
CO: I would say the most difficult phase is "finding yourself". At the beginning, it took two years almost to draw the concept, to define the mission, and to find out who we are going to be, and our main areas of our work. And you know, we failed once. We started as a Central Asian Platform for Peace (CAPP) and in the process suddenly we started slipping back. But it was a good experience for learning from own mistakes. Later we realized that even the website itself was done with many mistakes, our goals and areas of work were not clear, and our strategy was weak. After having almost one year break, we rebuilt our strategy and concept, and we carefully redrew our mission, and found our name as the Bulan Institute and clearly stated our areas of work. Then main question we faced was "where should we be based"? In Geneva or in the field? After long discussions and analyzing the work of other local and international organizations, we decided to start from the field - Bishkek Kyrgyzstan. Our main office is based in Bishkek and it has been operating one and half year now. We have staff members and the network of experts, researchers and journalists who work with us. We have built good working relationships with state bodies, civil society, media and donors, and now we are coming to Geneva.
Alumni Affairs: Would you like to share the institute's next projects in Central Asia with us?
CO: The Bulan Institute is a research institute and an NGO that works on human rights and security. We conduct research, analyze the situation, and we work closely with media to share and discuss our findings. We produce an analytical document bringing first research and expertise on the table, then we advocate for seeking solutions to resolve the problem through organizing public hearings, conferences, panel discussions and round tables. Current projects in Bishkek are devoted to prevent radicalization and religious extremism. For prevention of radicalization the education is the key, thus we work to advocate for improving conditions for study in Islamic universities and madrasas and improving their curriculum. The Kyrgyz government adopted a concept that aims to reform religious education institutions. We support this concept and have been playing the role of an independent platform to build dialogue between madrasas, Muftiate and other actors to boost implementation of this concept. We conduct research on the ground and published four reports in 2017. Two of them analyzed the current situation with religious education inside the country and how Kyrgyzstani people go abroad to get religious education. Kyrgyzstan`s citizens are studying in Islamic universities and madrasas in countries such as Pakistan, Egypt; Saudi Arabia, Turkey etc. The report said that neither the state bodies nor the Muftiate possess information about in which universities in what countries nor how many people studying abroad. The Bulan Institute recommended to coordinate this process creating the information base, guiding people to reliable institutions etc., but to lead this process guarantying human rights. In Kyrgyzstan, we work also on protection of children`s right to civic education as public schools have many problems that should be resolved and ensured by the state. As you know, we are coming to Geneva. Our office in Geneva is a Central Asian programme, which aims to work on security challenges and human rights in the region. After having studied and worked in Geneva for more than ten years, what made me sad is that there are only very few projects devoted to our region. We aim to fill this gap by conducting advocacy, research and organizing events and expert- discussions.
 "The idea of establishing an entity that works on the Central Asian issues came in 2014 when I was studying at the GCSP."

Cholpon Orozobekova, Co-Founder and Director of the Bulan Institute for Peace Innovations. (ITC 2014, NISC 2016 Alumna)
Alumni Affairs: What are the particular problems which Kyrgyzstan and Central Asia face today?
CO: The region encompasses five post-Soviet states. They have security challenges which demand common immediate action. I would like to highlight one of them – water management in the region, which the Bulan Institute will be working on. The water dispute among upstream and downstream countries can be a source of instability in the future. Five post-Soviet states in the region share water resources and inherited the old Soviet integrated system, and after gaining the independence they signed the agreement in hope that water management would not be an interstate issue. However, the conflict is mounting from year to year. Kyrgyzstan and Tajikistan, two upstream countries that have surplus water but suffer from scarcity of natural resources, are increasing domestic water use for energy, thus decreasing the amount of water flowing to downstream countries. Kazakhstan and Uzbekistan, downstream countries that are rich in oil and gas, suffer from water shortages and are very frustrated with new efforts to build more hydropower stations in upstream countries. The tension between neighbouring countries remains high, and attempts to seek adequate solutions have been weak. Now international actors have started to engage in order to build a dialogue between states. The Swiss government launched the "Blue Peace" initiative last year to help in developing solutions for managing transboundary water resources in Central Asia. The Bulan Institute aims to be an independent platform for experts and governments to seek solutions to the water dispute as we assess the situation as highly alarming. The Aral Sea that completely dried up in the region shows the level of the threat and illustrates the consequences of unsustainable and poor water management in the Central Asia.
Alumni Affairs: How has the GCSP and your studies in Geneva prepared you for this assignment?
CO: My two Master degrees and my study at the GCSP equipped me with deep knowledge on international relations and international security. Two courses with high level experts at the GCSP taught me to analyze complex security issues, and how to step aside and look from a different angle. I met dozens of high-level diplomats, UN officials and international experts at the GCSP, and each meeting taught me new skills. My twenty years of experience in journalism, and seven years of experience in local and international NGOs have become a good fit to my studies in Geneva and this unique combination made me step forward to take new challenges.
GCSP Alumni, where are you now?
Share your projects with us at [email protected]