GCSP ITC-LISC Alumni: Where are they now? No. 5: Colonel (GS) Eric Kalajzic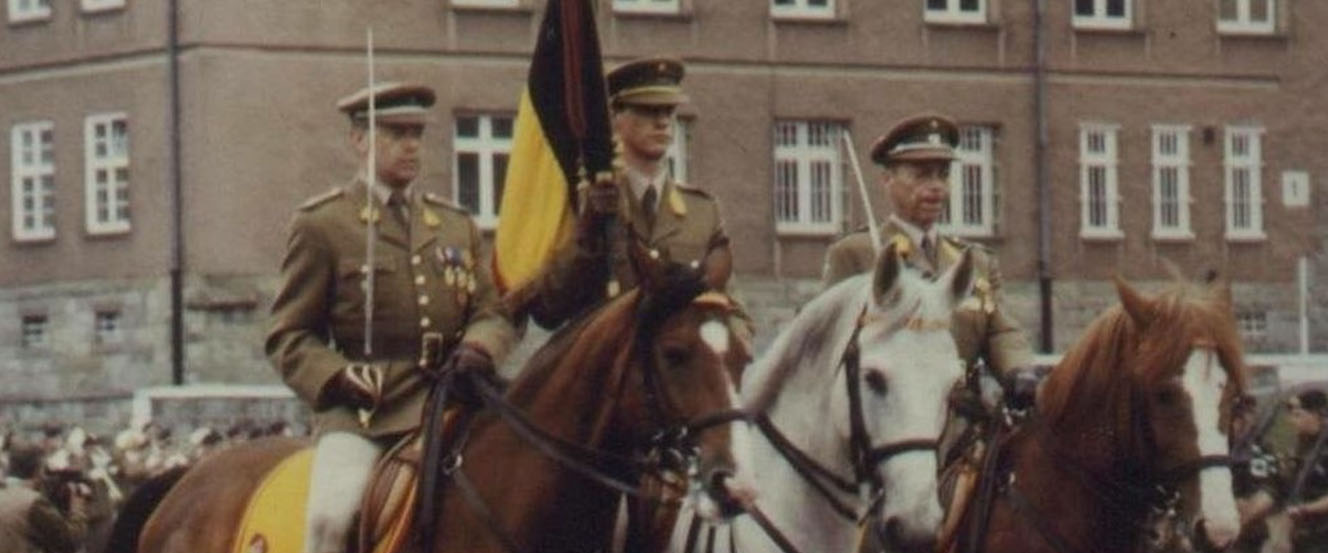 GCSP ITC-LISC Alumni: Where are they now? No. 5: Colonel (GS) Eric Kalajzic
Colonel (GS) Eric Kalajzic from Belgium took part in the 2008-2009 edition of the International Training Course in Security Policy (ITC). He is also a keen horseman. He shares his experience of both areas with us and brings out illuminating parallels between them.
In January 2021 Colonel Kalajzic was appointed chargé de mission for the Belgian Minister of National Defence, Ludivine Dedonder. He was mandated to update the Vision 2030-2040 of the Belgian Armed Forces from its previous 2014-2015 version. With a group of academic experts he will analyse the evolution of risks and threats facing Belgium. He officially retired from the army at the end of 2020 after a 41-year career in uniform, and is undertaking his current responsibilities as an activated reservist.
Isabelle Gillet, Head of GCSP Community Engagement: What struck you about the ITC? And what did you find most useful for your post-ITC career?
Col. Kalajzic: The GCSP's ITC gave me a better understanding of the perceptions of security problems and policy approaches of very different countries, both European and non-European. At that time, the focus was still on the post-Soviet space, and there were participants from the Caucasus, Central Asia and former Warsaw Pact countries. I had started my army career in Germany, and had therefore studied the doctrines of the Warsaw Pact countries' armies facing us across the Iron Curtain, including their leadership styles. Being able to hold discussions with course participants who had been educated in the Soviet era, the opportunity that the course offered me to engage with participants from these countries was a unique experience. It allowed me to cultivate empathy and multicultural awareness, and to understand both the advantages and disadvantages of multilateralism.
 The ITC was really very formative for my professional career in terms of the preparation, execution and exploitation of high-level meetings I had to lead. It trained me to prepare for any such meeting, covering such areas as understanding the general context and the conditions, stakes and interests of the interlocutors; identifying objectives and red lines in the negotiation(s); cultivating the imaginative flexibility needed to overcome any sticking points; and – more prosaically – drawing up accurate minutes of a meeting after it had concluded. These aspects stood out for me during the course and I always took them into account afterwards.
 When I think back on my course, the first memory that comes to mind is the location of the "Paquebot", which at the time hosted the GCSP: at the top of the WMO and Botanical Gardens, and at the bottom of the Palais des Nations and Place des Nations, where many peaceful demonstrations took place. What a pleasure to have breakfast or lunch on the top floor of the building, with the view of the lake and Mont Blanc in the background!
 A second memory is the teambuilding hiking exercise the course started with. The natural environment helped us to interact with our fellow participants in a relaxed way and the various events were very well designed to encourage the rapid integration of the disparate course participants. I teamed up with an analyst from Belgrade, an air force major from Banja Luka in Bosnia, and a Ukrainian colonel who had been trained in Moscow.
 As far as the speakers were concerned, even the course introduction was remarkable for its vision and analyses. The panel of guest speakers throughout the course inspired me for the rest of my academic career as a moderator of debates and organiser of training courses or seminars. An analysis of the conflict in South Ossetia between Russia and Georgia in August 2008 was used as an introduction to international relations theories; thus the course was very much in tune with current events. Discussions on the US elections in which Barack Obama was elected and the two-page synthesis of these discussions in a policy brief are also among the highlights of my period in Geneva. The optional one-week "Defence Attaché" module was also very useful for my subsequent visits to our network of defence attachés and my trips abroad
Isabelle Gillet: What are the two most important leadership take-aways you have from the ITC?
Col. Kalajzic: Firstly, it is necessary to show empathy and put problems into perspective by using a multiple lens through which to view them. Settling disputes through dialogue, law and the rules of good governance is ideal. For the parties involved in a dispute, it is essential to take a long-term view, to consider the problem from several angles, and to show imagination and creativity in order to break out of a cycle of violence and develop pragmatic and – above all – sustainable solutions. Very often only integrated responses can lead to progress. This involves understanding the other side and going beyond clichés in one's thinking and approach.
 Secondly, negotiation is a complex art, combining rational analysis, logical arguments, individual and collective psychology, a type of seduction, public speaking, good writing skills, vision, a spirit of synthesis and appropriateness. Some people are born with such gifts, but through the techniques taught, tested and practised at the GCSP, it is possible for anyone to progress. In the age of social networks, misinformation and fake news, negotiations are leading to greater transparency, involving more and more actors and communities. As a result, they are becoming even more complex and difficult to bring to a successful conclusion. It is therefore necessary to prepare carefully and methodically.
Col. Kalajzic then drew illuminating parallels between managing a horse and exercising leadership in a team environment.
Col. Kalajzic: Being a rider, including by passion, by hobby and by professional choice, I have always linked my equestrian experiences and my professional practice as a leader and staff officer. (Here it is worth noting that even when they are mechanised, armoured cavalry units maintain strong links with their equestrian traditions in terms of approach, characteristics and the modes of action that result from these traditions.)
The first parallel is one of approach and interaction. To understand a horse, you have to observe it (at the stable, while recovering from injury, at work, on a ride, in the stall, in the meadow, in a group, mounted, on foot) and try to understand its nature, identify its fears, find out what interests it, identify ways to control and manage it, and analyse its mental and physical aptitudes. I think that when we work in teams, whether small or large, the same basic processes are at work. To dominate a horse by violence or artificial aids or to impose one's authority on a team by using a purely hierarchical authority is by nature temporary and ephemeral. In the long term it does not withstand unforeseen conflict situations and external tensions. The animal or team is stronger than you in the long run.
Only a strong relationship based on trust, fairness, justice and mutual respect binds the team together and ensures that its members can deal with the unexpected and resolve any difficulties they may encounter.
The second parallel lies in the need to mobilise and develop the strengths of both a horse and a team, while managing their weaknesses. Based on observations, feelings, experience, and a process of trial and error, both a horse and a team can be trained to work better together, to evolve towards the desired objectives. However, nothing can be taken for granted and great humility must always be shown, since at any moment challenges may emerge.
The third parallel is the setting of realistic objectives. When riding a horse, one must be realistic about its physical abilities. It is possible to correct certain faults and to mobilise certain muscle groups through adapted exercises, but one cannot expect miracles either. Knowing how far to go is a quality of the equestrian educator and the rider. The most important thing is to take the necessary time, without skipping steps, and not hesitating to go back to take up a point that is bad or to work on a skill that has not been properly acquired. The same principle applies to leading a team of people.
The essential point is that we are constantly learning, which requires one to be critical and objective with regard to oneself and what one can expect from either a horse or a team of people.
The fourth parallel is, in my opinion, one of the most important – if not the crucial point: morale. You have to work seriously with either a horse or a team, but always remain in a good mood and without falling into a dreary routine or demanding too much of either the horse or the team.
You have to be able to arouse interest and curiosity, and develop and encourage the desire of both a horse and the members of a team to surpass themselves.
This is only possible if you have managed to establish a relationship and communication channels with them, which are essential prerequisites before starting work and building a project that is accepted by whoever you are working with. The aim and approach are the same for both horses and teams of people, even if the channels used are different.
Biography
Eric Kalajzic, Colonel (GS) studied at the Royal Cadets School and has a master's in Social and Military Sciences from the Royal Military Academy in Brussels. He chose to serve in armoured units, more particularly in a reconnaissance unit stationed in what was then West Germany. After having commanded an armoured reconnaissance battalion, he alternated operational functions with others in the academic world as a lecturer and researcher in the field of security and defence policy. Following his participation in the ITC in 2009, he was appointed Deputy Director and then Director of the Department of High Defence Studies, and subsequently Belgian national representative on the Executive Academic Board of the European Security and Defence College for three years. He joined the SGRS (Service Général de Renseignement et de Sécurité – General Intelligence and Security Service) and served as Head of the Intelligence Division for four years, before becoming Deputy Commander of the SGRS for two years. Then, for three years he held the Chair of World Politics at the Royal Military Academy and the Brussels Defence College. During his career he took part in several operations abroad in the Balkans, Afghanistan and Mali. He also carried out numerous missions throughout Europe, Africa, the Middle East and Asia.