Major General Mats Engman shares his insights on the "two" Koreas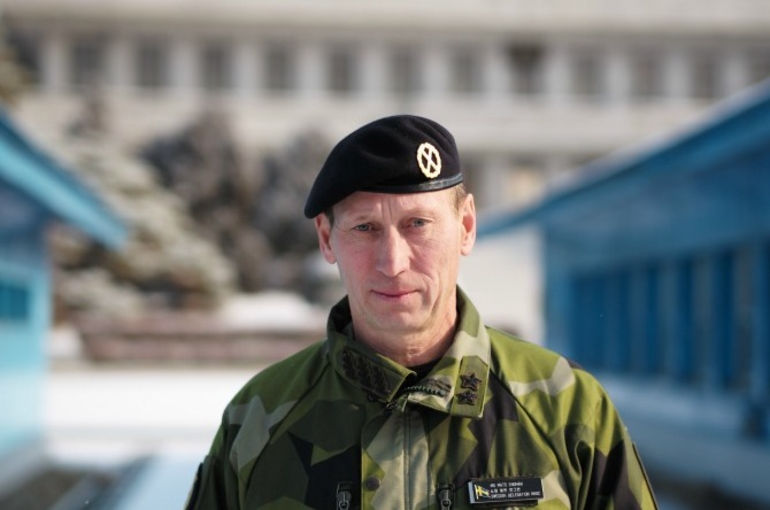 Major General Mats Engman shares his insights on the "two" Koreas
GCSP Alumni are driven leaders, prompting a worldwide change in global peace and security.
By
Major General Mats Engman
In this section, we wish to demonstrate how our graduates make a positive impact on communities and the world. In this edition, Major Gen. Mats Engman (ITC 1994 Alumnus), shares his insights on the "two" Koreas.
Major General Mats Engman, 1994 ITC Alumnus, spent two years at the Head of the Swedish delegation at the Neutral Nations Supervisory Commission (NNSC) in Panmunjeom. He shares his insights on the two Koreas with us.
Alumni Affairs: In 2017, within the span of only a few months, military tension on the Korean Peninsula has peaked due to advances in the North Korean missile and nuclear programme. The peninsula is still a troubled region with an ongoing conflict. The Korean War broke out in 1950, leading the two Koreas to sign a ceasefire agreement three years later. Over six decades have passed since then, yet both Koreas are still in conflict. Early January 2018, North and South Korea re-opened official dialogue after more than two years. In a joint statement after the talks, the North pledged to send a large delegation to the Pyeongchang Winter Olympics in the South and the two Koreas marched on the Korean Peninsula under "Korea" at the opening and closing ceremonies of the Pyeongchang Winter Olympic Games, paving the way for future improvement of bilateral relations and possible dialogue between North Korea and the United States.
Alumni Affairs: Major General Engman, you were the Head of the Swedish Delegation at the Neutral Nations Supervisory Commission in Panmunjeom for two years (2015-2017). Can you tell us a bit more about the current situation on the peninsula and the prospects for improvements and possible peace on the Korean Peninsula? What challenges did you face in your role there?
Maj. Gen Mats Engman: The two years I spent with the NNSC were as you mentioned, characterized by an increase in tension. During those two years, DPRK conducted three nuclear tests and conducted almost 50 missile tests. During the same period, South Korea and USA several times demonstrated, sophisticated military capabilities that DPRK branded as "provocations and aggressive actions directed towards DPRK". We often also heard comments from Washington "that all options are on the table". Since February 2016, the two sides resumed loudspeaker-operations along most part of the Military Demarcation Line and generally intensified their rhetoric. When I left in the summer of 2017 the situation was very tensed. With DPRK´s missile test in Nov-2017, displaying an ICBM capability, you may say the tension peaked.
There were very few indications for a possible resumption of diplomacy and dialogue during this period, even though the new South Korean, President Monn, had stressed the need for this, already since his first weeks in office in May 2017.
For NNSC it was a period of a high operational tempo and a lot of attention on the work of the NNSC. We had several low-level incidents along the DMZ, where we assisted the United Nations Command-UNC in investigating these incidents. We also assisted UNC in supervising the Armistice Agreement mainly through inspections and educations. As we had our Headquarters very close to the Military Demarcation Line, we of course also had to pay extra attention to our own safety and security.
But our main challenge during this period was to maintain our independence and still be viewed as relevant and contributing to risk-reduction and stability.  
The developments since, with Kim Jung-Un´s New Year's address where he not only pledged to participate in the Olympics but also opened a door for dialogue, has been rather surprising for me, as I believe for most experts. But a positive surprise overall, I would say.
The momentum now created with the prospect of two summits between the key actors is promising. Also promising is the aspect of DPRK at least for now having accepted to discuss de-nuclearization and accepting the upcoming large alliance exercises, that previously have been followed by an increase in tension.
But I would be very cautious in making any clear prediction on the outcome of the meetings and the current positive momentum. To address the multiple security challenges on the Korean Peninsula will require time, careful, balanced and skilled diplomacy, a strong international support and of course most importantly a genuine will of the parties concerned. I hope after the two summit meetings we will witness the start of a process of developing confidence-building measures, particularly on the military side. In such a process I believe NNSC could play a role.
Alumni Affairs: You spent 9 months at the GCSP in 1994 at the International Training Course in Security Policy (ITC). Do you recall what the landscape on the Korean peninsula looked like back then? Has the situation really changed since then?
Maj. Gen Mats Engman: I have very fond memories of ITC, but I do not recall that we talked about Asia in general or the situation on the Korean Peninsula. 1993-94 was as many remember a very turbulent time in Europe with the aftermath of the collapse of the Soviet Union, the conflicts in the Balkans and the conflicts in the wider Middle East. However, I do remember studying and discussing nuclear deterrence and I even wrote a paper on this topic. Back in 1993-94, DPRK was not considered a major nuclear weapons issue. Concerning the Korean Peninsula, the most significant change from my time at GCSP and today is the DPRK nuclear and missile capability. This, in my view, represents a dramatic change in the security situation.
Alumni Affairs: I believe that you have just recently launched a new project in your life. Can you reveal some more about it?
Maj. Gen Mats Engman: Yes indeed, but in fact, it is a combination of three projects to be correct.
As already indicated I have a great interest in international affairs and in particular the security dimensions of international developments. My experiences from South Korea only added to this interest. When retiring I was looking for opportunities to continue in this field. I found a possibility to do that as a "Distinguished Military Fellow" at the Institute for Security and Development Policy-ISDP in Stockholm. ISDP is a think-tank and policy institution, with a focus on Asia and the Korean peninsula. I find it very stimulating to work in this new environment and with many new dedicated people. The Institute employs researchers from many different countries, which creates an interesting international working environment.
In parallel, I am also starting my own business (Independent Views) as an advisor and consultant in crisis management, security policy as well as management and evaluation of command post exercises.
After more than 40 years of military life, it was not that easy to completely leave the military. So, when I was offered a possibility to maintain contact with the Armed Forces as a reserve-officer I happily took that offer. In this capacity, I am currently responsible for evaluating the international Command Post Exercise called Viking 2018, which takes place in Sweden and five other countries this spring.
Alumni Affairs: Major General Mats Engman (ITC 1994 Alumnus), may I ask you to briefly introduce yourself?
Maj. Gen Mats Engman: After more than forty years of active military service I retired at the end of last year. My last assignment was as Head of the Swedish Delegation to the Neutral Nations Supervisory Commission, tasked to supervise the Armistice Agreement on the Korean peninsula. This assignment was a highlight of my military career as it encompassed many of my professional and private interests.; working in an international environment, living and learning about different cultures, working in a highly dynamic and complex security environment and working together with highly motivated and professional colleagues. The very same interest that I found with GCSP, almost 25 years ago.
One very important element of enjoying the assignment in South Korea was that I once more had the opportunity to work together with my very good Alumni-friend from the 8th ITC, MG Urs Gerber from Switzerland. Imagine being greeted by your "class-mate" from almost 25 years ago, when you check-in to start to work up at Panmunjeom!
Most of my military career has involved some form of international aspects. Be it as a student at ITC, or at the Naval Postgraduate School in Monterey, as Defense Attaché in London, or deployed in peace-keeping operations to the Middle East. But also working with and trying to analyze world events, being responsible for the Armed Forces international relations and being directly involved in the Swedish Armed Forces international operations, from a Headquarters perspective.
Since retiring from active service I will continue working as a reserve-officer on a temporary basis and have joined a Swedish research institute called ISDP. I have also started my own business, Independent Views.
Alumni Affairs: Mats I thank you for your contribution and wish you the best of success this spring with your new projects. A return to the GCSP at its premises the Maison de la paix will hopefully be able to fit into your 2018 agenda.
GCSP Alumni, where are you now?
Share your projects with us at alumni@gcsp.ch