Ecopeace Middle East wins GCSP 2017 Prize for Innovation in global security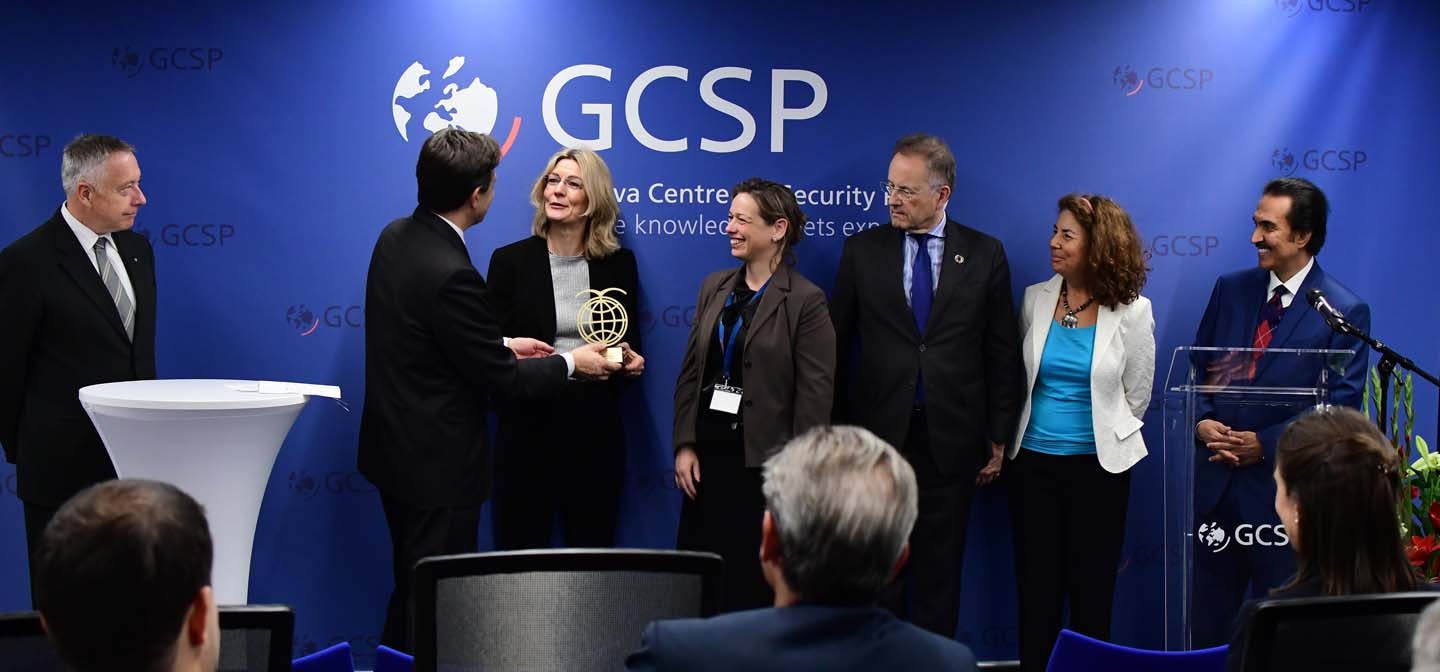 Ecopeace Middle East wins GCSP 2017 Prize for Innovation in global security
On 23 November, over 60 policymakers, diplomats, members of the Swiss armed forces, journalists, academics, innovators, key international players and stakeholders from the public, private and non-profit sectors gathered at the Geneva Centre for Security Policy for the ceremony of the 2017 Prize for Innovation in Global Security.
Established by the Geneva Centre for Security Policy (GCSP) and its Geopolitics and Global Futures Programme, under the umbrella of the Centre's Creativity and Innovation Initiative, this year's Prize for Innovation in Global Security yielded wide-ranging and impressive submissions that came in the form of papers, inventions and campaigns, and were submitted by academics, organizations, and entrepreneurs, among others.  The GCSP received 115 applications from over fifty countries on six continents, addressing pressing issues such as human rights violations, defence education, and climate change.
This year, the Prize was awarded to EcoPeace Middle East for its Program on Water Security. Launched in 2017, this program scales up a very successful environmental peacebuilding model developed in the Middle East, to meet the urgent global need for cross-border cooperation to mitigate water conflict and manage shared freshwater ecosystems. Complementing government-to-government water diplomacy efforts, it seeks to establish relationships of cooperation and trust at the community, national and international levels, in order to increase resilience to climate-induced water stress and reduce the threat of conflict over shared water resources.
Based in Washington DC, the program serves civil society organizations located in shared water basins worldwide and provides advice on how best to adapt bottom-up and top-down programming and strategies to the specific circumstances in the given locations. In addition to capacity-building activities to advance local environmental peacebuilding initiatives, the program develops strategic partnerships with international stakeholders, researchers, think-tanks, and academia.
The project was represented by the Ms Marina Djernaes who is the Director of EcoPeace's Program on Water Security with an objective to apply EcoPeace expertise globally, and Ms Dalit Wolf Golan who is the Director of Development of EcoPeace, where she secures funding for EcoPeace's activities in the Middle East and worldwide, and investments for water and sanitation infrastructure projects in the communities in which EcoPeace works.                              
In their acceptance speech, Dalit Wolf Golan and Marina Djernaes emphasized the instrumental role of water in peacebuilding and peacekeeping. Marina Djernaes said that "water security is very important. Using a natural resource to get people together provides grounds for understanding how people in one location are interconnected with people in other locations."
After the award ceremony, the event continued with a gala dinner that took place at the Maison de la Paix Restaurant, where Marina Djernaes gave a keynote speech on Climate Change, Water Security and National Security.
The panel of judges for this year's edition of the GCSP Prize for Innovation in Global Security included Director-General Mr Michael Møller, Lieutenant General (Retd) André Blattmann, Ms Angela Kane, H.E. Mr Frank Grütter, Professor Jane Royston, Ambassador Christian Dussey and Professor Nayef Al-Rodhan.
The GCSP Prize for Innovation in Global Security, an annual event, will renew its call for applications next summer.
Watch our video
Related Press Coverage