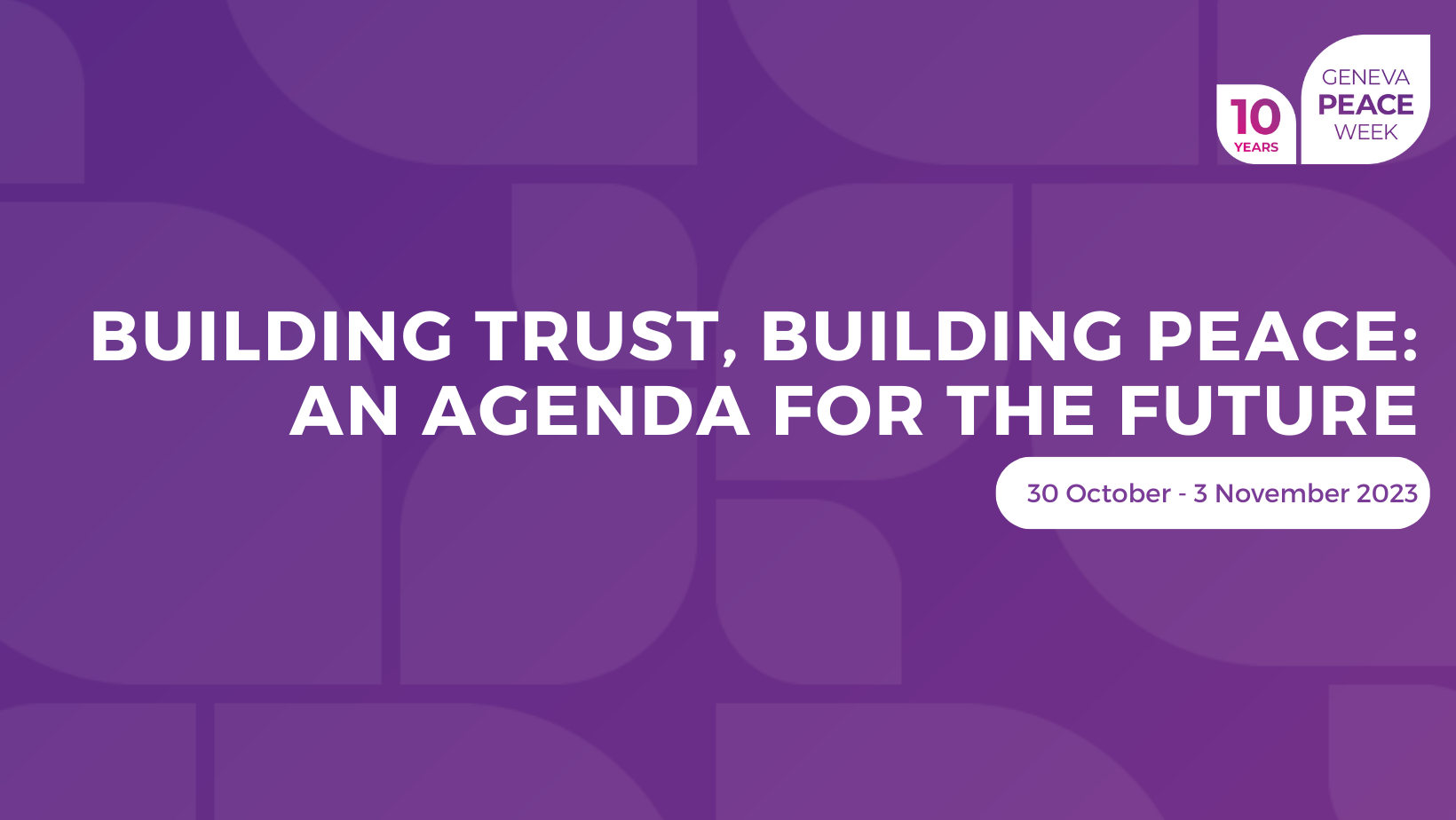 The Geneva Centre for Security Policy, as a member of and in partnership with, the Geneva Peacebuilding Platform, are pleased to welcome applications for the 10th Anniversary

Geneva Peace Week 2023 (GPW2023)

: "Building Trust, Building Peace: An Agenda for the Future".
Over the past decade, progress in science, technology, and economic development have greatly benefitted peacebuilding work. Nevertheless, our world remains fragile; plagued by internal violence and armed conflicts of far-reaching geopolitical dimensions, increasing its fragmentation and polarisation. Urgent issues such as climate change and disruptive technologies add to our global complexity. Preparing for the future, and as we strive to navigate these challenges, it is crucial to restore trust and faith in our institutions and, most importantly, across countries and with each other.
Geneva Peace Week is a flagship initiative of the Geneva Peacebuilding Platform in collaboration with the Graduate Institute of International and Development Studies (IHEID), the United Nations office at Geneva (UNOG), and the Platform's five partners – the Graduate Institute's Centre on Conflict, Development and Peacebuilding (CCDP); the Geneva Centre for Security Sector Governance (DCAF); the Geneva Centre for Security Policy (GCSP); Interpeace; and the Quaker United Nations Office, Geneva (QUNO). Geneva Peace week is also supported by Switzerland.
Geneva Peace Week 2023 will build on the Geneva Consultations on the New Agenda for Peace that took place in March 2023, appraising the ideas and recommendations generated on how to better build peace through prevention. As it is the 10-year anniversary, this edition of GPW will provide an occasion to reflect on both peacebuilding achievements and setbacks of the last ten years, while at the same time providing a platform for fresh insights and bold recommendations to pave the way for a strong agenda for the future.
There will be three overall work strands: 1) Promoting peaceful and inclusive societies; 2) Addressing climate change through just transitions; 3) Harnessing technologies to build a better future.
Make your voice heard and best ideas acted upon! Join us!
More information regarding the call to applications and participation can be found on the Geneva Peace Week website.