GlobalArctic officially joins the GCSP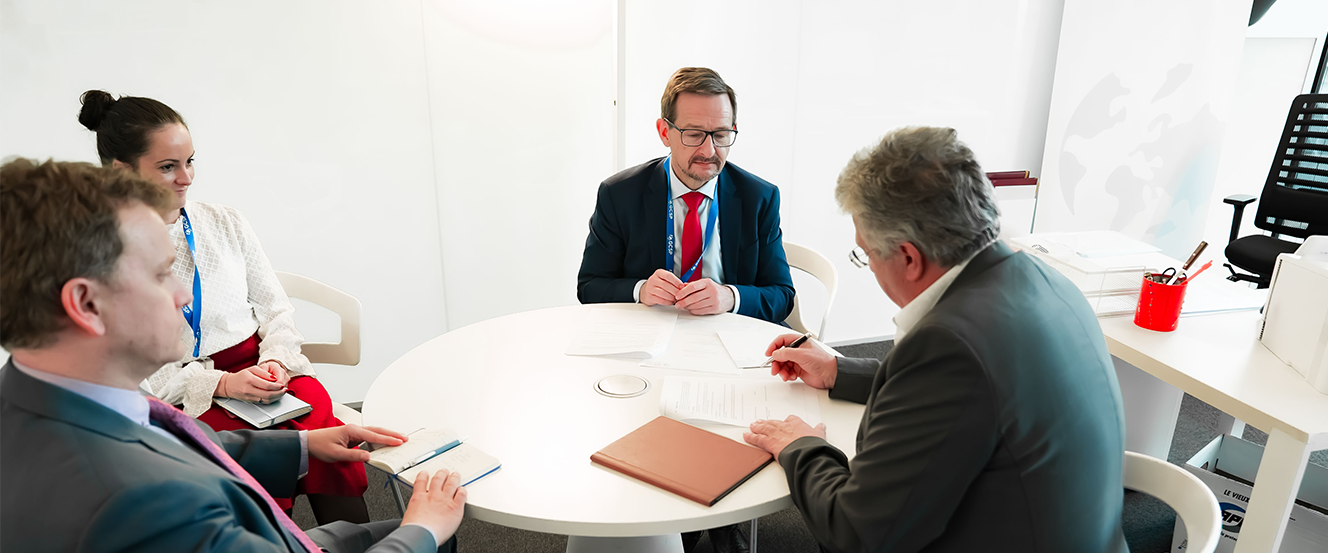 GlobalArctic officially joins the GCSP
GCSP's Director Ambassador Thomas Greminger met with Dr Matthias Finger, head of the Global Arctic initiative, to formalise the integration of Global Arctic into GCSP. This brings to GCSP leading international expertise on the Arctic, an increasingly important region from the security, environmental and economic perspectives.
Why is GCSP establishing a GlobalArctic unit?
The Arctic region is experiencing some of the most rapid environmental, social, economic and geopolitical changes, resulting from a combination of climate change, globalisation, and the competition for natural resources. If we coupled these with the current geopolitical tensions that limit an inclusive and truly global approach to address all the interconnected issues in play, and of course the high stakes involved, there is a clear need for platforms such as the Global Arctic.
Today more than ever new thinking and fresh ideas are required, as unexpected scenarios must now be considered. GlobalArctic has been a pioneer on this when it comes to the High North. For the last eight years, the platform has been shedding light on the urgent need to better understand how the Artic is being transformed – and could be adversely affected - by global forces. And how in turn the Arctic affects the globe, whether ecologically, economically, or in terms of geopolitics.
At the GCSP, we believe that effective and forward-thinking leaders and organisations need to build a broad picture of what is happening in an increasingly connected world. We unravel the intricacies of geopolitics and help leaders to address traditional and emerging challenges, applying 'state' and 'human' security lenses.
This is why the GCSP has decided to integrate GlobalArctic into the Centre.
GCSP's uniqueness stems from our ability to bring together non-likeminded people to meet and share their views on difficult, and sometimes controversial issues, in the hope of fostering a greater mutual understanding of one another's perspectives and perceptions. The GlobalArctic also embodies this approach, and we believe our community will greatly benefit from this collaborative and forward-looking network that represents a unique and vast reservoir of knowledge.
What is GlobalArctic?
Initiated in 2014, the GlobalArctic project is a network of practically minded persons, mostly from Academia, from all disciplines, and from around the world. They share a profound concern about what is happening in the Arctic, as well as about what this means for the planet, especially ecologically and geopolitically.
GlobalArctic has produced two edited books, as well as a freely available Massive Open Online Course (MOOC) on Coursera. It has developed a unique trans-disciplinary research framework and a methodology for research to better understand the region within the context of globalization. What happens at the global level in terms of climate change, technology, industrial development, as well as social and cultural change is not only affecting the Arctic; rather, it is transforming it. On the other hand, what takes place today in the Arctic, notably in terms of ice melting, resources exploration and exploitation, transport and urbanization directly affects the planet and accelerates the above global trends.
GlobalArctic does not promote any specific policy choice, or geopolitical alignment – instead it offers a platform to stakeholders that have a stake in the region, and enables them to contribute innovative ideas to a debate that has been made more urgent by the recent geopolitical tensions.
Project Team
Dr Matthias Finger is a Professor Emeritus at Ecole Polytechnique Fédérale in Lausanne, Switzerland (EPFL). He holds a Ph.D. in Political Science from the University of Geneva. He has been an Assistant Professor at Syracuse University (New York), an Associate Professor at Columbia University (New York), a Professor of Management of Public Enterprises at the Swiss Federal Institute of Public Administration, and between 2002 and 2020 the Swiss Post Chair in Management of Network Industries at EPFL. Since 2010, he is a part-time professor at the European University Institute (EUI) in Florence, Italy, where he is deputy director of the Florence School of Regulation's Transport Area (FSR-T). Since 2017, he is also a professor at the Faculty of Management at Istanbul Technical University (ITÜ), where he directs the Istanbul Center for Regulation (IC4R). In 2010 he was appointed as a research professor at Northern Arctic Federal University (NArFU) in Arkhangelsk, Russia.
Dr Gunnar Rekvig is an associate professor of Northern Studies at UiT – The Arctic University of Norway. He holds a PhD in Political Science from Tokyo University of Foreign Studies. He manages the GlobalArctic Project (globalarctic.org) where he and Matthias Finger coedited Global Arctic – An Introduction to the Multifaceted Dynamics of the Arctic, published by Springer in 2022. He was the 2019-2021 Nansen Professor at the University of Akureyri. Rekvig's primary field of research is on the international politics of the Nordic Arctic (North Atlantic and Barents Regions).