Incubating the International Gender Champions for further impact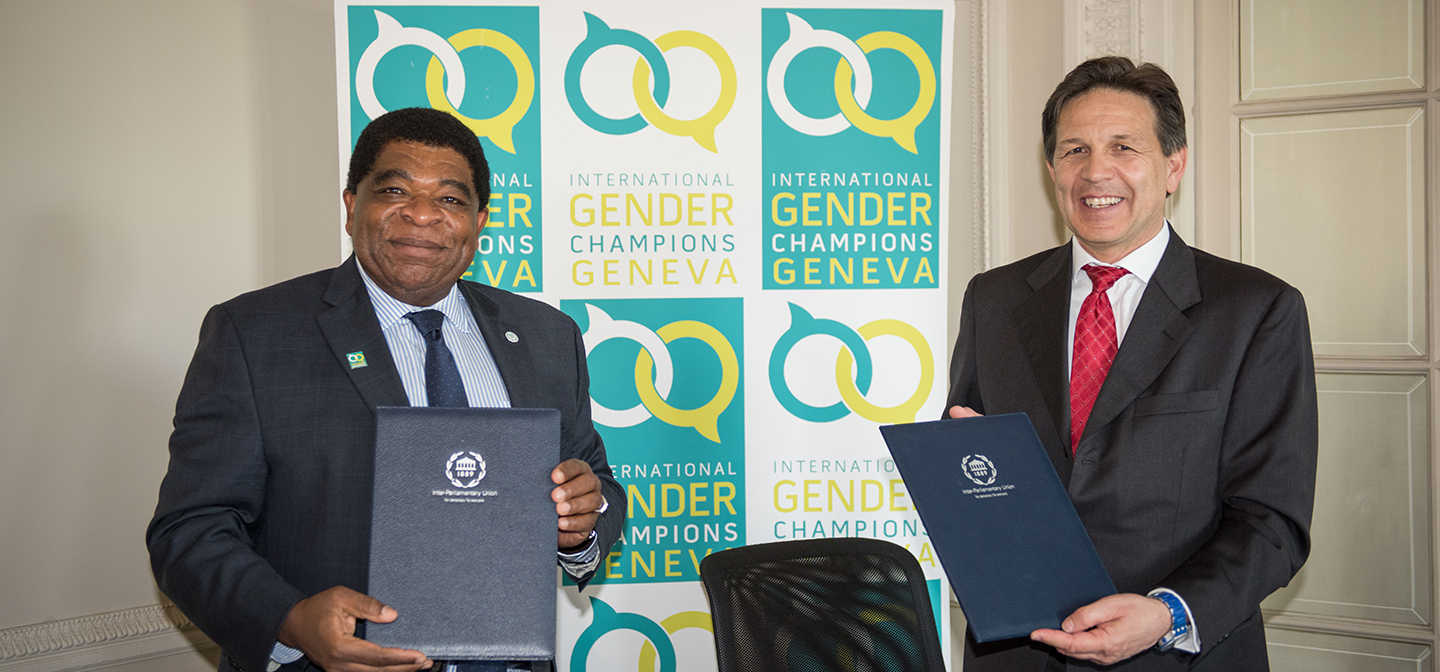 Incubating the International Gender Champions for further impact
On 3 March 2020, the Chair of the IGC Global Board –

Mr Martin Chungong

– and

Ambassador Christian Dussey

 Former Director (2013-2021) of the Geneva Centre for Security Policy (GCSP) signed a Memorandum of Understanding to formalise their collaboration in the context of the

International Gender Champions

.
Since September 2019, the GCSP has been incubating the initiative within its Creative Spark and with the support of donors, dedicated staff and resources to the IGC Secretariat. 
"The Creative Spark is a project incubator and accelerator", says Ambassador Dussey, "the level that the IGC has reached is already excellent, the initiative is having a real impact.  We hope to take it even further – expanding the network within hubs and to new hubs, and deepening impact. Achieving gender equality demands collaboration, creativity and innovation across sectors, and the Creative Spark provides a unique environment for that, with the benefits of organisational support".
A number of innovative projects have already been incubated in the Creative Spark, including the Global Community Engagement and Resilience Fund, Media and Arts for Peace, Cyber Aid, and most recently the Geneva Cities Hub. 
The International Gender Champions is a leadership network that brings together female & male decision-makers determined to break down gender barriers and make gender equality a working reality in their spheres of influence. The IGC was launched at the Palais des Nations in Geneva, July 2015 and has expanded to five Hubs – New York, Vienna, Den Haag, Nairobi and most recently Paris.
Martin Chungong, Secretary General of the Inter-Parliamentary Union (IPU) and a Gender Champion since 2015, took over the role of Chair of the IGC Global Board in February 2020.
"As we approach the IGC's fifth anniversary this June, we have seen its rapid expansion to six hubs and the number of Champions is continuing to grow, with incredible and tangible impact", Martin Chungong stated. "We are delighted that the initiative has a home and are also conscious of the need to ensure its sustainability by broadening the donor base and in-kind contributions so that the Secretariat can adequately support the network and realise its potential in future years."
The network now numbers over 250 active Champions and 160 Alumni who are the heads of International Organizations, Permanent Missions, and Civil Society Organisations.