Lessons in leading a non-profit organisation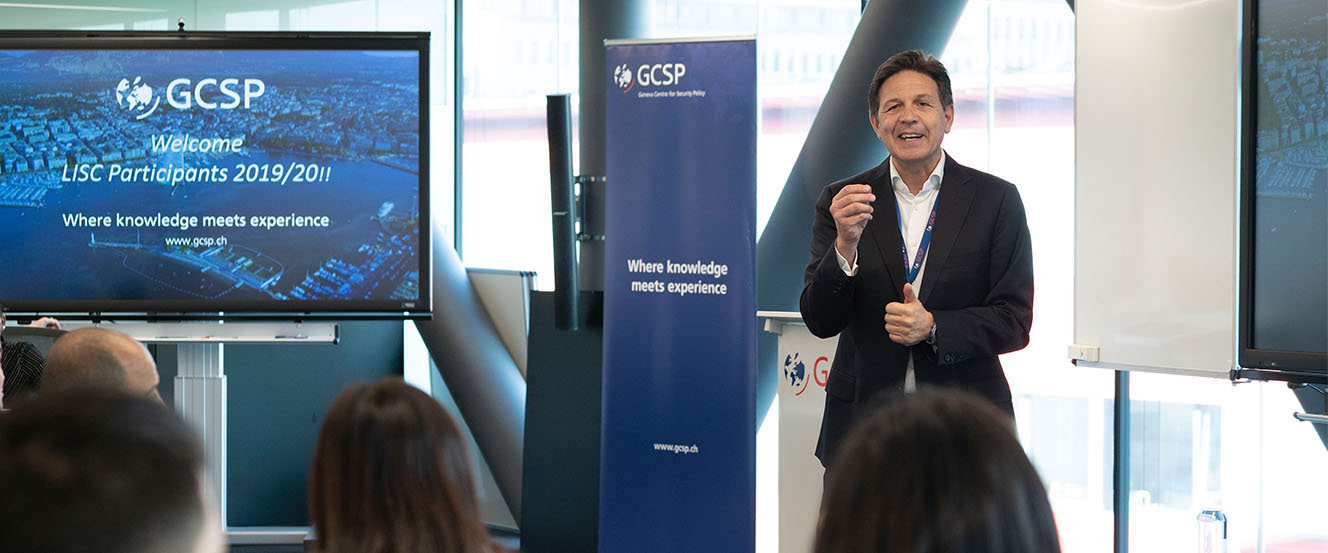 Lessons in leading a non-profit organisation
Part 3 of 3 in a series of reflections from Ambassador Christian Dussey, Director of the GCSP
Ambassador Christian Dussey is now approaching the end of his tenure as Director of the Geneva Centre for Security Policy. For eight-years, he was faced with both challenges and opportunities. This 3-part series is a compilation of his key reflections including: leading and navigating in turbulent waters, the importance of learning, and experiences in leading a non-profit organisations.  
Part 3: Lessons in leading a non-profit organisation
Leading an organisation brings challenges, sometimes frustration, but foremost for me, a lot of joy. As I finish my second mandate as director at the Geneva Centre for Security Policy (GCSP), I would like to use this opportunity to share my experiences in leading a not-for-profit organisation in a competitive environment.
Over the past eight years, my talented colleagues, partners and I have celebrated many successes, advanced new models, almost tripled our activities and significantly expanded our reach. We experimented with new products and services for our beneficiaries and clients as well as tested new ways of working, always with the same objective in mind: making the best and most thoughtful impact we could with the funds and projects which were entrusted to us.
Here are some of the observations and perspectives I have gained from this fascinating journey – including the concepts of a Unique Value Proposition (UVP), strategy and execution, transformation and managing change, organisational design, creating an experience, and leadership.
1.   On defining a Unique Value Proposition (UVP)
In the Spring of 2013, shortly before joining GCSP, I met in Cambridge (Massachusetts) with Prof. Graham Allison, the "Founding Dean" (1977) of the prestigious John F. Kennedy School of Government at Harvard University. He gave me the following advice for setting up a UVP: 1) define your segment and don't copy others, 2) build a vision and be convinced about it, and 3) leverage the unique value of your location.
Professor Graham's valuable advice, along with a thorough analysis of GCSP's environment, and the study of other industries unrelated to ours, have largely contributed to the creation of the Centre's UVP.
It's worth noting – a UVP is not set in stone. It is effective as long as there is a market for the services or product of an organisation – and will therefore evolve over time to fit a fluid environment and changing demand. GCSP's UVP has done exactly that over the past years. Today it is based on five interlinked "Impact Lines" forming what we refer to as the "Peace Pentagon" of our focus areas (Executive education, Diplomatic facilitation, Global Fellowship Initiative/Creative Spark, Digital amplifier, and Community engagement).  While each Impact Line, like business lines, delivers a specific service, as a system, the Peace Pentagon allows for co-creation, synergies, and crosspollination.
Sometimes a UVP can go against conventional wisdom, as did GCSP's. The conventional wisdom would tell us to focus on just a few fields and reach strong expertise in them. We took a reverse position and extended them to nineteen. Limiting ourselves to a few would have been contradictory to our desire to break out of unproductive silos and instead bridge disciplines and expertise. Indeed, we understood early on that the higher people rise in the hierarchy of an organisation, the more they face simultaneously all the challenges and topics we cover at GCSP (leadership, crisis management, disruptive technologies, cybersecurity, strategic anticipation, geopolitics, complex negotiations, etc.). At the same time, while most professional schools (diplomatic academies, defence colleges, business schools) tend to limit the diversity of their participants (diplomats, officers, executives respectively), we decided to integrate all actors of international affairs (governments, parliaments, militaries, international organisations, media, private companies, civil society) in each of our executive courses and leverage this extraordinary diversity.
2.   On strategy and execution
Strategy, at its very essence, focuses on a simple concept: how to best use and combine available resources to achieve a desired impact. Plenty of models exist to help with designing strategies. The literature is immense. The models available are endless. Each sector (public, private, non-profit, military) has its own set of tools and best practices, from the "ends-ways-means" of military strategies to the "results-based management" system common in the non-profit sector.
Sometimes it can feel that traditional models have us trapped, aptly summarised in "The blind men and the elephant". But what's more essential is to choose a model (or elements of models) customised to a specific situation or organisation. The resulting model should also be simple and one that can be easily communicated to staff and stakeholders. Otherwise, the probability is high that they won't understand it, which is a sure way to hamper its execution.
At GCSP, we chose the Norton/Kaplan model. We used its Strategy Map to display in one page the articulation of the strategy with all of its key focuses, strategic enablers, and boosters. It's been a simple model and easy to share with stakeholders and staff. And we found its destination statement (where we want to be in five or ten years) more useful and inspiring than a vague or utopian vision. While we started to develop specific "balanced scorecards", it appeared that the complexity of data gathering was overwhelming and difficult to manage. In hindsight, we discovered that our Global Fellowship Initiative was a spectacular and unexpected success, because we applied inadvertently another model, the "Blue Ocean Strategy".
Designing a strategy is not as complicated as executing it. Execution involves a complex machinery that entails multiple actors and factors that have to move in a synchronised manner and in a fluid environment. As the old adage goes, no plans, as well crafted as they might be, survive the "first day of battle" or contact with reality. Planning, however, is critical since it forces you to analyse the environment thoroughly, examine different scenarios, and enlighten or facilitate decisions. At GCSP, two simple but extremely useful tools have helped us stay focused on our environment so that we avoid complacency: 1) Short weekly "Horizon Scanning" meetings (15 minutes), open to all staff, facilitated a regular analysis of our competitive environment and an ongoing re-commitment to our UVP; 2) Weekly "Lessons Learned" meetings (15 minutes), derived from militaries' "after-action reviews", helped us constantly improve the way we were delivering our services.
3.   On transformation and managing change
The GCSP has significantly evolved over the past eight years, especially since we arrived at the Maison de la paix in early 2014. The Centre went through incremental changes and two major transformations. Those transformations were a little like being on a sailboat during a race across the ocean. First, we had to define and determine where we wanted to land. Then we had to understand the environment, currents, winds and competition; we had then to design the boat, chart the course, navigate, and then redesign the boat as we navigated to adapt to the changing environment and circumstances. This was the only way to compete and deliver on promises we made to our sponsors (stakeholders). Stagnation was never an option.
But changes are difficult to implement. We all know that resistance to change is often very strong. It can stem from the "not invented here syndrome", the defence of fiefdoms, the fear of an increase in the amount of work or to monopolistic situations that blind us to the necessity of adaptation.
Among all the models that exist on the best way to lead transformation, the one developed by John Kotter in 1995 is still the most helpful and effective for me. It gave me a simple framework to guide us through the two major transformations the GCSP undertook. They were very different in nature (a turnaround and a strong expansion). The first one required a "lead from the front" leadership style, while the second was successful because I was able to lead from behind, and let my colleagues deploy their talents. But both transformations went well thanks to the Kotter's model, which is this: 1) establish a sense of urgency, 2) create a guiding coalition, 3) develop a vision and strategy, 4) communicate the vision, 5) empower broad-based action, 6) generate short-term wins, 7) consolidate gains and produce more change, and 8) anchor new approaches in the culture.
4.   On organisational design and structure
Any strategy is doomed to fail without a clear idea of what the desired end state or success is going to look like in a specific time horizon. It will also follow the same fate if the structure and design of the organisation are not aligned (as shown in the 7 S model). Structure always follows strategy.
During its lifetime, an organisation moves along a trajectory that is shaped and influenced by its history, as well as by external and internal factors. While designing the optimal structure, the risk resides in focusing on, or following, the latest flavour, trend, or fad of the moment. "How to" manuals on designing structure flourish everywhere. The most helpful tool or model I used to understand GCSP's internal process, anticipate its needed changes and guide our decisions regarding the type of structure needed (functional, matrix, based on product, market or geography, flat, circular or network) is called "Trajectory management". This model offers a valuable framework for examining what the organisation's trajectory has been in the past, what its current trajectory is and how to sustain that trajectory or switch courses. It provides the "captain at the wheel" or the leadership team with a set of criteria to analyse or check the organisation's position according to four variables: 1) governance role, 2) leadership style, 3) organisational models, and 4) business or impact models. The "Trajectory management" model helps in getting a higher perspective.
Besides utilising this framework, I also looked beyond our industry and far from our direct competitors. I wanted to know: what could I learn and adopt from fast-moving, big-tech companies, special forces, business platforms (two-sided marketplaces like Uber, for instance), start-ups, social movements, the hospitality sector or the service industry? I knew the taxi industry well from my own previous professional experience, so the Uber/Lyft/Ola type of platforms intrigued me the most.
This led the GCSP to adopt a platform model based on a core staff, supplemented by more than 1'000 annual invited experts, and designed and delivered to create unique learning journeys (what we call "The GCSP Way"). The agility of the model was reinforced with the use of temporary project teams, similar to the ones that are found in consulting firms, special forces and the film industry. This new approach proved to be much more agile and responsive to our clients' demand than previously. It ensured that we provided the right product at the right time and in the right location. And it has allowed for scalability without sacrificing the quality of our offerings.
5.   On creating a unique experience

When conviction meets passion and talent, it can generate a limitless spark of ideas and projects. Location also matters. In 2014, the GCSP was lucky and privileged to inherit a state-of-the-art building, the Maison de la paix (House of peace) in the middle of International Geneva. Born out of an ambitious idea 20 years before, our new glass building was fully transparent. But bricks and mortars, in this case glass and concrete, do not create a soul and an experience by themselves.
Creating a unique experience and impact is the result of multiple factors: the courage to experiment, the space in which to do it, and the imagination and trust of the staff. Producing a memorable learning and discussion experience requires a combination of content (topic), context (the participants' perspective) and the emotions generated through the interactions.
From the beginning, we knew we wanted the "GCSP experience" at the Maison de la paix to be unique for participants and guests. From the minute they entered the building or virtual classroom until they left after a day, a week, or months, we wanted their journey to be special. We wanted our course participants to have the best learning experience they had ever encountered and be a source of inspiration for visitors from abroad. It was an ambitious goal, but with my colleagues' dedication, ideas, and enthusiasm, we achieved it. Among the thousands of visitors to GCSP at the Maison de la Paix – from ministers to generals to CEOs, no one was left unmoved by the intellectual creativity and excitement they saw on each of the Centre's floors – intentionally named after the action verbs Discover, Engage, Explore, Shape, and Spark.
We carefully and creatively decided to fashion the interior of our new premises in Maison de la paix to create this unique experience. Over the years, we went from writing on the building's interior walls to using the formidable platform, "Miro," when the COVID-19 global pandemic hit, still writing on the wall, but this time in a virtual world.
If, at the beginning, we shaped our building, now the building, the experience, and the positive atmosphere it creates, shapes us. A sense of optimism and possibilities radiates throughout the building. And that nurtures the collaboration, trust, respect and creativity that are the key ingredients of the "Esprit de Genève" (Spirit of Geneva).
6. On managing after a disruption: Prepare, pivot, sustain
Over a weekend in mid-March 2020, the GCSP became fully virtual. There were no delays in our operations. The staff continued to deliver courses as scheduled with participants from every corner of the world. We transferred all our activities online to create a multitude of digital experiences including webinars, world cafés, virtual video sessions and more. An added bonus of this successful crisis response: the virtual format has allowed us to expand our global reach, particularly to regions in crisis and conflict. 
I think that we were successful because we had prepared sufficiently, and we were lucky to have staff experienced in crisis management. Moreover, for the last couple of years, we have been offering courses in strategic anticipation, crisis management, leadership, global risk and resilience; all these skills and knowledge were crucial to helping us adapt to the new reality. 
It is difficult to predict disruptions, crises or emergency situations. It is also challenging to demonstrate agility in responding to them. But there are no excuses for not being sufficiently and correctly prepared. Unfortunately, even though many organisations make sure they have response plans, too often little time is dedicated to examining the "what ifs" at the leadership level and even less time is spent practicing them to see what works and what needs to be modified.
Recognising the signs of a developing crisis is a complicated endeavour. Even a major incident may appear benign at the outset. Adding to this complexity: humankind has a natural tendency to deny the severity of a problem or a challenging situation it is about to face. The former French Minister of foreign affairs, Hubert Védrine, reflected recently on the current COVID pandemic: "We were taken by surprise, this is indisputable. We weren't prepared, it's proven. However, we had been warned, we knew what could happen. But there is no worse ignorant than someone who does not want to know." 
The effectiveness of responses to sudden and disruptive events largely depends upon the ability of the leadership to transform itself rapidly into an agile crisis leadership team. Unlike "first responders" (firefighters, emergency room specialists or policemen/women) or workers in "High Reliability Organizations" who are specifically trained for crisis response, most of us are not. Hence, keeping crisis response mechanisms simple helps enormously – and that's what we've always strived to do at GCSP. 
We've come to understand at the Centre that any crisis behoves us to show humility – in other words, to respect the unpredictable nature and force of any emergency or disruption that comes our way – but we also know that crises can offer opportunities for us as well. For GCSP, it has meant using time during the global pandemic to pause, think, build and expand both our team skills and our own individual skills. We've taken the opportunity to experiment with new models and tools, and to prepare for a quick recovery from the disruption. 
Our worst enemy during this pandemic crisis, or really any crisis, is fatigue. Lack of sleep during an extended period of time decreases individual and team performance, hampers decision-making and judgment, and therefore poses significant risks. We addressed this by establishing new rituals, such as not sending internal email one day a week, called "Reflect and Build Day", or conducting weekly "Virtual FIKA Coffees" for the staff. For all of us, maintaining and building up personal and team resilience during this disruption has been not only desirable -- we consider it an imperative. 
7. On leadership
Like many of you, my leadership skills and competencies were shaped by my environment, my own experiences, and the experiences of others. Also, like many of you, I quickly learned that humility is an important attribute, given the impressive amount of expertise and experiences around us as well as the wealth of experience we've gained from leaders throughout history. The late Peter Drucker, probably the most influential management thinker of the 20th Century, was a prolific writer. But he never wrote a book on leadership or with leadership in the title. He maintained that "the first systematic book on leadership was written by Xenophon (Kyropaidaia and Anabasis) more than 2000 years ago, and it is still the best".
Leading a crisis centre, prior to joining the GCSP, taught me the value and necessity of simplicity, speed, and agility. It also taught me that a positive impact on the client is what really matters. Keeping this in mind helps us focus on the results, not internal processes or ourselves.
As a military officer, general staff courses taught me to pay attention to detail, while at the same time to keep a "helicopter view" of my world. Zooming in on the problem or issue and then zooming out to get a broader perspective, and vice versa, is an indispensable part of critical thinking. Military education also taught me the need to "Voir loin, et commander court!" (to look ahead, and command short) as French Marshall Ferdinand Foch used to say. In other words, expand one's vision, anticipate, and focus on the goal, but act, choose and move quickly.
Ultimately, leadership styles depend on the situation and the environment. There isn't a unique model applicable to all situations. For example, a turnaround may require that we lead from the front with a clear and compelling vision and with the courage to take risks. If we need to accelerate growth and scalability, then we know we have to transform one large ship into a flotilla of smaller ones and let a myriad of empowered intra-entrepreneurs inside the organisation move ahead. We then lead alongside them, making sure that this flotilla of fast-moving ships sails in the right direction and get the right support. By playing the role of a coach, like in sport teams, and providing safe spaces to experiment we help them anticipate, and work jointly to solve problem.
Another key ingredient of leadership that I have learned is the importance of trust, particularly trust in subordinates. Without trust, in my staff, the agility and speed in which the GCSP has been able to operate would have never been achieved. Because micro-management will break initiatives and weaken trust. People who are on the front need to be trusted. They are closer to the action and have a better understanding of the needs of the clients and beneficiaries.
Leading a very diverse team is challenging and needs a personal investment. I had the privilege to work with an extremely diverse and multigenerational team from 21 nationalities: diplomats, military officers, academics, civil servants of international organisations, business executives, researchers, young graduates. Sometimes that diversity can engender frictions or misunderstandings. But for the most part, a diverse team brings a wealth of knowledge and experience and is an immense source of creativity and inspiration. It is also a formidable force multiplier in everything we do and in every corner of the world that we reach.
Our reach is global, and now also virtual, and as such, as leaders, we should be prepared to lead and work from anywhere. Physical premises and beliefs that a "corner office" brings leadership status will only restrain agility. Where we lead, and where we work, should be where we can have the most influence and impact. For the past seven years, I have been the only staff member who didn't have a dedicated office. Instead, I worked everywhere –, from my home, the commuter train, while travelling abroad, even from different floors of the GCSP building. Why? Because I knew that if I expected my colleagues and staff to be open to working anywhere, I needed to demonstrate that commitment too.
Finally, our discussion of leadership isn't complete without considering organisational culture. With that in mind, the late Paul O'Neill, former CEO of Alcoa, and former U.S. Secretary of the Treasury, proffered the following three questions: 1) Am I treated with dignity and respect every day by everyone in my organisation? 2) Do I have the tools to make a contribution to my organisation that gives meaning to my life? 3) Does someone recognise the contributions I make?
Every person in our respective organisations should be able to answer 'yes' to the three questions. That's always been the GCSP goal, too.
Final remarks
"Servir ou se servir" (serving others or serving oneself) is advice that a senior Swiss diplomat shared with our cohort of young diplomats 25 years ago. It was about choice and attitude toward one's role and has stayed with me ever since.
When I joined the GCSP in 2013, the Centre was an influential and solid organisation – one where I knew I could serve others. But I saw even greater possibility. My objective at the outset was to create an organisation that would always be forward-looking, deeply engaging, and that could adapt continuously to an ever-changing world. An organisation that would provide relevant, timely, and actionable skills, tools, and knowledge. An organisation that would become a safe environment for diplomatic facilitation and an incubator for innovative projects and ideas in the field of peace and security.
To the extent we were able to reach these new heights at GCSP, I am indebted to my very talented and exceptionally dedicated colleagues. The successes are theirs. The best wishes for their continued success are mine.
Ambassador Christian Dussey is the Former Director of the Geneva Centre for Security Policy (GCSP) from August 2013 until May 2021.
Prior to this assignment, he served as Swiss Ambassador and Head of the Crisis Management Centre of the Swiss Federal Department of Foreign Affairs (FDFA). The Centre coordinates the governmental crisis response system during major incidents affecting Swiss citizens abroad (disasters, political upheavals, terror attacks, hostage-taking).