These are the 3 winners of the 2020 GCSP Prize for Innovation in Global Security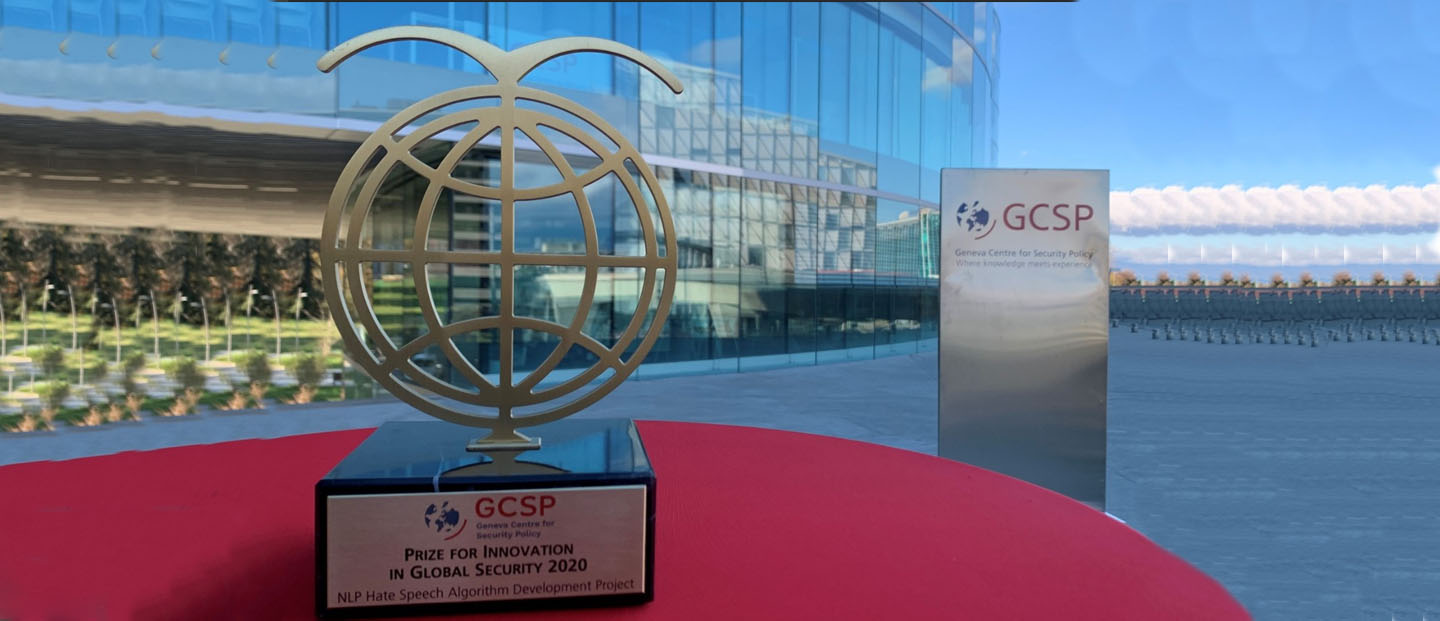 These are the 3 winners of the 2020 GCSP Prize for Innovation in Global Security
As part of the GCSP's 25th anniversary celebrations, the sixth GCSP Prize for Innovation in Global Security adopted a new format this year by showcasing not just one, but three projects for their innovative approaches to addressing international security challenges.
Held online on 25 November at 2 p.m., the award ceremony put the spotlight on the three winning submissions from three different disciplinary fields: the fight against hate speech, cyber security and demining.
Among the 144 projects submitted for the prize, the project in first place – which therefore wins CHF 10,000 and a GCSP Certificate of Excellence – is the NLP Hate Speech Algorithm Development Project developed by Koe Koe Tech, a tech company based in Myanmar, where most of the population relies on Facebook to obtain its news. However, it was found that the platform has been used to incite violence and hate speech.
The NLP Hate Speech Algorithm Development Project uses an algorithm based on artificial intelligence and natural language processing (NLP) to detect and counter hate speech, misinformation, and coordinated propaganda campaigns that appear on Facebook and Messenger. The project aims to develop recommendations for the regulation of Facebook and other social media platforms not only for the Facebook independent advisory board, but also for Facebook developer operations, and more widely for lawmakers.
When he learned that the project had won the GCSP Prize, Michael Lwin, CEO of Koe Koe Tech, declared:
"Koe Koe Tech, with its Meekin platform, aims to work with civil society organisations around the world to generate datasets labelled in accordance with international human rights law. NLP hate speech machine learning models can be trained on these datasets, in different languages for different country contexts, to assist civil society in prescreening potential hate speech that civil society can then do [a] final, human-in-the-loop review on. Our work will enable civil society to detect early on new trends in hate speech globally and coordinate ... their response to this pressing issue."
The project in second place – and thus receiving a GCSP Certificate of Recognition – is Cyber 4 Healthcare, a healthcare cyber security match-making service available to organisations fighting COVID-19, which was developed by the CyberPeace Institute based in Geneva. Cyber 4 Healthcare offers free cyber security assistance to hospitals, care facilities, clinics, laboratories, and clinicians, as well as pharmaceutical, life sciences, and medical device companies providing, researching, developing, and manufacturing COVID-related treatments, along with NGOs and INGOs working to combat COVID-19.
"After less than a year in operation, we at the CyberPeace Institute are honoured and humbled by such recognition. This prize emphasises the need for more solidarity to support those combatting the pandemic. We must allow healthcare workers to concentrate on that fight, and that fight only. We want to thank the partners of Cyber 4 Healthcare: Bi.Zone, CybeReady, CybExer, the Global Cyber Alliance, Microsoft, Rapid7, Unisys, and US Medical IT", said Adrien Ogee, Chief Operations Officer of the CyberPeace Institute and the project lead for Cyber 4 Healthcare.

"Attacks against healthcare have a direct impact on human life. Each hospital being held to ransom, each research facility hacked, each NGO targeted is a reminder of this intolerable threat, even more so during a pandemic. This has to stop. Hostile actors should be held accountable for the harm they cause. Building upon the very promising results of Cyber 4 Healthcare, the Institute will continue to support those dedicated to saving our lives", said Stéphane Duguin, CEO of the CyberPeace Institute.
The submission in third place is MineVision: Robotic Radar for Unmanned Mines' Detection, which was developed by Symetrics Geophysics & NDT. It receives a GCSP Certificate of Recognition.
Minevision is an innovative automated system for detecting mines. Unlike conventional metal/mine detectors and magnetometers, which present a number of problems, Minevision blends two technologies to ensure the well-being of UXO operators and assist societies to recover after suffering losses because of mines. It can detect both metallic and non-metallic targets and give their exact position and depth. It collects data at high speed while being highly reliable and ensuring zero risks for operators.
Minevision's project representative, Michael Arvanitis, could not participate in the virtual ceremony, but he declared: "We are very proud to see our innovation winning such a prestigious award as the GCSP one. Such recognition encourages us to do more for a safer environment worldwide. Thank you!"
The GCSP Prize for Innovation in Global Security, an annual event, will issue a call for the submission of projects for next year's award during the spring of 2021.