The Women, Peace and Security Index 2021: Highlights & Policy Recommendations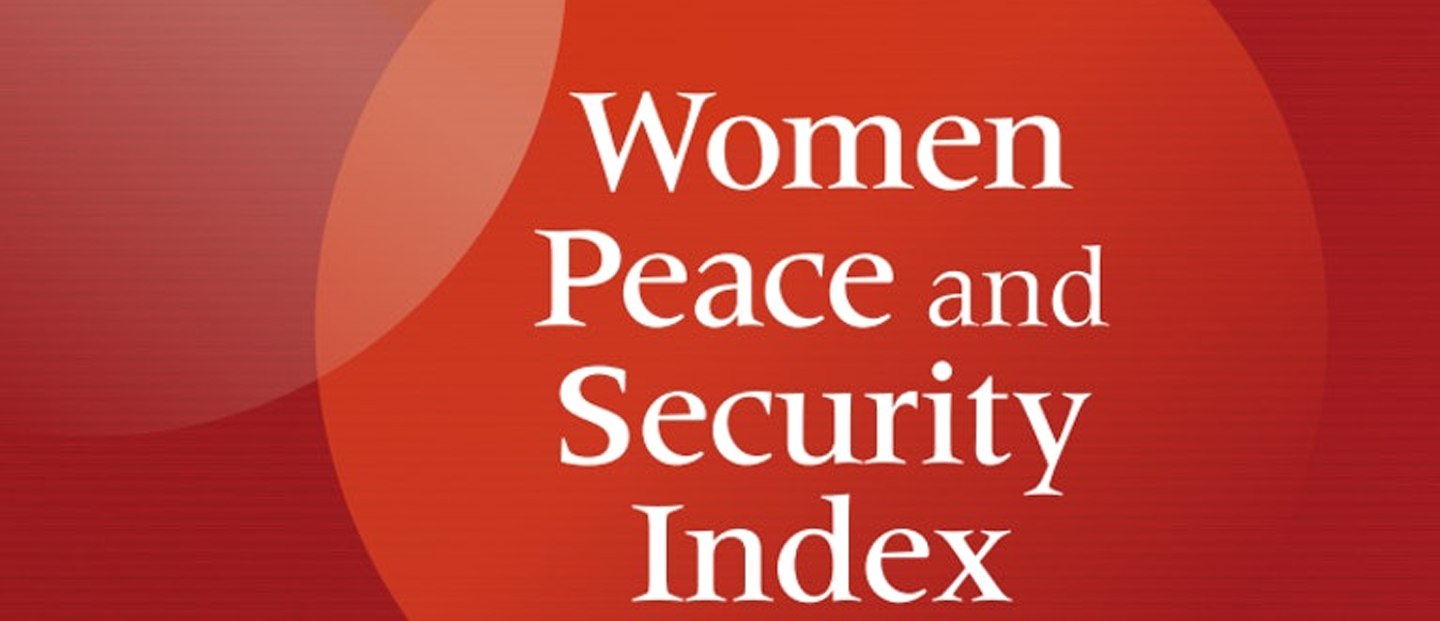 The Women, Peace and Security Index 2021: Highlights & Policy Recommendations
The Women, Peace and Security Index 2021 reveals worrying trends
By
Ms Federica Tronci
, Former Fellow, Geneva Centre for Security Policy
The third edition of the global Women, Peace and Security Index (WPS Index) launched this week shows that global advances of women's status have slowed by more than half, and disparities have widened across countries – with the range of scores being 44% wider than in 2017.
Coinciding with the UN Security Council's Annual Open Debate on Women, Peace and Security, it is the first Gender Index to measure women's comprehensive wellbeing in 170 countries and reaching more than 99% of the world's population.
Published by the Georgetown Institute for Women, Peace and Security and the PRIO Centre on Gender, Peace and Security, the Index is guided by the framework of the Women, Peace and Security Agenda and the 2030 Agenda for Sustainable Development. It measures countries clustered in the three broad dimensions of inclusion (economic, political, social), justice (formal and informal norms, legal discrimination and injustice) and security (family, community and societal level) through 11 indicators.
Interestingly, the Index captures women's status and achievements in absolute terms rather than relative to men: countries are measured based on their general performance in women's inclusion, justice and security, instead of focusing on the gaps between women and men. New indicators measure forced displacement, and capture WPS indicator performance at the provincial and state level in Afghanistan, Pakistan, and the United States.
The highlights of the third Edition
While the second edition of 2019/20 showed significant positive advances in women's rights, empowerment and well-being, this year the Index emphasises the repercussions of the Covid-19 pandemic, which has challenged women's employment and financial inclusion, with the risk of intimate partner violence increasing due to the critical economic conditions and lockdowns. Globally among people who lost their jobs, 9 in 10 women became economically inactive, most of them young, urban and less educated, compared with 7 in 10 men.
The Index also reveals a worrying increase in the number of armed conflicts, with 56 state-based conflicts and 72 non-state conflicts reported in 2020. Forced displacement has reached historic levels – 90 million at the end of 2020, of which 55 million internally displaced and 35 million refugees. This year, to analyse the impact of displacement as a compounding factor of worsened disadvantages for women, a new "forcibly displaced WPS Index" was developed. In the five countries where the new indicators on forced displacement were constructed – Ethiopia, Nigeria, Somalia, South Sudan, and Sudan – displaced women faced higher risks of subjection to threats, violence and intimate partner violence, poverty, and discrimination in employment than host community women – compounded by the Covid pandemic. In South Sudan, 47 percent of displaced women had experienced intimate partner violence in the past year, an alarming rate almost four times that of the global average of 12 percent. Furthermore, two-thirds of refugees come from four countries, Afghanistan, South Sudan, Syria and Venezuela, which are all among the 15 worst-ranked countries on the WPS Index: this means that displaced women from these countries were already subjected to severe restrictions on justice, security and inclusion even before displacement.
The WPS Index reports that for the first time, South Asia is the worst performing region, with high levels of intimate partner violence and discriminatory biases and norms. Afghanistan's score, the lowest among those included in the global index, has fallen by 28 percent, following higher rates of organised violence and deterioration of community safety due to the heightened presence of the Taliban. The Middle East and North Africa Region scored lowest among all regions in the justice dimension, while Latin America has worrying trends on community safety – with only one woman in three feeling secure walking in her local area at night.
On a positive note, since the 2017 WPS Index, 90 countries have improved their performance by 5 percent, with six of the top ten score improvers in Sub-Saharan Africa. The data also reveals improvements in many countries on new legislation to protect women from domestic violence, and perceptions of community safety have risen in 81 countries.
Policy recommendations
The Index represents a critical resource for different key stakeholders in reimagining the future after Covid-19 and "building equitable systems that are resilient in good times and bad": policymakers and practitioners to evaluate progress and set priorities; civil society to highlight gaps and hold decision-makers accountable; academics to research global trends and investigate data on WPS; and the private sector to assess risk analysis.
The Index stresses the importance of applying an intersectional policymaking lens to the different geographical locations, living situations and identities that shape the experiences of women, alongside better sex- and gender-disaggregated data; the need for gender-responsive, context-specific policies, gender-sensitive approaches to peacebuilding and conflict analysis, and solutions in national and multidimensional efforts; the importance of targeted interventions on social and economic inclusion; and the need for comprehensive and integrated responses for women in forced displacement to address formal barriers to employment, education, community safety and social stigma.
The full report is available on the Georgetown Institute for Women, Peace and Security website: https://giwps.georgetown.edu/the-index/
Disclaimer: This article was first published by the International Gender Champions here. The views, information and opinions expressed in the written publications are the authors' own and do not necessarily reflect those shared by the Geneva Centre for Security Policy or its employees. The GCSP is not responsible for and may not always verify the accuracy of the information contained in the written publications submitted by a writer.
Federica's main areas of research and professional work include conflict mediation in Syria and Libya, the Women, Peace and Security agenda, peacebuilding, EU diplomacy, disarmament, international humanitarian law and the Syrian refugee crisis. Her first international experience was as an intern with the Office of the High Commissioner for Human Rights in Geneva. She then worked for the Women's International League for Peace and Freedom on the disproportionate impact of armed conflict on women in Libya, Iraq, Syria and Yemen; the United Nations High Commissioner for Refugees in Lebanon, where she gained extensive knowledge on UNHCR's protection framework on sexual and gender-based violence and refugee returns. She has also worked with the EU Delegation to the UN on topics related to international humanitarian law and human rights law in Syria, Yemen and Libya; and WIIS Italy on the organisation of the 1st annual meeting of the Global Alliance of Regional Women Mediator Networks. She holds a Bachelor of Arts majoring in Human Rights, International Relations and Political Science, a Master's in European affairs from the University of Geneva and the University of Saint Joseph in Beirut, and a MsC in Women, Peace and Security from the London School of Economics and Political Science. She is fluent in English and French, and has a basic level of Arabic.