Leading UN Peace Operations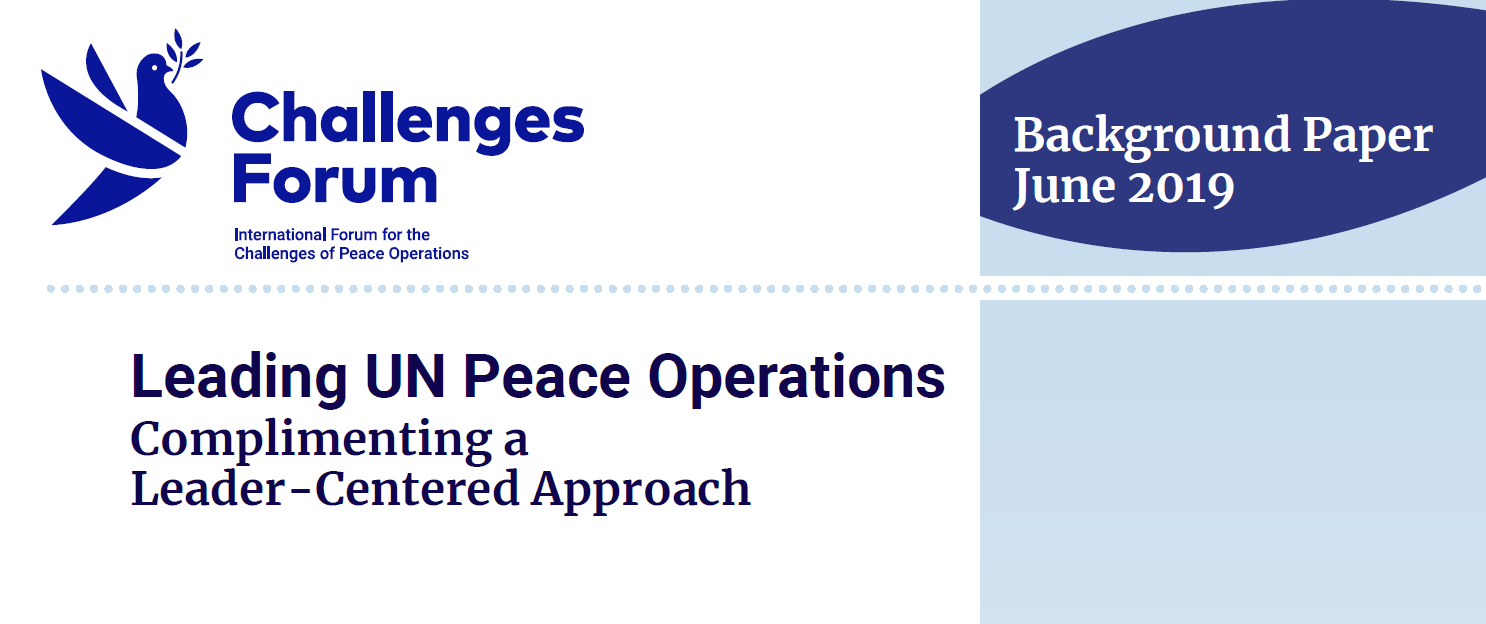 Leading UN Peace Operations
Complimenting a Leader-Centered Approach
Abstract
Peace operations present recurring polarities to leaders leading them. Leading polarity is not well understood. This paper presents an approach to how collectives can lead in polarized contexts. Polarities are always experienced by leaders. This paper helps prepare leaders to see them and to lead them.
Introduction
Over the past years' debate on UN Peace Operations focus has been placed on various aspects of individual, organisational and political performance at the strategic and operational levels, most recently reflected in the "Action for Peacekeeping" initiative (A4P) and the subsequent Declaration of Commitments by Member States. The Challenges Forum Policy Brief 2017:1 on Leading United Nations Peace Operations.(Gordon, 2017) lays out core fundamentals regarding the characteristics, styles and practices of individual leaders of central relevance to leading peacekeeping operations. This document complements those fundamentals and explores collective fundamentals of leadership that are on the edge of our understanding of what leading in fragile contexts entails. Our hope is to complement a 'leader-centred' view of developing the capacity to lead on Peace Operations with a 'substantively and collectively contextualised' view to developing such capacity to lead.
First, we briefly summarise the Challenges Forum Policy Brief 2017:1 (CFPB 2017:1) on Leading United Nations Peace Op­erations. We introduce three additional views on 'leading' and 'leader development' to those raised in the CFPB 2017:1. We conclude by addressing the need to improve the collective ca­pacity to lead, and the practices of leading peace operations that surpasses fragile contexts: that of leading in the presence of 'leading polarity.' The capacity to lead polarity in fragile (or really any) context is recognized as essential, yet theory and Background Paper | 2 | June 2019 practices of leading itself often miss the centrality of polarities at work.
Dr. Patrick Sweet is Co-Director of the Leadership Alliance. Dr. Sweet was regional director for Northern Europe at the Center for Creative Leadership responsible for advanced leadership development programs in the region in close collaboration with EMEA CCL teams. He brings 20 years of programmatic business, organisational and leadership development to the Alliance.
Dr. Sweet has been co-lead in several EU funded programs focused on innovation and leadership, was European Developmental Lead for Korn-Ferry International's European implementation of leadership assessment tools developed by Dr. Sweet's company, and has coached, consulted and trained in Talent Management and Leadership Development with international, regional, governmental and non-governmental organisations in Europe for 20 years, and in the U.S. prior to this. His Ph.D. is in Business Economics from Lund University, Sweden, with doctoral and graduate studies at the University of Southern California and the University of Michigan, Ann Arbor.
Dr. Sweet is a U.S. and Swedish national. He migrated to Stockholm, Sweden, where he is based, from the U.S. in 1995 and is fluent in Swedish & English, with reading proficiency in Norwegian.