01 - 31 March 2023
/ Duration: 1 MONTH
Inspiring Women Leaders - A Virtual Learning Journey 2023
Building on the insights of hundreds of participants from across sectors and continents over six years, this course is designed by women for women. It creates a space for you to develop the mindsets, skills and practices to effectively lead yourself and others with confidence. Our virtual platform allows you to prepare at your own pace, and join us online for over 16 hours of expert facilitated sessions. You will have large and small group discussions to meaningfully connect with an international community of women.
Expert insights, practical tools and techniques and feedback on your personal challenges.

Over 16 hours of online facilitated sessions exploring the GCSP's '7 Themes'.

Access to our online platform, resources and videos for one year.

Exclusive access to our Mentoring Guide: Multiply The Impact.

Join a global community of women leaders advancing peace, security and sustainable development!
Our expert team of facilitators will guide you on a month-long journey of self-reflection and discovery to explore the 7 ways women can succeed | GCSP through practical tools, rich conversations, and reflection.  The course allows you to gain perspective and make more conscious choices to enhance your influence, confidence, resilience and presence.  The unique space and structure allows you to exchange with women leaders and experts across the world, many of whom are advancing peace and security, and benefit from their experiences and feedback in a collaborative, supportive environment.
Learning Objectives
Understand the mindsets and behaviours of high achieving women to overcome gendered barriers;

Deepen your perception of yourself, and develop your confidence and resilience;

Discover and practice tools and techniques to effectively lead, influence and collaboratively engage with others;

Gain tips for public speaking and practice your pitch;

Build relationships with peers from across sectors and exchange experiences;

Create a strategy for your career growth and begin to apply it.
Modules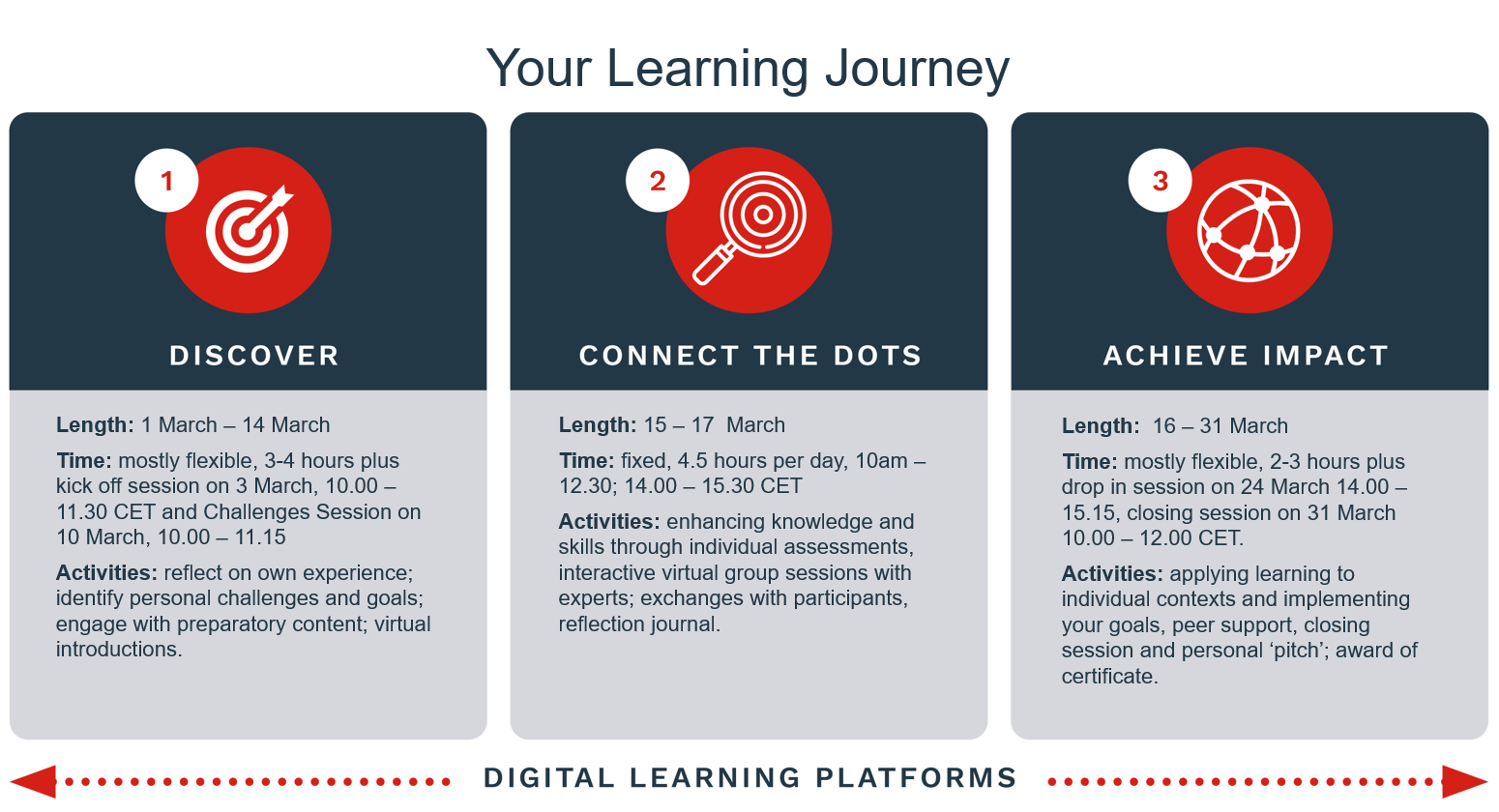 Course requirements
All information you need to know (language, certification, technical and application process) before applying to the GCSP are available here.
You will receive a GCSP certificate accredited by EduQua once you have completed all the course modules to the satisfaction of the course director.
750 CHF
The GCSP reserves the right to modify the programme dates, location and fee at any time. The cost includes all facilitated sessions over a month, access to the online platform for one year, and access to our exclusive mentoring guide.
15% Early-Bird Discount if you apply before 31 01 2023. GCSP Alumni qualify for a 20% discount on the standard rate of 750 CHF. Participants from conflict-affected and fragile regions who are unable to pay tuition fees are invited to apply for a tuition waiver. Please also contact us if you are not able to afford reliable internet access. Bring a friend: 650 CHF (ensure your friend or colleague mentions your name in their online application)
Application Deadline: 24 February 2023