Leverage Diversity for Increased Performance - A Virtual Learning Journey 2022
This course allows you to explore what diversity means to you, identify ways to meaningfully connect with and motivate colleagues who have different experiences, needs or values to you, and lead the tensions you may experience arising from difference. You will discover how to turn diversity into a creative force for positive change and collective success.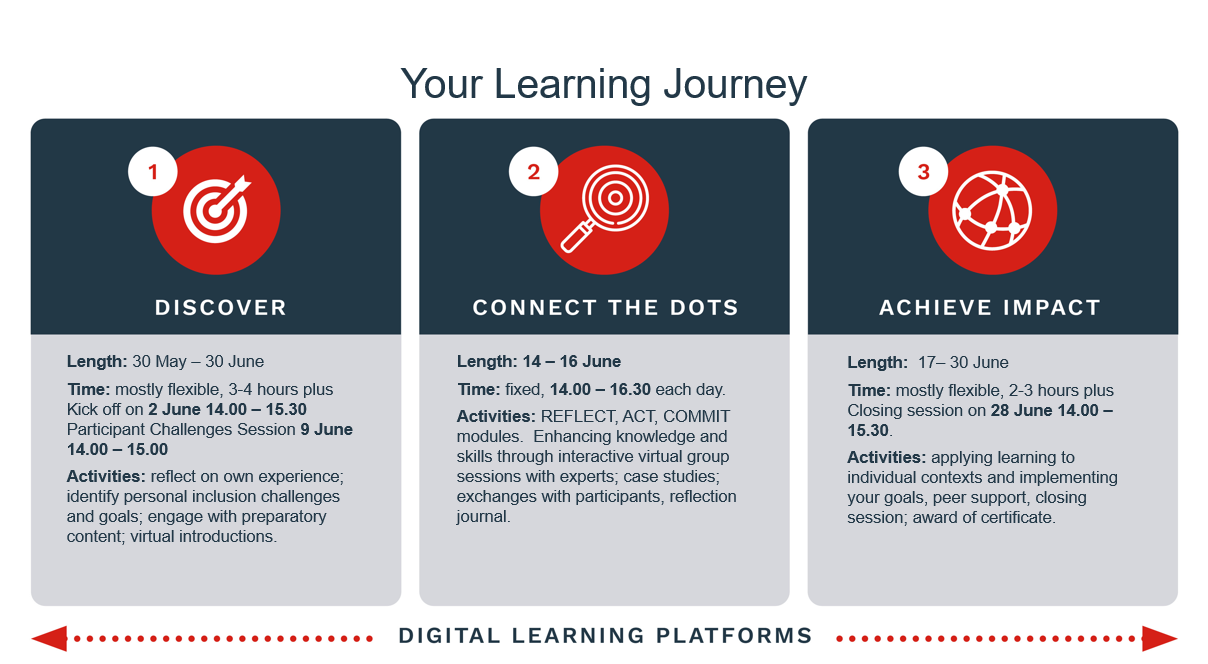 During this time of disruption we are both connected and disconnected from our colleagues.  Creating time and space to leverage the full potential of our teams and organisations can be challenging.  Some of the barriers to inclusion and belonging are visible, others are harder to see. Taking time to understand our mindsets and mental models which lead to assumptions and stereotypes is the first step in creating awareness.  However, to leverage diversity, we need to act - to implement daily practices which nurture participation and inclusion.  We also need strategies to see and leverage the tensions that arise from difference and commit to applying a 'diversity and inclusion lens' in many aspects of our work and life.  This course provides a path for you to advance on this personal and professional journey.
Both conceptual and practical, this course is packed with rich material to challenge your thinking, and at the same time it allows you to develop concrete strategies for your context.  The month-long learning journey creates space for you to reflect and make full use of the virtual platforms, and the Face to Face component allows you to connect with our expert facilitators and fellow participants in person.
Learning Objectives
This course will enable you to:
Reflect on the diversity challenges you face in relation to performance, and consider different perspectives.

Gain an overview of key concepts related to diversity and inclusion, recent research and best practices within organisations.

Learn mindsets, toolsets and skillsets to lead more inclusively and generate successful collective outcomes.  

Start to apply some of the tools and create a plan to advance inclusion and performance in your specific context.
You will receive a GCSP certificate accredited by EduQua once you have completed all the course modules to the satisfaction of the course director.
Senior leaders seeking to advance diversity and inclusion as well as team leaders with at least 5 years of professional experience, who are critical to creating a culture of inclusion.
500 CHF
The cost includes all facilitated sessions over a month, access to the online platform and resources for one year.
GCSP Alumni qualify for a 20% discount on the standard rate of 500 CHF.
Participants from conflict-affected and fragile regions who are unable to pay tuition fees are invited to apply for a tuition waiver.
Bring a friend: 350 CHF (ensure your friend or colleague mentions your name in their online application)
Application Deadline : 27 May 2022