11 October - 27 May 2022 08h00 - 18h00
/ Duration: 8 MONTHS
Master of Advanced Studies in International Security MAS 2021/2022
Location
Geneva, Switzerland
The Master of Advanced Studies provides you with space for academic reflection and knowledge, as well as skills and networks that can readily be turned into action once back in national and international structures, benefiting from the exceptional academic resources of the University of Geneva's Global Studies Institute (GSI) and the internationally recognised executive education expertise of the Geneva Centre for Security Policy (GCSP). This intensive 8 month course will engage you through academic workshops, classroom analysis, peer to peer networking, and individual skills enhancement.
Learning outcomes
Build your knowledge on international peace and security issues from across national, regional and global contexts.
Enhance your ability to critically analyse the evolution of security issues, interlinkages and assess the effectiveness of current policy responses.
Strengthen your leadership skill-set within a multi-cultural and cross-sectoral environment, integrating into a wide community of experts and policymakers in international security.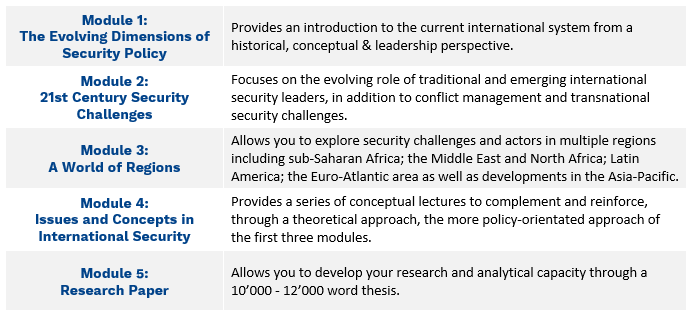 International security professionals who wish to enhance their capabilities and academic qualifications to advance in their career in government, IO's, and all agencies (private/public/civil society) engaged in peace and security related policy-making.
For further information, please contact [email protected]
15000 CHF
Participants who complete the programme successfully will be awarded a Master of Advanced Studies in International and European Security (60 ECTS credits) by the Global Studies Institute, University of Geneva in partnership with the Geneva Centre for Security Policy.
Deadline to apply: 31 May 2021 - Please create your account in MyGCSP platform to apply for this course. You will have to upload a resume to submit your application.
After submission of the online form, candidates will be contacted to request further documents to complete the application file.