On 14 June, the GCSP together with many partners brought SEVEN to Geneva and UNOG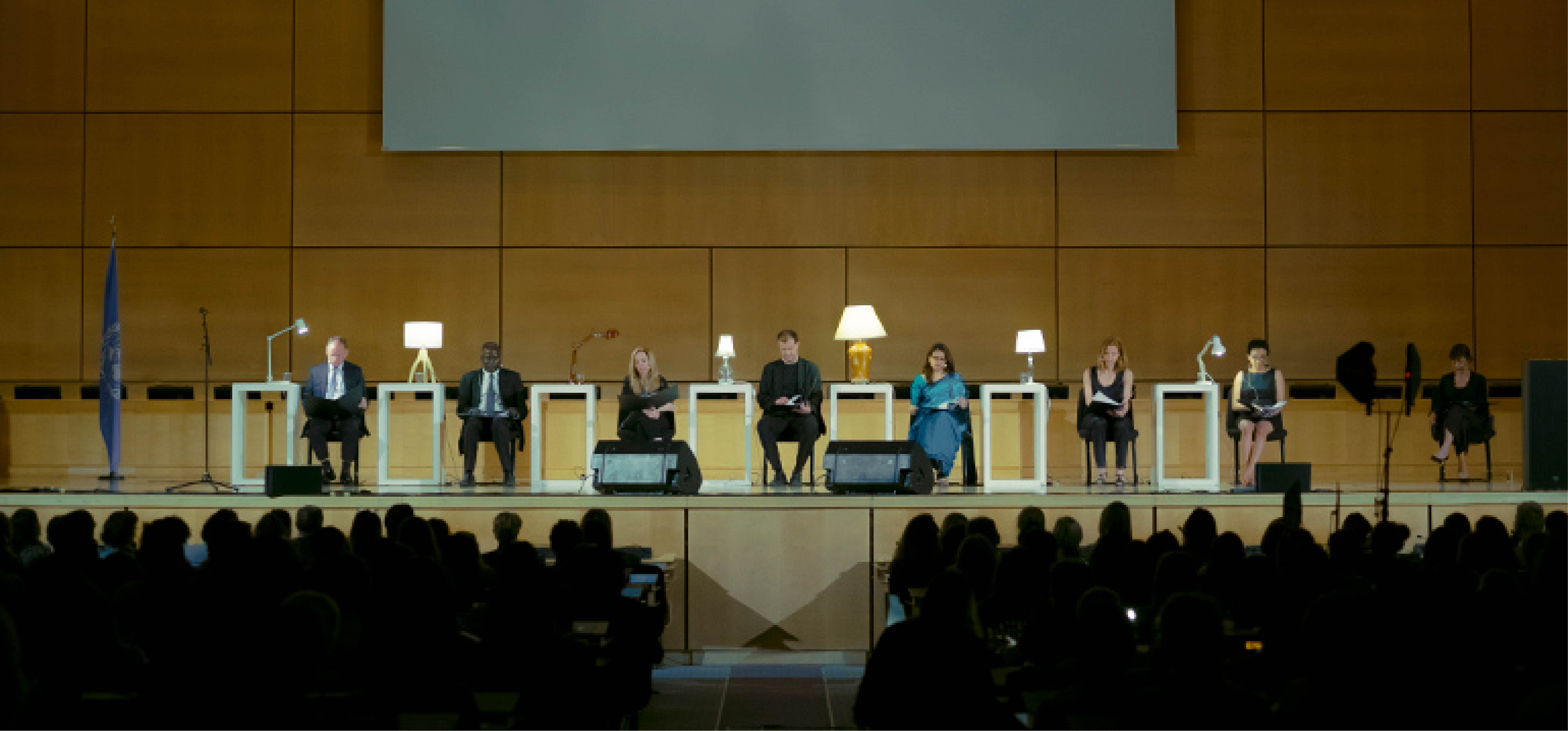 On 14 June, the GCSP together with many partners brought SEVEN to Geneva and UNOG
For the first time in Geneva
On 14 June, the Geneva Centre for Security Policy together with many partners brought SEVEN to Geneva, and the United Nations Office of Geneva (UNOG), for the first time. SEVEN is a documentary play and theatre piece that has toured 42 countries. It weaves together the testimonies of seven courageous women from around the world who have overcome abuse of power and advanced the rights of women and girls.
In front of a full audience gathered at the United Nations Assembly Hall, Mr Francesco Pisano, Head of the UNOG Cultural Affairs Committee welcomed UNOG Director Corinne Momal-Vanian, Ambassador Veronika Bard of Sweden, and GCSP's Director Ambassador Dussey to share a few words about the reason for hosting this event. They explained the importance of media and arts being used as tools for advancing gender equality in the area of peace, security and sustainable development, specifically within the United Nations' community and in its programmes. Emphasis was put on the importance of engaging hearts and minds, as well as advancing laws and policies.
Barbara Hendricks, UNHCR Goodwill Ambassador gave a moving opera performance to open the evening. Her lyrics reminded the audience of thousands of refugees forced to flee their homes in fear. Together with her husband and guitarist Ulf Englund, Ms Hendricks brought human suffering, emotions and courage to centre stage. Her introduction prepared all attendees to listen to the seven stories of Hafsat Abiola from Nigeria, Farida Azizi, Afghanistan, Annabella De Leon from Guatemala, Mukhtar Mai from Pakistan, Inez McCormack from Northern Ireland, Marina Pisklakova-Parkerfrom Russia, and Mu Sochua from Cambodia. 
These women's testimonies were read by:
Major General Adrian Foster, Deputy Military Adviser for UN Peacekeeping Operations
Anja Wyden Guelpa, first female State Chancellor of Geneva
Monica Ferro, International Gender Champion and Director UNFPA Geneva
Sophia Pierre-Antoine, World YWCA global advisor from Haiti
Japleen Pasricha, Founder and Editor-in-chief of Feminism India
Laurent Sierro, Journalist, Vice-President of the Association of correspondents accredited at the UN in Geneva (ACANU)
Gervais Rufyikiri, Second Vice-President of Burundi
Dr Gervais Rufyikiri reflected on his role, 'I was thrilled to read a part in the play SEVEN. At first, it would sound strange that a female character would be played by a male actor. However, it seems to be the best way to raise awareness for men about abuses of power that women and girls are daily victims of, as well as the best way to promote woman dignity. The message conveyed by the part I read challenges men to lead with integrity.'
Following the reading, Honey Al Sayed, Creative Consultant, Producer, Coach and Award-Winning National Radio Host from Syria, invited the readers to share their thoughts about how the reading could advance gender equality. Major General (Retd) Adrian Foster stated that'gender equality is no longer an optional ad-on but an operational necessity.' Japleen Pasricha of Feminism in India made an appeal for 'women to be believed.' Sophia Pierre-Antoine called for us all to create Safe Spaces to build trust, respect and accountability in homes, communities, organisations and nations.
Fleur Heyworth, Cluster Leader for Gender and Inclusive Security at the GCSP led the organisation of the event. She reflected on the event saying, 'At a time when the #MeToo movement has highlighted that the voices of people experiencing discrimination, harassment and sexist attitudes have been silenced or suppressed within organisations, it is a timely opportunity to think about what the Geneva community can do to 'walk the talk.' SEVEN is a powerful tool that inspires us all to think of what is possible with courage, humility and perseverance.' 
The event concluded with key messages from Lidiya Grigoreva, who is co-leading the 'I say no to sexism' campaign for the Director General of UNOG, Michael Moeller, and Veronica Birga, Chief of Women's human rights and the gender section for the Office of the High Commissioner for Human Rights (OHCHR). They explained that sexist attitudes are still perpetuated on a daily basis, and the need for inclusion, diversity and respect for all is essential for moving forward.
Media Coverage
https://www.letemps.ch/culture/seven-portevoix-heros-feminin
https://worldradio.ch/article/fleur-heyworth-explains-seven-seven-powerful-stories/
https://www.swissinfo.ch/fre/sept-combattantes-des-droits-des-femmes-honor%C3%A9es-%C3%A0-gen%C3%A8ve/44188040
https://www.laliberte.ch/news-agence/detail/sept-combattantes-des-droits-des-femmes-honorees-a-geneve/443263
https://www.rtbf.be/info/societe/detail_sept-combattantes-des-droits-des-femmes-honorees-jeudi-a-geneve?id=9944145
https://feminisminindia.com/2018/06/29/fii-founder-reads-seven-play-geneva/