The Assault on the US Capitol: The End of a Dark Chapter or the Emergence of a New Threat?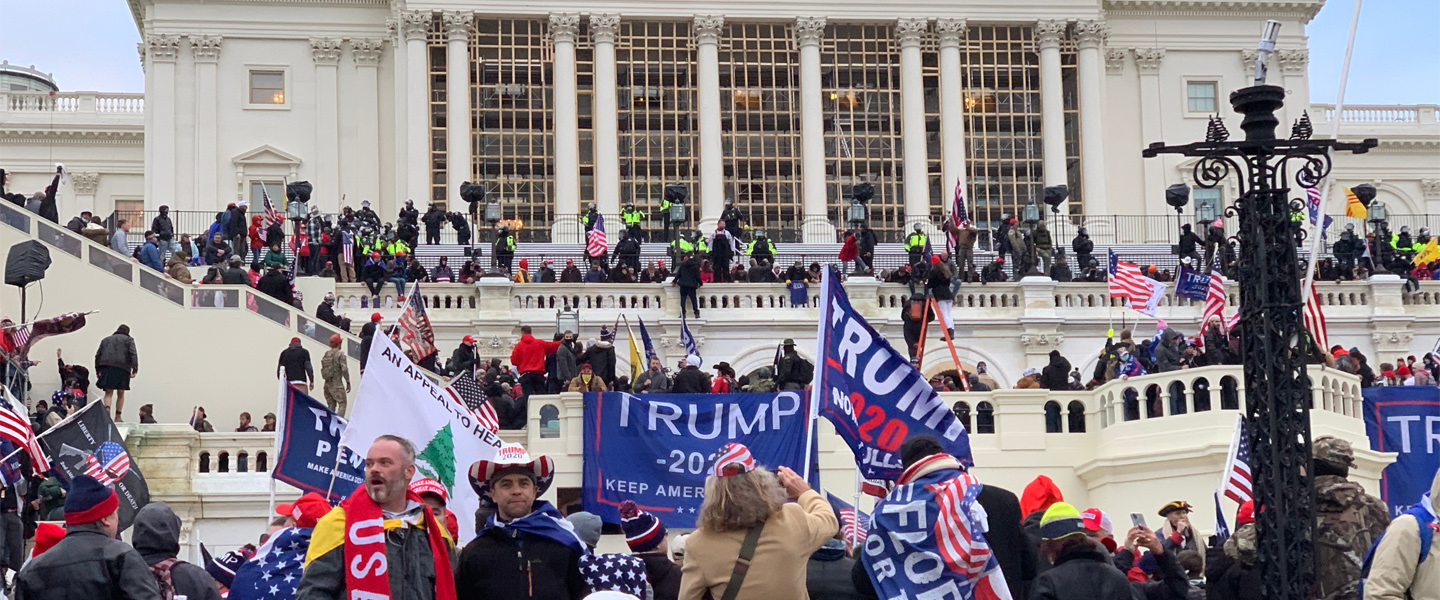 The Assault on the US Capitol: The End of a Dark Chapter or the Emergence of a New Threat?
By
Dr Christina Schori Liang
, Head of Terrorism and PVE, Geneva Centre for Security Policy
On 6 January 2020 the world watched with disbelief and sadness when hundreds of right-wing extremists stormed the US Capitol during the final days of the Trump administration.  Five people died as a result of the violence, including a police officer. World leaders largely blamed President Trump for what happened and spoke out strongly against the violence. For example, the UK prime minister, Boris Johnson, condemned the "disgraceful scenes" and called for a "peaceful and orderly transfer of power" in the US.
While the insurrection initially appeared to be a disorganised and violent gathering of individuals, current investigations are revealing that it involved an alarming number of extremist groups who basically carried out a coordinated attack on the heart of US democracy. Among the mob that stormed the Capitol were members of QAnon, a loosely affiliated group that has endorsed militant and revolutionary ideology based on the unfounded theory that President Trump is waging a secret war against elite Satan-worshipping paedophiles in government, business and the media. Members of the group envision a sudden, decisive, coordinated insurrection (signified by the code WWG1WGA – "where we go one we go all") against paedophilic and satanic lawmakers. Members of the the crowd were chanting codewords of this kind as they forced their way into the Capitol building. The white-supremacist group Proud Boys and its leader, Nick Ochs, also formed part of the mob that broke into the Capitol, while the anti-government group Oathkeepers was also involved. Multiple white-supremacist groups also joined the fray, including the New Jersey European Heritage Association, the American Nationalist Party and the American Guard, and neo-Nazi groups NSC131 and the "Groyper Army".
Because he had delivered a fiery speech to the crowd immediately prior to the attack and had instructed them to march on Congress, President Trump was impeached a week later for provoking an attempted insurrection in order to prevent Congress from officially ratifying the Electoral College ballots that would formally seal Joe Biden's victory in the 2020 presidential election. Senate Majority Leader Mitch McConnell warned that overruling the electors would spark a "death spiral" in US democracy.
As Liz Cheney, Republican Congressional representative from Wyoming, stated:  
The President of the United States summoned this mob, assembled the mob, and lit the flame of this attack. Everything that followed was his doing. None of this would have happened without the President. The President could have immediately and forcefully intervened to stop the violence. He did not. There has never been a greater betrayal by a President of the United States of his office and his oath to the Constitution.
As the Senate considers President Trump's role in the attack in the coming weeks, the focus will be on the events that transpired that eventful day. But the Capitol attack was the culmination of a long pattern of Trump encouraging violence and fostering an organised extreme-right movement in the US that is poised to pose a long-term threat to US democracy and stability.
What led up to the attack on the Capitol?
Multiple milestones have marked the rise in the number of militias in the US. Their activity spiked after the election of Barack Obama and continued to grow during the Trump presidency, when right-wing extremist groups believed that they had a sympathetic ally in the White House. Militias and the "alt-right" (an abbreviation of "alternative right") – a broad movement that includes white supremacists – embraced Trump's rhetoric when after a Unite the Right rally in Charlottesville, Virginia, Trump implied that the white-supremacist marchers and those who protested against them were morally equivalent by stating that there were "very fine people on both sides". The deadly rally of neo-Nazis and white nationalists led to an attack using a vehicle as a weapon that killed one person and injured 19. Trump's comments generated negative responses worldwide and Joe Biden has stated that the horror of the Charlottesville Unite the Right rally motivated him to run for president in order to repudiate the division and bigotry that was undermining US democracy and to reaffirm the country's core democratic values. A year later, Cesar Sayoc – who is a self-described "superfan" of Trump – mailed 16 pipe bombs to Barack Obama, Hillary Clinton and members of the media, all of whom he deemed to be Trump's "enemies".
Extremists' exploitation of the COVID-19 pandemic
Right-wing militias are also capitalising on and exploiting the COVID-19 pandemic. Extremism thrives in times of economic crisis and distress, and these groups are exploiting the uncertainty and anxiety brought on by the health threat posed by the pandemic and the ensuing economic crisis. On social media platforms like Facebook, 4chan and 8kun extremists are spreading conspiracy theories and racism, and are inciting social turmoil, including appeals for a "civil war".
Militias started demonstrating more frequently during the COVID-19 lockdown, organising anti-lockdown demonstrations. After the brutal killing of George Floyd by police officers in Minnesota that led to Black Lives Matter (BLM) demonstrations nationwide, the Boogaloo Bois – a fringe group that includes gun enthusiasts and members of white-supremacist groups – began showing up at these protests, with some members claiming that their aim was to defend the black protestors, although such claims have been viewed with suspicion, and it is thought that their true intention was to discredit BLM by instigating violence that would be attributed to the BLM movement. The "Boogaloo" movement, which emerged in 2019, has advocated a second US civil war.
When Trump tweeted "LIBERATE MICHIGAN" in April 2020 after the establishment of COVID-19 protocols, he was accused of inciting insurrection and promoting a plot to kidnap and potentially kill Michigan's governor, Gretchen Whitmer. There are many other instances where his comments were perceived as calls for violence. When Trump debated Joe Biden in September 2020 and was asked to condemn this extremism and those who support it, he said, "Stand back and stand by". The Proud Boys immediately responded "Yes, sir" to these words and adopted his remarks as one of their mottos.
Trump also endorsed "stop-the-steal" demonstrations after his failed campaign for re-election in November 2020. Trump posted on his now-defunct Twitter account, "I WON THE ELECTION, VOTER FRAUD ALL OVER THE COUNTRY." His attempts to block Congress's certification of the election result were seen as an attempted "coup" by the Washington Post's editorial board. When he told his supporters to go home after they had ransacked the Capitol, he said, "We love you".
People on the far-right fringe in the US have found an ally in a leading political figure who reflects the same kind of leadership principle that emerged during the rise of fascism in the 20th century. In light of this, most US citizens see the storming of the US Capitol as a threat to democracy: in a recent poll, Quinnipiac University found that after the attack nearly three-quarters of voters say democracy is under threat in the US.
Social media's dark side
The rise of the militant right would not have happened so dramatically without social media. President Trump is the first US president to have completely embraced the ubiquitous nature of social media's global influence and dark side. He prided himself that his Twitter account allowed him to change the fate of companies, people and policies in tweets of only 140 characters, which allowed him to praise, bully, and threaten leaders and agencies by reaching his 87 million followers in one click. For extremists worldwide, the internet and social media have become the most important tools available to them to spread propaganda, plan events, recruit followers, raise finance for their movements, and communicate with their followers or potential recruits. A 2018 MIT study has shown that lies spread faster on Twitter than the truth – "significantly farther, faster, deeper and more broadly". In fact, it was found that lies were 70 per cent more likely to be retweeted than the truth, and, in the false news category, "political [false] news travelled deeply and more broadly" than balanced, accurate reporting.
Extremists also move "fluidly between mainstream and fringe platforms", a report by Jigsaw has warned. Jared Cohen warns that extremists recruit followers on Facebook or YouTube, among other venues, and then direct them to protected "alt-tech" sites where they can privately share propaganda and discuss far-right operations. Pew Research maintains that social media platforms have continued to increase their influence among all demographic groupings since 2016. The key aspect of the power of social media is that they can be used to build communities. Unfortunately, however, such social-media-based communities are often both polarised and polarising.
Many social media companies such as Facebook and YouTube use algorithms to maximise viewership and "watch time", and to "improve user experience" and "increase community building". Social media companies make billions of dollars monthly by pushing enticing content; thus it can be said that their recommendations are economically incentivised. Algorithms are influencing our decisions and how we think. When users refer to other users or videos, the algorithms controlling the recommendations system used by social media string examples of similar or like-minded material together. Thus, conspiracy theories and hate-filled videos that previously could only be spread by those who deliberately shared them can now potentially proliferate online indefinitely.
Modern right-wing extremists are also practising "subversive exposure", which involves the use of disinformation, deception, duplicity, and the normalisation of extremist right-wing ideas to lure uninformed and vulnerable people into the right-wing sphere of influence. They use memes to create inside jokes with white-supremacist undertones that are commonly shared on websites like Instagram, Reddit, and Facebook. These memes explicitly promote violence and are used to target black people and ethnic minorities, Jewish people, women, and members of the LGBTQ+ community – or anyone else that right-wingers consider to be their "enemies".
What the US can do to combat this threat
A game of catch-up to right-wing extremism is currently under way in the US. For two decades domestic counterterrorism strategies have ignored the rising danger of far-right extremism, and because of this a virulent movement has metastasised. In 2019 the US Department of Homeland Security called white-supremacy groups "the most persistent and lethal threat" to US national security. There are two wellsprings of US militias – white nationalism and anti-government hostility. One of the clearest examples of such anti-government hostility is Timothy McVeigh, who in 1995 carried out the deadliest domestic terrorist attack in US history by bombing a federal building in Oklahoma, in which 168 people died and more than 500 were injured. One of the best examples of white nationalism is Dylann Roof, who in 2015 was convicted of killing nine worshippers at an African-American church in South Carolina. According to some studies, nearly 6 per cent of US citizens have an "alt-right worldview", while by one account the number of individuals with such a worldview in the country might be as high as 11 million people.
The next hurdle – holding a peaceful 2021 presidential inauguration
At least 25,000 National Guard troops will be deployed to Washington, DC for the new president's inauguration on 20 January. There will therefore be more US troops in Washington than there are in Iraq and Afghanistan combined – a stark reminder of how dangerous domestic extremism has become. Along with the fears of an armed siege of the US capital, the FBI has warned that "armed protests" are planned in "all 50 state capitals". US law enforcement officials say they have to plan for a wide range of potentially violent actions, including the possibility of suicide attacks, armed drones and improvised explosive devices.
Future threats and US soft power
While Trump will no longer be president after 20 January, he has laid the groundwork for continued unrest in the US. Even though he lost the election, Trump did garner 70 million votes, and many in his fanatical support base believe his claim that the election was stolen, inundating social media with the hashtag #StopTheSteal. No amount of fact-checking and impartial reporting is likely to put an end to such beliefs, due to Trump's successful narrative that media outlets that oppose him are all "fake news media". While good leaders can encourage norms of good behaviour, tolerance itself needs to become a mass movement that is more powerful than the hatred that inspires the alternative right. What is clear is that US soft power has been dealt a violent blow by the attack on the Capitol, although many who know and understand US culture, politics, and the Constitution will have confidence in the integrity and discipline of the US government and the ability of the forces of law and order to control this situation. We can find some hope in the fact that, from its first day, president-elect Joe Biden's election campaign was framed in terms of a stark choice between constructive and destructive values and a "fight for the soul of the nation".
It will still take some time for the US to regain the respect it held on the global stage before 2017. While most countries were relieved at Mr Biden's victory on 3 November 2020, they are nonetheless still wondering whether his election signals the end of a very dark chapter in US history or whether something deeper and even more sinister is yet to emerge.
Disclaimer: The views, information and opinions expressed in the written publications are the authors' own and do not necessarily reflect those shared by the Geneva Centre for Security Policy or its employees. The GCSP is not responsible for and may not always verify the accuracy of the information contained in the written publications submitted by a writer
Dr. Christina Schori Liang is Head of Terrorism and PVE at the Geneva Centre for Security Policy (GCSP). She is the Director of the New Issues in Security Course (NISC) and contributes to GCSP's Track Two diplomacy, dialogue events and research. She is a Professor at the Paris School of International Affairs, Sciences Po, Paris.