Women of the GCSP – From Crisis Management to Military Integration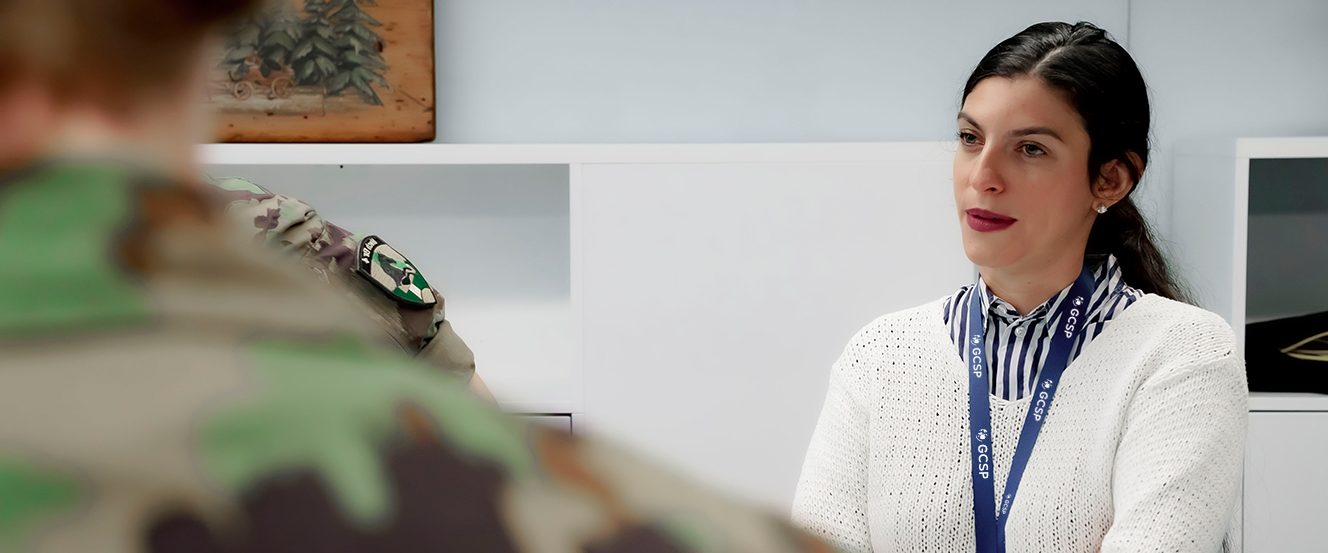 Women of the GCSP – From Crisis Management to Military Integration
On the occasion of the International Women's Day, the GCSP tells you the story of five women and how they are connected to the GCSP. The GCSP helps empowering women, discover how through their answers.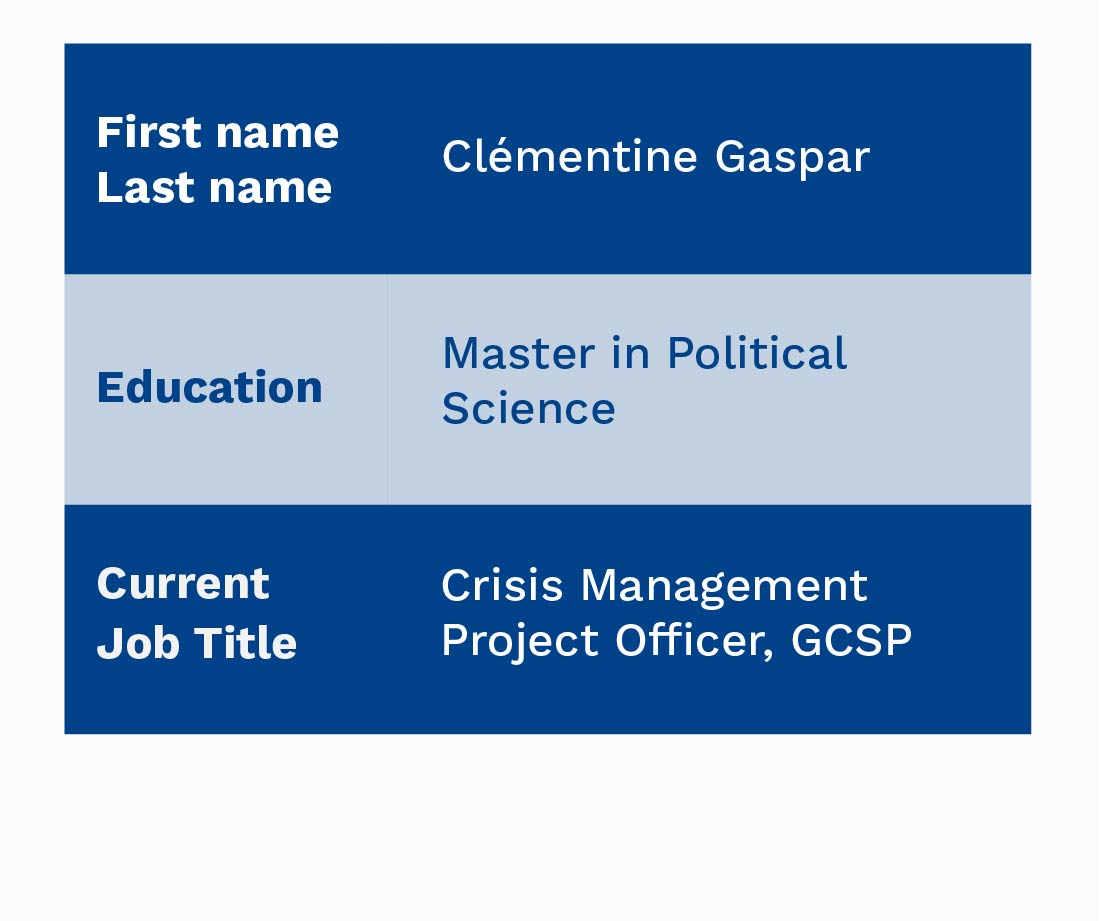 Get to know Ms Clémentine Gaspar, Crisis Management Project Officer at the GCSP.
Why did you choose to enter this field?/What got you into this field? 
Since my childhood and thanks to my travels around the world, I have always had the desire to help others and contribute to a better world in a small way, having a strong interest in human rights. I decided to study political science and international relations and started my professional career with internships to gain a better understanding and skills in this field. In my internships, I had the opportunity to meet people from all walks of life and all countries who were fighting for their rights, and this reinforced my decision to continue in this direction. I was able to go on my first mission trips and I learned a lot, which definitely made me decide what I wanted to do with my life. It was so obvious to me, and I couldn't see myself doing anything else. Then the field of crisis management came to me, by chance. 
What drove you to join the GCSP?  
For my first job as a young professional, I was looking for a company that was at the centre of peace and security issues, offering a platform for dialogue and exchange of ideas. I was also looking for a multidisciplinary approach to the various topics of our work, involving cross-generational collaboration. Finally, the fact that I could work in a small team was of great value to me, as it allows for more opportunities to bring ideas to the table. The GCSP met all these conditions. 
How does the GCSP help empowering women? 
In the executive education section, we have several courses and workshops for women and men to develop their mindsets, skillsets and toolsets to lead to more inclusively. In our courses, we also try to maintain a good parity level among participants, and among our teaching staff. Finally, GCSP is currently incubating the International Gender Champions secretariat. 
Why do you think it is important to celebrate International Women's Day?  
Because we live in a world that is still not equal between men and women. Inequalities at different levels, be it political, social, or economic, are still embedded in our society in 2023. That's why I think it's unfortunately still important to remind people that equality is still not yet achieved, and that we still have a lot to improve on. 
As a woman, what are the most important challenges you have overcome to fulfil your role? How did you overcome them?  
I think most women face the same challenges in their careers. One of the main challenges I faced was to be credible and legitimate in my new position, especially in the predominantly male crisis management field. Thanks to my manager, I have been able to develop my skills over the past 5 years both professionally and personally, which has enabled me to gain the expertise and legitimacy I now have. 
What is your proudest achievement while working at the GCSP? 
One of the main achievements of which I am most proud is to have been able to integrate the Swiss army as a specialist officer for the brigade headquarters alongside my work at the GCSP. Indeed, I was recruited because my professional crisis management simulation skills were beneficial for the exercises of the Swiss army troops. I was therefore very happy to discover a new challenge both professionally and personally; and women are seldom likely to have these kinds of opportunities in a military context. I had the opportunity to see that more and more women have been joining the various departments of the Swiss army in important positions. I was also invited to speak during a conference on security issues during the COVID-19, and I was the only young female of the panel composed mainly of men.  
What is the best piece of advice you were ever given? 
I think the best piece of advice I was ever given was to follow your dreams, even if it's the most difficult way to go. This is the sentence I repeat to myself when facing different challenges. Also, to stay true to yourself and to not hesitate to tell things to your superiors when something seems wrong to you.  
What is the most important message you want to send out to young women thinking about their careers? 
I think the most important message that I would like to give to young women is to not hesitate to apply to the positions that interest you and to break the prejudices that a woman cannot apply for a position "because she is a woman". I think as young women, we sometimes have the tendency to underestimate ourselves when we think about achieving more responsibilities or aiming for leadership roles. So, if you have the potential and all the competencies needed for that market, trust yourself and go for it.  
How can we encourage more women to pursue entrepreneurship or senior leadership roles in the field of peace and security? 
I think we need to promote the role of women in the field of peace and security by being more inclusive, for example by inviting women to speak during conferences, including them in training courses as speakers and moderators in order to create space for women to express their voices. I think we need to encourage and give opportunities to young professionals in these areas. 
Check out the other stories in our "Women of the GCSP" series: