Women of the GCSP – Discover our Deputy Director and Head of Executive Education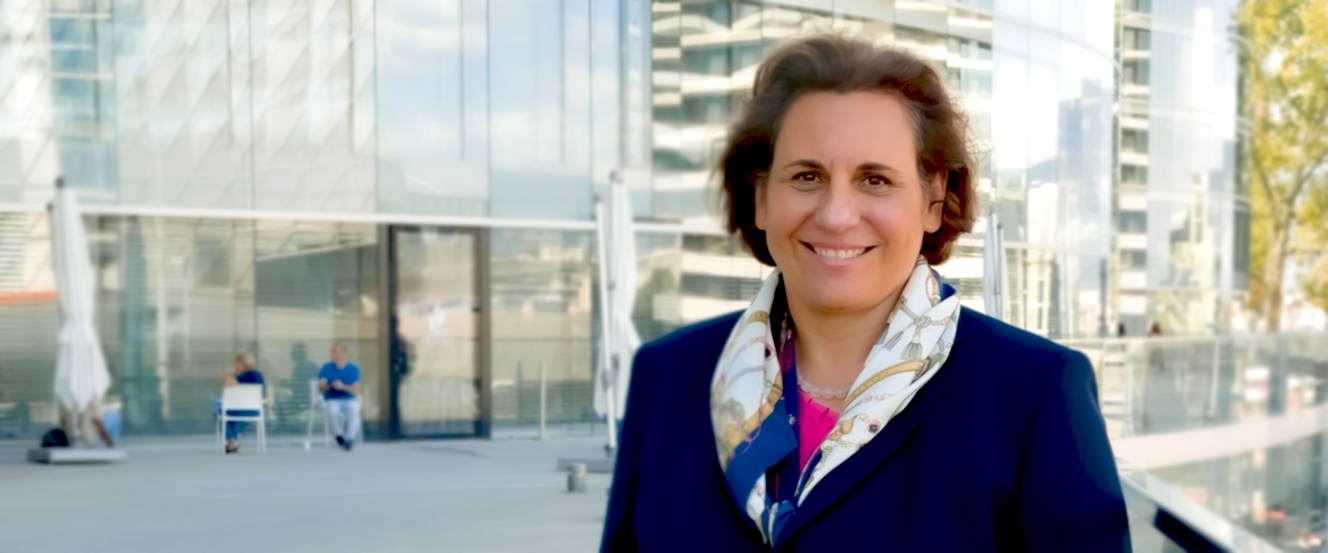 Women of the GCSP – Discover our Deputy Director and Head of Executive Education
On the occasion of the International Women's Day, the GCSP tells you the story of five women and how they are connected to the GCSP. The GCSP helps empowering women, discover how through their answers.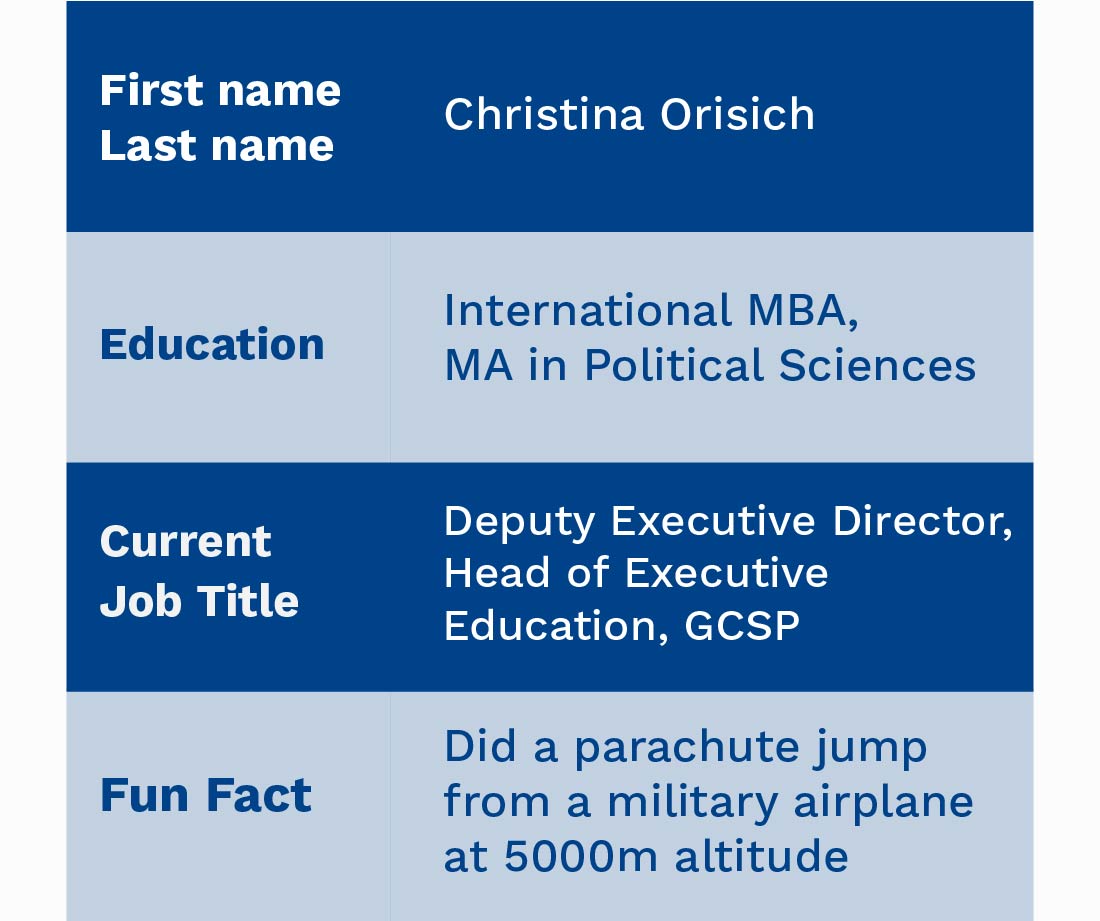 Discover the first story with Ms Christina Orisich, Deputy Director and Head of Executive Education at the GCSP.
Why did you choose to enter this field? What got you into this field? 
By a set of coincidences, I escaped the terrorist attack at the airport in Brussels in March of 2016. This was such a shock, that I could not continue with my job in the private sector as if nothing happened. I wanted to be part of creating a safer and more peaceful world for current and future generations.  
What drove you to join the GCSP?  
With my role at the GCSP, I was able to envision building upon my very diverse background and experience from the public and private sector to help this organisation through their development & growth process. The GCSP is a unique organisation in that it has a holistic approach to peace and security. It exemplifies inclusivity by working with all the world's countries including the stakeholders involved in international security from diplomats, military, international organisations, NGOs, civil society and even the private sector.  
I am particularly happy to be leading our Executive Education activities, as I strongly believe that education is a key contributor to fostering dialogue and cooperation between like-minded and non-like-minded leaders through shared learning about the most pressing current and future international security challenges and opportunities. As Kofi Annan wisely said: "Education is, quite simply, peacebuilding by another name. It is the most effective form of defense spending there is." 
How does the GCSP help empower women? 
The GCSP aims to walk the talk. We have women in leadership positions at all levels of our organisation. Our flex time and working from home policies, also contribute to helping all staff be effective in their work as well as attend to their responsibilities as parents or caregivers. 
In our advanced courses, we request the nomination of a female and a male candidate. Our blended approach to education after COVID and the offer of more scholarships for women from the Global South have successfully helped to increase the participation of women to above 50%. In our Dialogue activities, we endeavour to consult with women in the design of dialogue processes and encourage parties to include women representatives. Finally, we proudly offer an "Inspiring Women Leadership Course" for female leaders in the peace and security field. 
Why do you think it is important to celebrate International Women's Day?  
It is an opportunity to recognize the successes of all the thousands of women across the globe, across disciplines and generations.  
While IWD celebrates how far women's rights and gender equality have come, it also raises awareness about how much still needs to be done. 
IWD brings together women from all over the world, colour, and generations. It is an opportunity to network and connect with people committed to gender equality and raise awareness of their work. 
As a woman, what are the most important challenges you have overcome to fulfil your role? How did you overcome them?  
Upon moving to Geneva my biggest challenge was childcare. Initially, my priority was to build a local support network. I was fortunate to have had a supportive boss and wonderful colleagues who helped me in addition to family and friends.  The implementation of the GCSP's flex time and home office policy was of great assistance.  Combining the role of an effective leader and a mum requires careful planning, a growth mindset, the ability to make choices, creativity, resilience and a good portion of serenity.  
What is your proudest achievement while working at the GCSP? 
My proudest achievement is the successful leadership of the organisation through the pandemic. It was the most unpredictable and uncertain crisis through which I have ever had to lead, especially given halfway through, we had a change of director which brought even more change to the organisation.  
My priority from day one was the wellbeing and safety of our staff and participants from all over the world, some of whom were stranded in Geneva. My Leadership Team then had to ensure the continuity of our activities, continue creating impact and stay relevant to secure funding. 
Within 48 hours, we had organised everything to be able to continue our activities virtually. We employed an agile approach to this and tested many new designs and formats in the first few weeks but also redesigned many of our activities to adapt to a fully virtual environment. We invested heavily in education of staff and technology. Within 6 months, we maintained and even increased the quality of our courses as well as the impact of our activities, as we now also brought all our activities, to leaders involved in peace and security who were in conflict zones. We invited several organisations to visit us and learn from our best practice approach to crisis leadership and virtual delivery. We turned this global crisis into an opportunity and made the organisation future proof. 
What is the best piece of advice you were ever given? 
"Remember to put on your oxygen mask before attending to others." To be able to take care of and lead others we need to first take care of ourselves. If we are not well, we cannot hope to be an inspiring or effective leader. 
What is the most important message you want to send out to young women thinking about their careers? 
Have a dream, follow it, and believe in yourself. There will be challenges and roadblocks on the way, believing in yourself will encourage others to, as well. Often, we have self-limiting beliefs which can get in the way. Have the courage to apply for the jobs to which you aspire, and for which you feel qualified even if you do not tick all the boxes. Once achieved, surround yourself with trusted people who will support you on your journey. 
How can we encourage more women to pursue entrepreneurship or senior leadership roles in the field of peace and security? 
Making Education accessible for all women across the globe is a fundamental first step.  For women who have entered the field of peace and security, it is important to create an environment with policies and practices that allow them to not only be successful in these leadership roles but also acknowledge their main caregiver responsibilities. This is a condition sine qua non to attract and keep women in these roles. It is also important to provide a platform from which to contribute their wisdom and experience, by inviting them to panels, as keynote speakers, as experts, which in turn will help them get recognition as a key player in their field. Highlighting senior female role models who have succeeded and share their career journeys and lessons learned is a powerful way to inspire and encourage other women to take up these career paths and contribute to greater peace and security in the world. Female entrepreneurship needs to be included at all levels in peace negotiation and dialogue activities.