Women of the GCSP - Strengthening Women's Participation in Peace Processes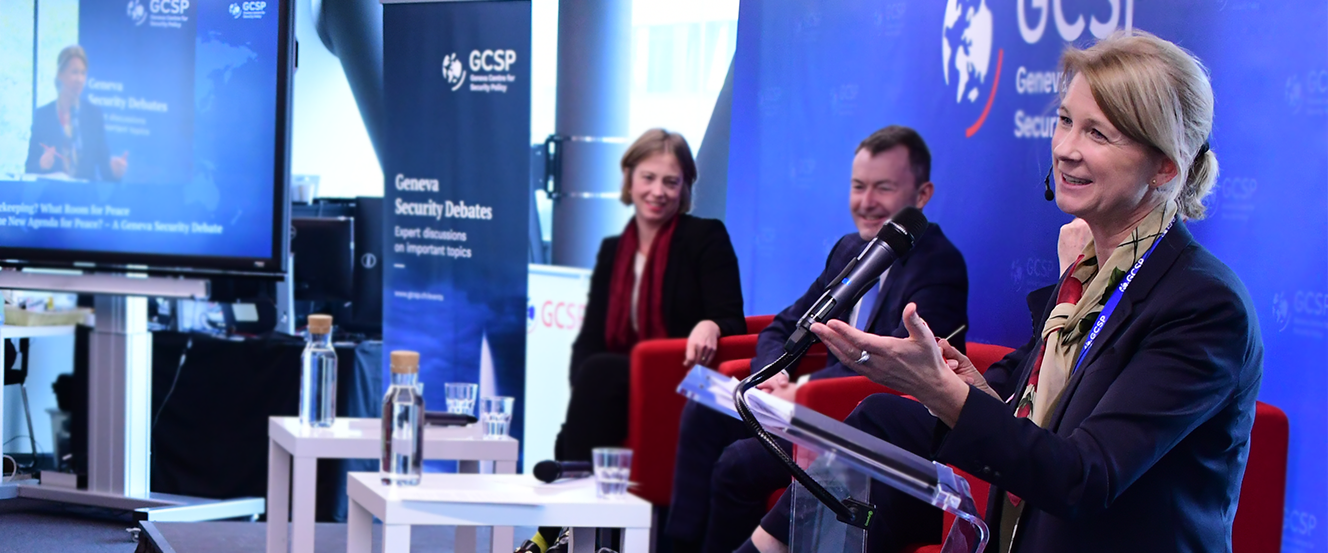 Women of the GCSP - Strengthening Women's Participation in Peace Processes
As Women's History Month comes to a close, we would like to highlight the importance of celebrating women every day by sharing insights from women who work to inspire other women across the globe to become great leaders and entrepreneurs.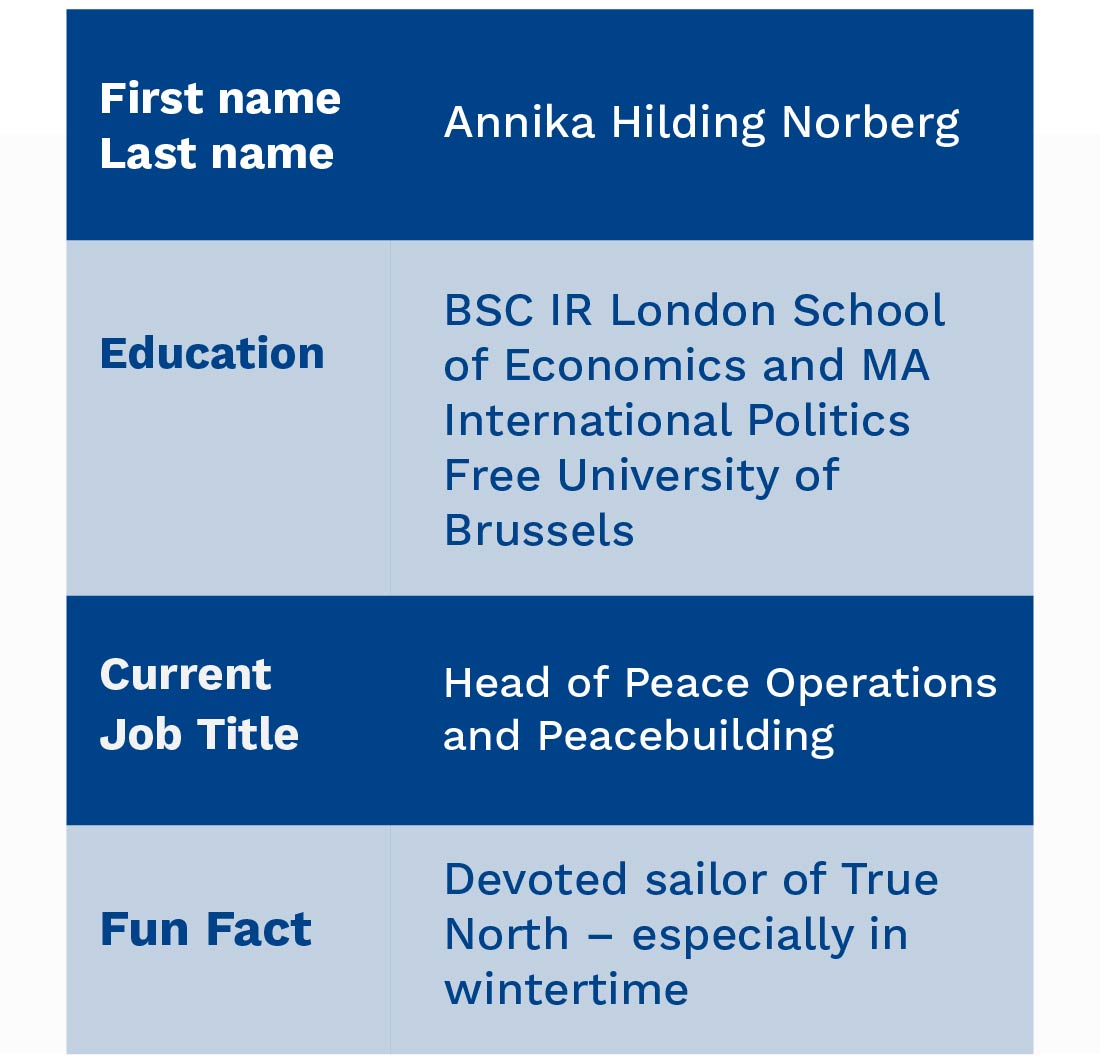 Discover the story of Ms Annika Hilding Norberg, Head of Peace Operations and Peacebuilding at the GCSP.
Why did you choose to enter this field?/ What got you into this field?
The horrific failures in Somalia, Rwanda, Srebrenica and Chechnia in the 1990's generated a sense of "we, the world, every one of us- need to be able to do more and better- how do we do that?". When all other options are exhausted, the United Nations and the countries that provide the UN with its' mission mandates, resources and/or peacekeepers, need to be better prepared and better able to intervene, protect and support people suffering conflict. It started with a question, and I have remained focused on seeking answers, building partnerships and nurturing capacity development to this end ever since. Some UN missions achieve their mandates, others do not. Currently, large multidimensional peace operations are particularly challenged, so the focus is now on seeking to understand what future peace missions could and should look like, what is required, and what is within the realm of the possible.
What drove you to join the GCSP?
The GCSP's mission and its' values and principles of independence, impartiality, and inclusiveness. In the current turbulent international context, they are particularly important, enabling, and empowering. How can peace and security be strengthened for -all- people and the whole planet? Working with formidable colleagues and equally inspiring participants from over 170 countries is incredibly gratifying and highly motivating.
How does the GCSP help empowering women?
By sharing and investing in their knowledge, know-how, and networks. Not only by mainstreaming gender considerations across programmes and activities, but also through pursuing dedicated initiatives, like hosting the International Gender Champion Secretariat and pioneering the 2022 International Leadership Association's Women Leaders for Peace Fellowship Initiative. We work with women at all levels of their careers, where peer to peer learning and cultivating connections across the peace and security sector are as important as the course content taught and literature covered.
Why do you think it is important to celebrate International Women's Day
?
It is indeed an important day to focus our attention on the positive power that comes with engaging and enabling women to lead and contribute to a better world. We need to celebrate everyone who is contributing towards building a better situation for all. Since unexplainable inequalities still remain between women and men in many situations, levelling the playing field and drawing on the best competencies of all, not just half the population, is from my perspective a no-brainer. It's an exciting imperative!
As a woman, what are the most important challenges you have overcome to fulfil your role? How did you overcome them?
The most challenging situations have emerged when coming across individuals that feel insecure, threatened, or are not ready or able to do the heavy lifting themselves and take it out on others. So, if a door unexpectedly closes, don't lose faith in your purpose. Go look for another door, move through and continue your journey, in a meaningful way, to the best of your abilities and for the greater good. I believe all of us in our limited lifetime have a purpose and mission.
What is your proudest achievement while working at the GCSP?
Being part of the great GCSP vision, mission, and Team. Recently, Switzerland for the first time joined the UN Security Council as a Non-Permanent Member. The GCSP is mandated to support the Swiss Federal Department for Foreign Affairs during the Swiss Council tenure 2023-2024. It's a great privilege to be part of the team contributing to this effort. Given the current international acute polarization, from a peace operations and peacebuilding perspective like in many other areas, there are significant transformations underway. So, the timing for Swiss engagement on and contribution to the work of the Council could not be more timely or relevant.
What is the best piece of advice you were ever given?
I have had the great fortune of receiving valuable advice from insightful individuals of all ages throughout my career almost every day, to this day. Realizing how precious this has been, I would say: keep learning and keep challenging your understanding of "how things are". With every person you meet (especially if s/he is different from you), you will learn something new. In every open, honest, and sometimes frank conversation you have, you will hopefully also be able to share and add an additional layer of understanding for the benefit of the other person too. Without a deeper understanding of the "other" (even if you do not agree), there will be no trust, and without trust, there will be no peace. 
What is the most important message you want to send out to young women thinking about their careers?
Think big (why not?), be curious, be inclusive, work hard, and stay positive. Treat every challenge that comes your way as a valuable opportunity to learn, grow, and that can help you contribute even better and more usefully in the future. Be confident (even if you aren't yet) so that you can focus on what you set out to do and would like to contribute towards. Dare to dream, think big and beyond yourself. Find your purpose and live your mission.
How can we encourage more women to pursue entrepreneurship or senior leadership roles in the field of peace and security?
Given the current utterly complex world in which we live, adaptive leadership is necessary. As a leadership concept, it calls for embracing and navigating ambiguity, leading with empathy, prioritizing innovation and experimentation, learning through self-correction and reflection, and creating win-win solutions. Women are just as well suited as men to provide thought leadership and shoulder leadership roles in the peace and security sector. How to encourage more women to pursue leadership roles? We all have a role to play, so let's all seek to positively engage, enable, and empower the women we meet, encouraging them to step up and step forward. As Desmund Tutu once said; "Do your little bit of good where you are; it's those little bits of good put together that overwhelm the world."