Geneva Leadership Alliance
We are facing a global leadership crisis today. There is urgent need for a radically expanded understanding of what leadership means and who can lead. 
What makes us unique? Unlike other providers of leadership development, the Geneva Leadership Alliance has both in-depth expertise on peace and security through the GCSP, and 40 + years of developing leaders through Center for Creative Leadership. Together with a network of partners and associates, we equip individuals, teams, organisations and communities with the mind sets, skills and tools to navigate today's challenges and take action to create the world they want to live in.

Advancing Leadership in Peace and Security
"Leading is no longer only a requirement for those at the top. It is at its essence about translating values into meaningful action. Anyone with integrity, creativity and the motivation to learn can effectively mobilise others and achieve collective and sustainable impact."

What we do  
| | | |
| --- | --- | --- |
| | | Thought leadership & projects |

Join a truly global community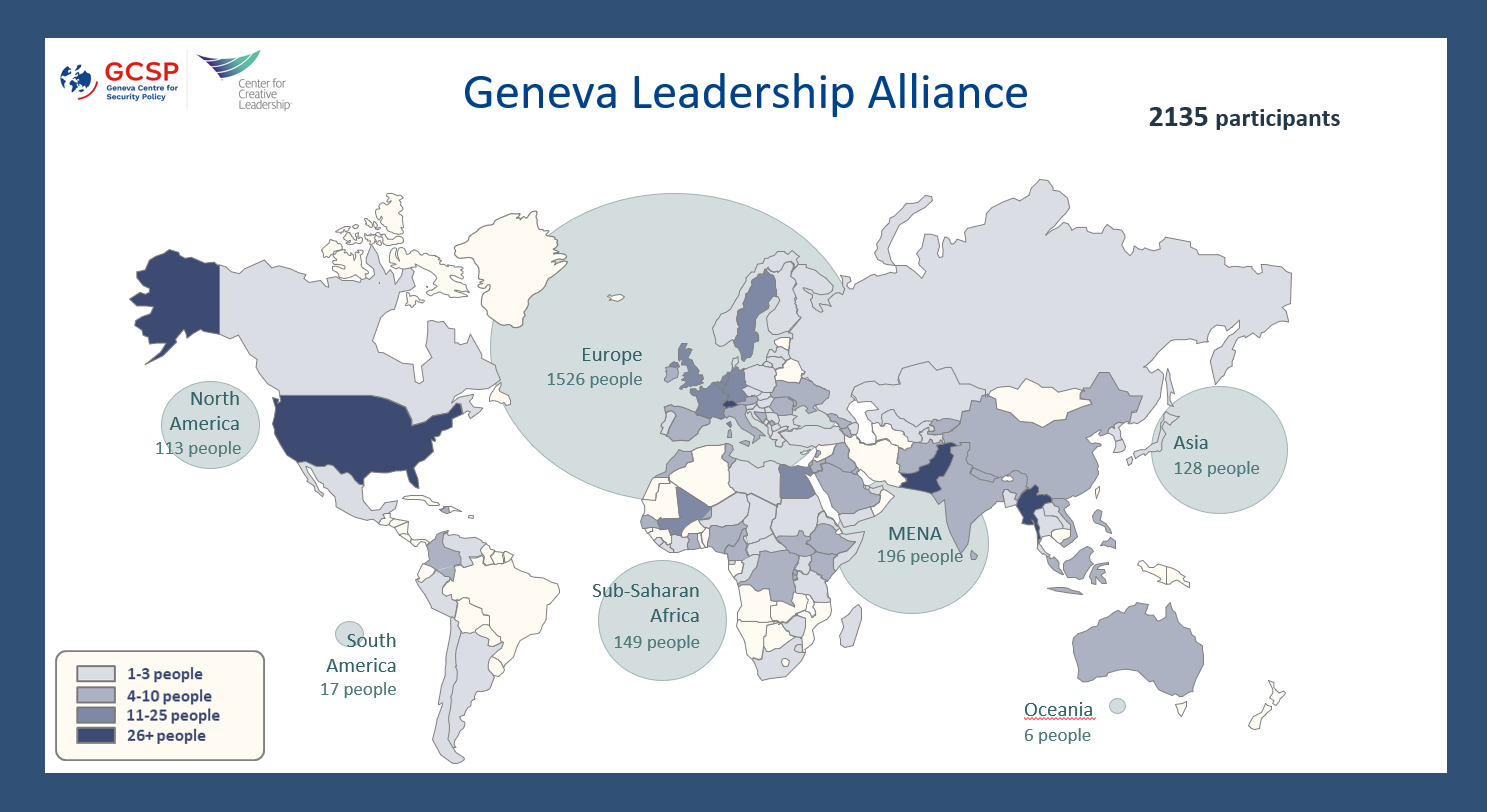 Why we think leadership matters
Globalisation is expanding who we can work with, technology is changing how we can work together and a turbulent geo-political landscape is dividing the world we live in. In today's environment, sustaining peace, security and stability is demanding and complex. Recurring and emerging issues interconnect and require collaboration across the whole of society.
We must all increasingly think, connect and collaborate across boundaries and adapt to remain relevant in a landscape of multiple actors and challenges. Yet prevailing beliefs about leadership are siloed and often linked to distant authoritative roles or functions, causing many people to not see themselves as capable of leading. As a consequence we are experiencing a leadership deficit and a lack of trust in the traditional role of 'the leader'.
Advance your understanding and practice of leading by joining a diverse global community of leaders with a shared desire to make a difference in their organisations and communities.