The International Gender Champions initiative celebrates its five-year anniversary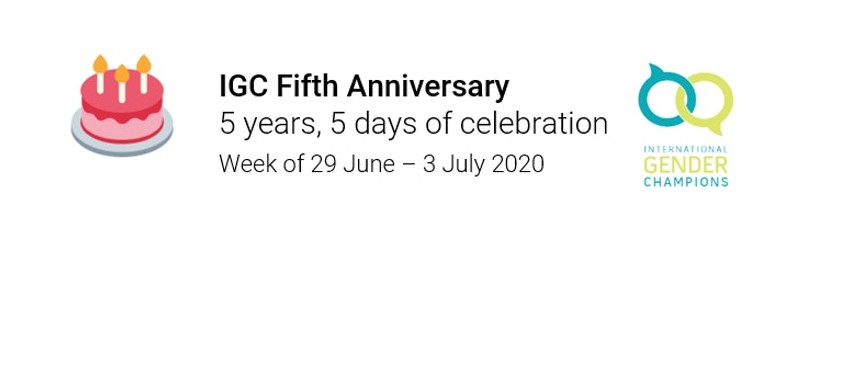 The International Gender Champions initiative celebrates its five-year anniversary
To mark 5 years of commitment, collaboration and impact, the International Gender Champions network is organizing a week-long virtual celebration from 29 June to 3 July 2020.
Co-founded by Ambassador Pamela Hamamoto (former US Ambassador to the United Nations in Geneva), Michael Møller (former Director-General of the United Nations Office at Geneva) and Caitlin-Kraft Buchman (CEO/Founder of Women@TheTable) at the Palais des Nations on 1 July 2015, the initiative has built on the personal and concrete commitments by leaders at the highest level of organisations to achieve global reach and impact.
Launched in Geneva with about 60 founding members, the network is now comprised of over 400 leaders (270 active Champions and 160 Alumni) and has expanded to five other locations (New York, Vienna, Nairobi, The Hague and Paris).
The IGC Panel Parity Pledge – the baseline commitment which is common to all Champions – has made the notion of single-sex panels truly unacceptable in the hubs where IGC operates and has thus contributed to raising women's voices in international fora and public debates shaping the solutions to the world's biggest challenges.
Last year, the IGC reached the landmark of over 1,000 commitments undertaken by Champions to advance gender equality in their organizations or programmatic work, in such areas as work-life balance, organizational culture, leadership, field work or good governance. These commitments are increasingly cascading down to all management levels and have transformed the way gender equality is tackled by member organizations.
The IGC initiative, through the work of its Impact Groups which are led directly by Champions in specific spheres of expertise, is also increasingly transforming policies, laws and mindsets in Trade, Representation, Disarmament or Justice. The network is now used strategically to advance gender-responsive policies and shape multilateral discussions towards gender equality.
Against a backdrop of global pandemic and crisis, increasing pushback against women's rights and gender equality, daily attacks against multilateral institutions, this anniversary will serve to showcase how much can be achieved through leadership, collaboration and commitment.  
In these challenging times, there is however no place for complacency. This anniversary will help the network identify remaining gaps and opportunities, as its continues to expand, deepen its impact and champion new norms.  It will also hopefully inspire members to renew their commitment, step up efforts to keep gender equality on top of the international agenda, and shape new norms and mindsets, in their organizations and beyond.  In particular, as noted by the Chair of the IGC Global Board, Mr. Martin Chungong, "The post-Covid-19 world should be one that is grounded on fairer and more resilient societies. Recent events such as the death of George Floyd served as a much-needed reminder of the harmful consequences of exclusion and discrimination, not only on marginalized communities but also on society as a whole."
The IGC offers an innovative governance model and can serve as a critical platform for leaders to ensure that we build back better from this crisis and truly leave no one behind in shaping a post-COVID-19 world.