Leveraging the Potential of an Intergenerational Workforce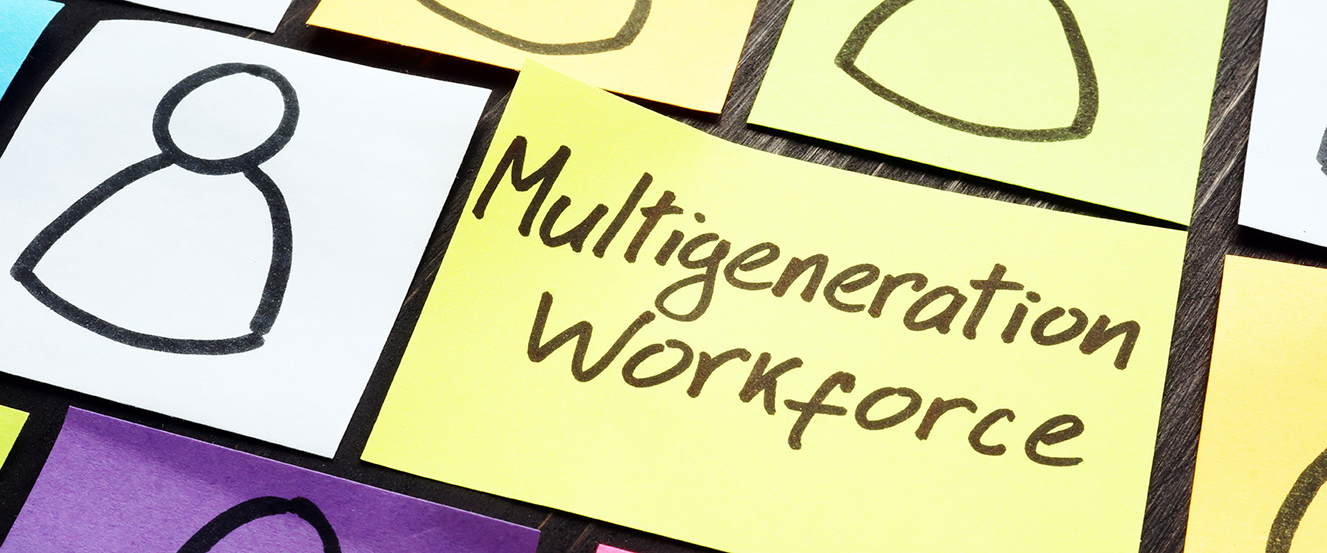 Leveraging the Potential of an Intergenerational Workforce
"The only constant is change." This is a universal truth that each generation has unfortunately to learn the hard way. It applies to our labour force or workforce as much as to anything else. 
Today's global workforce is more culturally and generationally diverse than ever before, which means that leadership practices and frameworks need to adapt continuously as the nature and composition of the workforce undergo ongoing, continuous change.
Organisations now have multigenerational workforces made up of employees from different generations, like the Baby Boomers, Generation X, Generation Y/Millennials and Generation Z. In multinationals and the international development and peace and security sectors there is much potential to be gained by leveraging both the experience of more seasoned professionals and the fresh ideas and innovative approaches offered by younger generations. 
Alexandre Dumas fils wrote that "All generalisations are dangerous, even this one", meaning that pre-existing assumptions can disrupt our ability to grow our understanding of and perceive the reality around us. Keeping in mind Dumas fils's warning and the nuanced and diverse composition of the groups that constitute the modern workforce, when we talk about the generations that form that workforce, we usually refer to the following classification:
Baby Boomers  were born between 1946 and 1964 and are currently between 57 and 75 years old. 

Members of Generation X (or just Gen X) were born between 1965 and 1979/80 and are currently 41-56 years old. 

Generation Y, Gen Y, or Millennials were born between 1981 and 1994/6. They are currently between 25 and 40 years old. 

Generation Z or Gen Z is the newest generation, born between 1997 and 2012/15. Its members are currently between six and 24 years old. 
According to Feliciano Villar, the term "intergenerational" implies the involvement of members of two or more generations in activities that can potentially make them aware of their respective generational perspectives. He argues that the term implies increasing interaction, cooperation to achieve common goals, the exercising of mutual influence and the possibility of change. In contrast, "multigenerational" is usually used in a related but far broader sense: it means to share activities or characteristics among generations but does not necessarily imply interaction among them or the exercise of reciprocal influence.[1]
How then do we move from a focus on multigenerational interactions to intergenerational ones? And how do we capitalise on this shift?
As Baby Boomers retire and Generation Z enters the job market, organisations today face the challenges of leveraging the potential of multigenerational and more diverse workforces. The combination of this diversity with emerging technology presents both unique challenges and unique opportunities to today's organisations: from the highly experienced Baby Boomer to the college graduates of Generation Z, generational diversity means the manifestation of different ideas and life experiences, making the workplace an exciting place. 
The potential of leveraging intergenerational diversity is based on the ability of organisations and individuals to move from a view where diversity is accomplished by a box-checking exercise of merely having different generations in the room to a more integrated approach where safe but creative spaces are created and maintained in which open conversations and meaningful interactions between generations can occur. 
Why is this generational shift different from previous ones? It is because Generation Z does not remember a time when the Internet did not exist, is a mobile native generation rather than a pioneer one and is online and connected for ten hours or more a day. Gen Z is also the most diverse generation (49% non-white) and values racial equality as an – or even the – essential issue.
A 60-year-old employee will likely have different priorities, concerns, values, beliefs and qualities than his/her 25-year-old co-worker. Understanding these differences and catalysing them as a productive force can help organisations to better lead and manage their multigenerational workforce.
As an example, in the area of peacebuilding, efforts that take an intergenerational approach are much more likely to be long lasting and effective. In recent years there has been an effort to include and hear more diverse voices in the peace and security space, particularly youthful voices. For instance, UN Security Council Resolution 2250 adopted on 9 December 2015 recognised for the first time the important and positive contribution of youth to efforts to maintain and promote peace and security. In this area, building on differences is even more relevant, since experience shows that the structure of many policies, programmes and services is often age-based and not necessarily intergenerationally inclusive. 
An age-graded approach is not always conducive to intergenerational harmony and generational integration. (Click here to see an example of why this matters when it comes to dialogue and educational spaces.) Such policy approaches are also reflected in the training of professional groups, which is normally age segmented rather than life-course based and creates further dislocation between the planning and delivery of services for people of different ages.
Policymakers need to take into consideration and meaningfully engage with each generation, its ability to contribute and its need for support at all stages of its members' life course, rather than developing single-age policies that lead to fragmentation and disenfranchisement. We at the GCSP aim at contributing to this by including an intergenerational dimension in all our activities.
-------
How you lead during this extremely challenging period will have a long-lasting impact on you and those around you. Join us for the "Lead and Influence with Impact, Online Edition", a series of virtual workshops presented every Friday combined with self-paced learning over four weeks from 13 April  to 6 May 2021.
-----
How do we stay ahead of the curve and nurture leadership skills?
A fair number of employees who hold leadership and management positions will be retiring within the next few years, which means that organisations might experience a leadership vacuum as employees in formal positions of authority leave. This is precisely one of the reasons why it is essential to develop leaders across the intergenerational spectrum. 
Training in and exposure to new practices can help organisations grow their talent pipeline by advancing the skills of their new and current employees, increasing staff retention, and enhancing organisational capabilities. In the realm of leadership education, the Geneva Leadership Alliance (GLA) has created a recipe that works in a variety of environments and for a variety of audiences, ranging from junior professionals to experienced managers or directors from all sorts of development sectors, civil society and international organisations.
When designing solutions for the organisations we serve, we at the GLA follow the 3Cs approach:
1. Contextualised leadership
There are so many ways to define leadership, e.g. leadership as a social process in which people are involved, or leadership as individuals' having the potential to influence the behaviour of others towards the realisation of a specific goal.
We focus on the following question: Leadership for what? Is it to increase revenue? Is it to generate sustainable solutions to the issues the planet is facing? Is it to increase peace and security?
At the GCSP we believe that "Leading is no longer only a requirement for those at the top. It is at its essence about translating values into meaningful action. Anyone with integrity, creativity and the motivation to learn can effectively mobilise others and achieve collective and sustainable impact."
But there is an important caveat: Leadership does not always necessarily come with authority, and authority does not always mean being able to truly lead.
Practices to build people's ability to influence and engage others are therefore an essential part of our portfolio.
2. Conversational approaches
Leadership happens among people, when having conversations, when listening to diverse ideas, or when setting goals together to achieve a shared vision. Leadership is a social process that requires reflection, stepping back and unpacking assumptions.
According to the 70-20-10 "framework" developed by the Centre for Creative Leadership, which emerged from over 30 years of research into the "Lessons from Experience", a person needs to have three types of experience to learn and grow as a leader, combined in the following ratio:
70% challenging experiences and assignments;

20% developmental relationships; and

10% coursework and training.
The underlying assumption of the 70-20-10 framework is that leadership can be learned. This framework reveals the power of putting experience at the centre of talent management. Practices like active listening, asking powerful questions, and reflecting on both pre-existing assumptions and new ideas are encouraged in multigenerational diverse environments.
3. Culturally interconnected
A diverse workforce is made up of people from a variety of different cultural, gender and racial backgrounds. Leveraging diversity in such a way that the benefits are maximised and the challenges minimised is an important aspect of managing any development efforts today. 
Practices like building empathy, active listening and encouraging feedback are powerful ways of getting the best from multicultural and multigenerational diversity.
High levels of cultural, racial, gender, multigenerational and socio-economic diversity could be perceived as barriers, but we focus on encouraging organisations and leaders to learn to both navigate them and productively utilise them. Leveraging the potential of a diverse workforce requires specific leadership mindsets, upgraded skill sets, and new tools and frameworks.
To lead by example, the Geneva Leadership Alliance utilises not just the content delivered in its projects, but also the diversity in the room by exposing course participants to real-life situations. It is common that in our courses you might find anyone from an ambassador to a young influential civil society actor or a journalist interacting with one another to learn from the experience and skills each has to offer.
Conclusion
Meaningful and diverse intergenerational interactions are intrinsic to all of our open-enrolment activities, with one main goal in mind: supporting participants to develop practices that can be used immediately to help individuals and organisations get the best from their workforce.
Shifting the paradigm from checking boxes to purposeful relational understanding between different generations will inevitably increase value to teams and the organisations for which they work.
Discover Geneva Leadership Alliance's virtual learning journeys here
---------
Disclaimer: The views and opinions expressed in written publications are the authors' own and do not necessarily reflect those of the Geneva Centre for Security Policy (GCSP) or its employees. The GCSP is not responsible for and may not always verify the accuracy of the information contained in the written publications submitted by an author.
[1] F. Villar, "Intergenerational or Multigenerational? A Question of Nuance", Journal of Intergenerational Relationships, Vol.5(1), 2007, pp.115-117.
Ingrid Gázquez is the Leadership Portfolio Manager for the Geneva Leadership Alliance at the GCSP. Renzo Costa is a Junior Programme Officer with the Geneva Leadership Alliance at the GCSP.