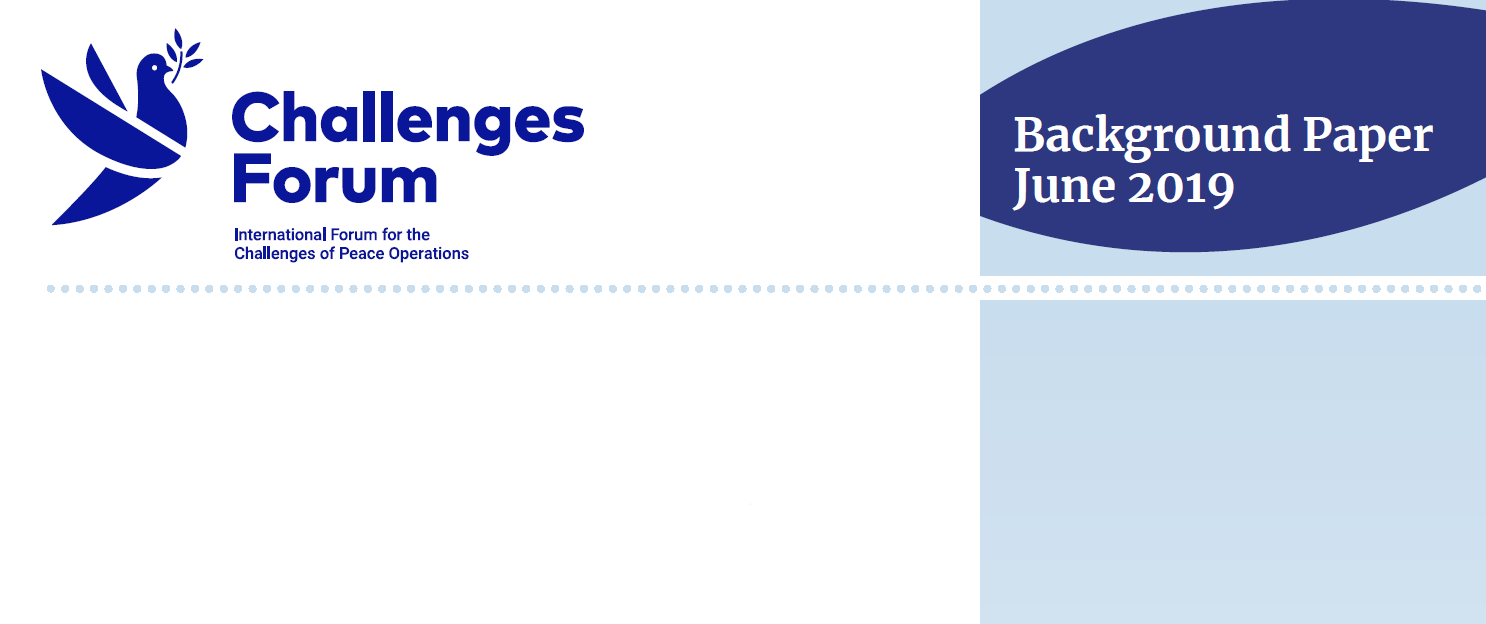 Complimenting a Leader-Centred Approach
By
Dr Patrick Sweet
, Geneva Leadership Alliance Co-Director
UN Peace Operations recently have placed increasing importance on characteristics, styles and practices of individual leaders of central relevance to leading peacekeeping operations. Effectively leading, however, is not solely dependent on 'the leader's' character or characteristics. Peace operations are contextually complex and volatile. No two operations are alike. Being effective means discerning what is 'solvable' from what is not solvable, and still making progress.
In this background paper, Dr Patrick Sweet, Co-Director for the Geneva Leadership Alliance, has summarised insights drawn from the Challenges Forum studies, that point to very specific dynamics in the field that all leaders and non-leaders face, but that are very tenuous to lead alone. The background lifts into the forefront: the art of seeing and leading recurring tensions. For peace operations to be successful they must lead polarity tensions, collectively. Doing so requires a complementary view of leading and the functions and actions of leadership for peace operations and in general.
These three areas are led in peace operations: Turbulence; Collectives of people (not only individuals); Polarities or tensions.
Leading Turbulence: Turbulence is a state, marked by seemingly random fluctuations in parameters. We compare turbulence to "change" where change is a process. Leading in a perpetual state of turbulence is different than leading a process of change. Leading change implies leading "from somewhere (the current state) to somewhere else (a new state)." One can argue that peace operations are about leading change: from violence to nonviolence.
Leading Collectives: Leading peace operations in the contexts from which they spring requires BOTH leading institutions to help create conditions for violence to stop (aka peace), AND the eventual transfer of authority and accountability from individual leaders to the engaged collectives, because only the collectives can hope to address and sustain peace. In the context of Rapid, Unpredictable, Polarised and Tangled (RUPT) events collective responses and collective leading are required.
Leading Polarities in Peace Operations: Polarities require reiterative efforts to create and maintain a space of equilibrium acceptable to all critical stakeholders over time. Think of problems or challenges as falling into two general classes: Technical problems and Adaptive challenges. 'Either/ or' (solutions') thinking is useful in resolving a specific class of (technically solvable) problems. Adaptive challenges, on the other hand, stay with us. You can recognise adaptive challenges when there is chronic, reoccurring crisis, tension, conflict, failure etc. One common element to all conflict (and its reduction or re-direction) is the presence of chronic tensions that perhaps are never 'solved' but rather recognized, led and sometimes (unfortunately all too rarely) transformed.
Leadership training emphasises individual competency. These are critical. Yet the competence of the teams to operate in complex and volatile contexts, facing classes of challenges that are not 'solvable problems' is not simply the sum of the parts of the leaders of the teams. Collective capacity to lead is required as well as a complementary mindset to that of 'all things are solvable'.
This paper presents an approach to how collectivism can lead in polarised contexts. It sheds a light on the nature of leading collectives, in turbulence and specifically leading polarities as especially challenging to more conventional views on what leaders, leadership and leading entail.
Dr. Patrick Sweet is Co-Director of the Leadership Alliance. Dr. Sweet was regional director for Northern Europe at the Center for Creative Leadership responsible for advanced leadership development programs in the region in close collaboration with EMEA CCL teams. He brings 20 years of programmatic business, organisational and leadership development to the Alliance.
Dr. Sweet has been co-lead in several EU funded programs focused on innovation and leadership, was European Developmental Lead for Korn-Ferry International's European implementation of leadership assessment tools developed by Dr. Sweet's company, and has coached, consulted and trained in Talent Management and Leadership Development with international, regional, governmental and non-governmental organisations in Europe for 20 years, and in the U.S. prior to this. His Ph.D. is in Business Economics from Lund University, Sweden, with doctoral and graduate studies at the University of Southern California and the University of Michigan, Ann Arbor.
Dr. Sweet is a U.S. and Swedish national. He migrated to Stockholm, Sweden, where he is based, from the U.S. in 1995 and is fluent in Swedish & English, with reading proficiency in Norwegian.