Women of the GCSP – A 20-year Journey as a Woman at the GCSP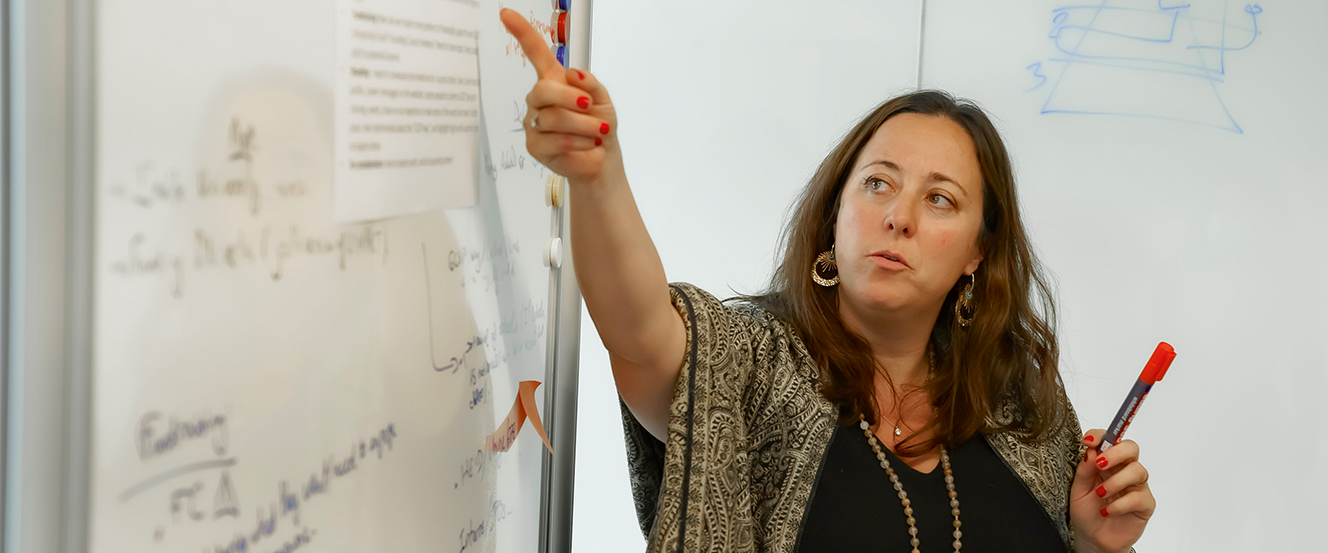 Women of the GCSP – A 20-year Journey as a Woman at the GCSP
On the occasion of the International Women's Day, the GCSP tells you the story of five women and how they are connected to the GCSP. The GCSP helps empowering women, discover how through their answers.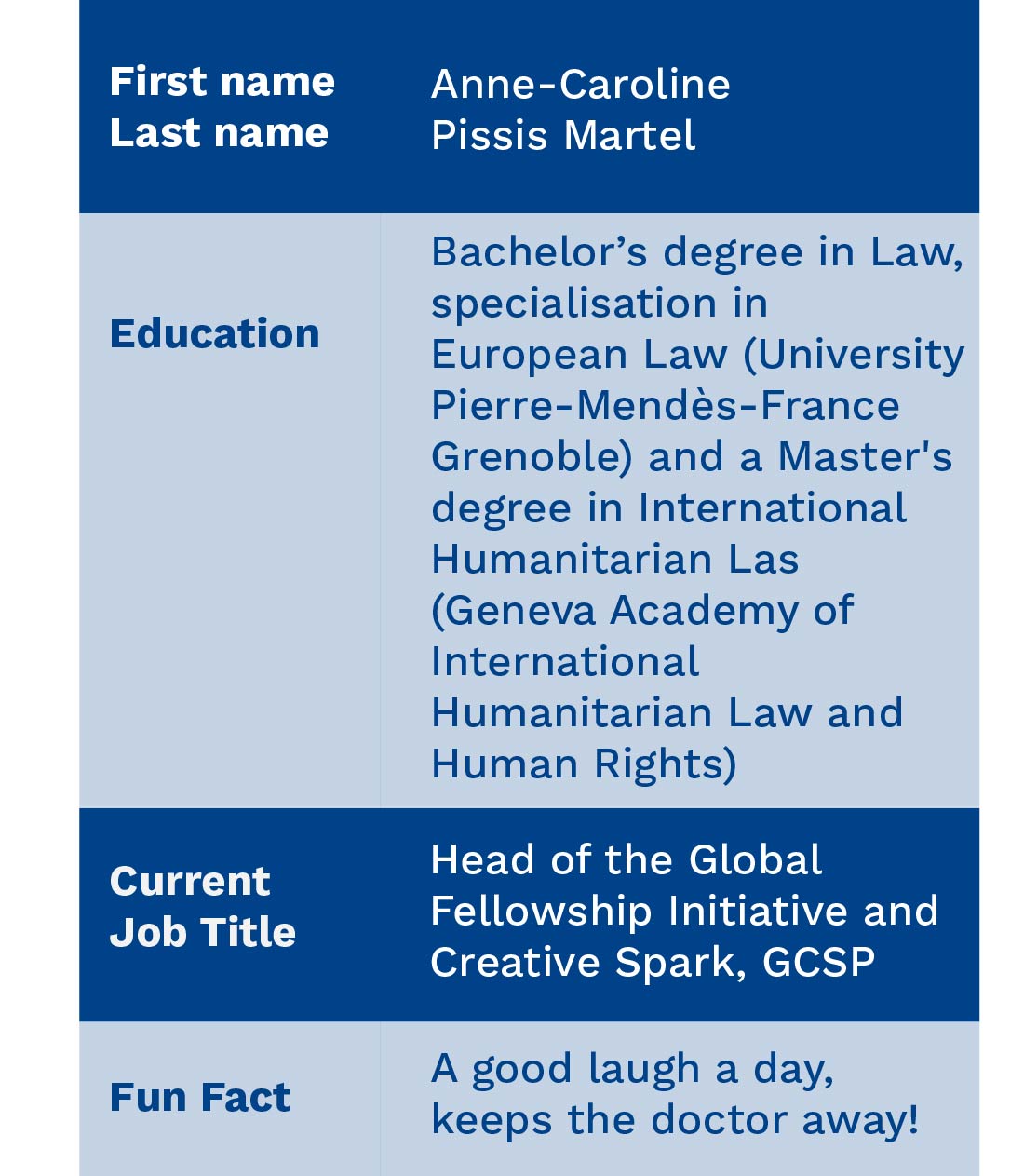 Discover a new story with Ms Anne-Caroline Pissis Martel, Head of Global Fellowship Initiative and Creative Spark at the GCSP.
Why did you choose to enter this field?/What got you into this field? 
I have always been an idealist. When I was a child, injustice and pain was something I would not accept. I could see so much of it around me! So, I studied law, to make sure I would not allow it to happen around me anymore. But being a lawyer did not suit my personality. I had big ideas and great expectations of how I could change the world. This is when I decided to work in international organisations, and I have not been disappointed since!  
What drove you to join the GCSP?  
To be honest, when I finished my studies, I wanted to go on the field. But all international organisations I contacted told me that I was too young (I was in my early 20's). So, I decided to give up my field dreams and find a job where I would make a difference in Geneva, while potentially having an impact in the field. In my search for the best suited job for me, I fell on an ad from the GCSP: become part of the special programmes of the GCSP! My background and GCSP's education, dialogue and networking activities for peace and security all finally came together! And this year marks my 20th work anniversary so… I guess it was a good decision to join the GCSP.  
How does the GCSP help empowering women? 
The GCSP helps empowering women on various aspects. Internally, our Director (the current one and the previous one) is a Gender Champion. As such, women are promoted and work in different positions at the GCSP. Externally, the GCSP offers leadership courses and workshops specifically for women empowerment. Finally, our Global Fellowship Initiative has a strong component for women empowerment as our Fellows are often great women leaders who have joined the fellowship to share their knowledge and experience.   
Why do you think it is important to celebrate International Women's Day?  
I think it is important to celebrate International Women's Day for three reasons: 1-raise awareness of women's equality, 2- celebrate achievements made so far in terms of gender parity, and 3- give hope to women who are still suffering from gender inequalities that better days will come. A lot still needs to be done so let's work together to make it happen! And not only on 8 March, but on all other days of the year too.  
As a woman, what are the most important challenges you have overcome to fulfil your role? How did you overcome them?  
As ironic as it may sound, even in Europe where women's rights are supposed to be well established, I have heard quite a few sexist comments during my career. The more recurring ones have to do with the fact that as a woman and a mother (I have two children), I would not have sufficient time to engage completely in a highly demanding work position that may require traveling long distances. Well guess what? They were wrong! I reminded those who suggested this, that I am lucky to have a husband who can be as good a father as their wives are a mother. And I worked hard and proved them wrong.  
What is your proudest achievement while working at the GCSP? 
In 20 years at the GCSP, there are many things that I am proud of. My daily job with the Global Fellowship Initiative, helping people transition from one field to another and grow in terms of expertise and skills is one of them! With the Creative Spark, making projects become real legal entities that have an impact in peace and security is another!  
What is the best piece of advice you were ever given? 
Ask for forgiveness not permission, this is the only way to launch new ideas and processes. Otherwise, you may be stuck in bureaucracy.  
What is the most important message you want to send out to young women thinking about their careers? 
You can be whoever you want to be! Just set you mind on the right objective and prepare yourself to reach your objective. Only when you are prepared, will you be able to see all the opportunities that are out there!   
How can we encourage more women to pursue entrepreneurship or senior leadership roles in the field of peace and security? 
I think women networks are one of many good ways to encourage women to pursue entrepreneurship or senior leadership roles in the field of peace and security. Through these networks, not only can women learn from each other's experience, but they can also promote and mentor each other. But women alone will not make a difference. Men need to take part in diversity and gender parity actions and facilitate access to these roles for deserving women. 
Check out the other stories in our "Women of the GCSP" series: