Women of the GCSP – Paving the Way for Future Women Leaders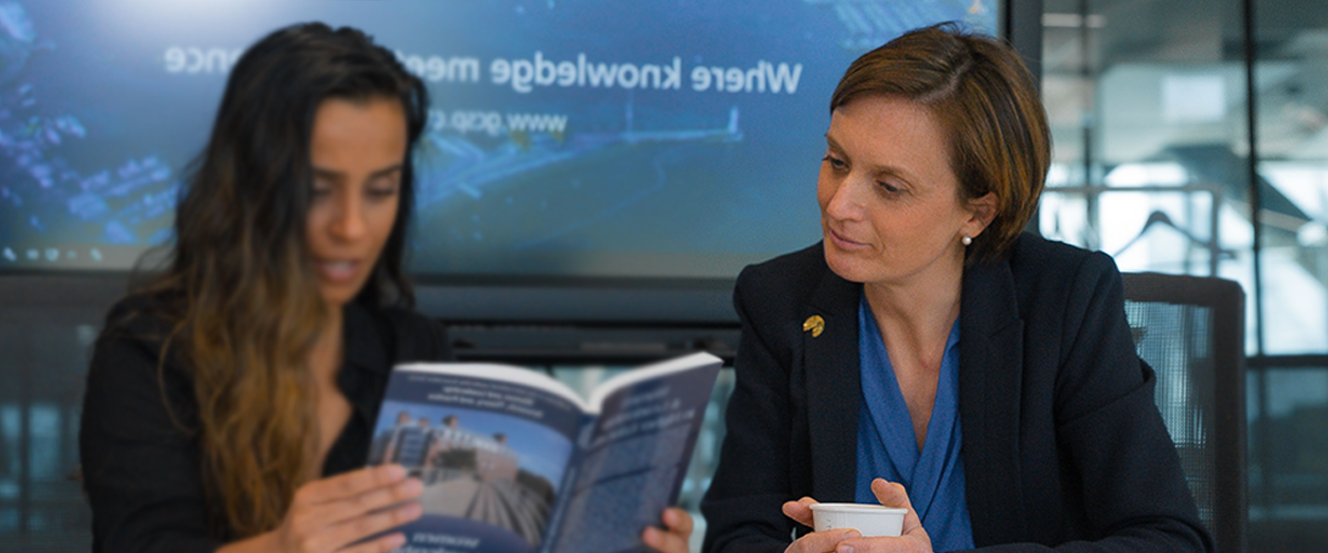 Women of the GCSP – Paving the Way for Future Women Leaders
On the occasion of the International Women's Day, the GCSP tells you the story of five women and how they are connected to the GCSP. The GCSP helps empowering women, discover how through their answers.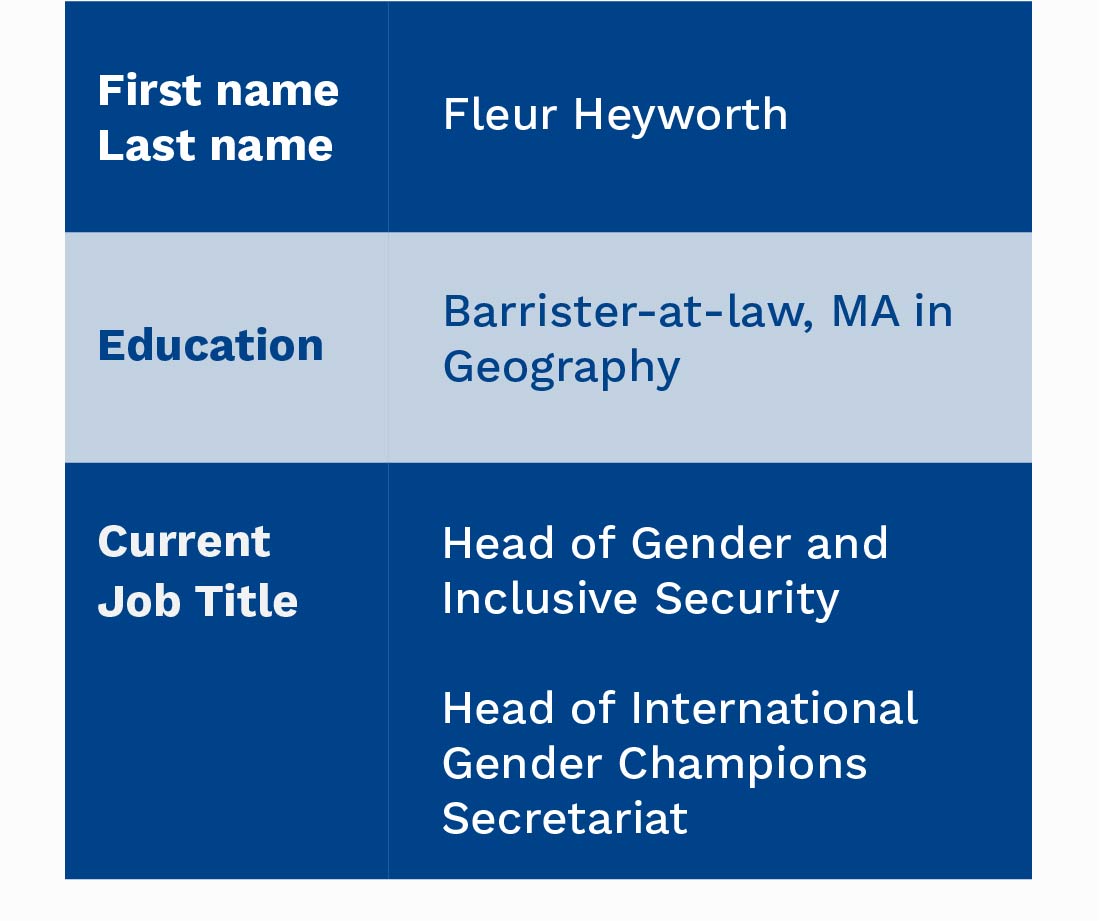 Introduction to Ms Fleur Heyworth, Head of Gender and Inclusive Security at the GCSP and Head of International Gender Champions Secretariat.
Why did you choose to enter this field?/What got you into this field? 
I have a non-traditional career path, initially practising as a Barrister specialising in family law in the UK, then working on human rights and international humanitarian law prior to joining the GCSP. As a Barrister in the UK, I was dealing day to day with cases of child protection, domestic violence and divorce and began to appreciate the social and structural factors which create vulnerability and inequality. I realised that the law provides one mechanism for working towards safety, equity and justice, but it needs to be complemented by shifts in mindsets, behaviours and practices as well as political commitment to responsive policies.  
What drove you to join the GCSP? 
The GCSP's Mission and commitment to continuous learning, dialogue and engagement are strongly aligned with my values. The chance to collectively shape policies and practices motivates me, particularly given my previous experiences. I also found that my role is aligned with my analytical and communication skills and offers the scope to grow new ones, including leadership, entrepreneurship and a deeper understanding of the barriers to and possibilities for peace and security in different contexts. 
How does the GCSP help empowering women? 
There are a number of ways that the GCSP is working to empower women in our courses and activities, and we also work to apply a gender lens to policy analysis. In our courses we aim to have gender balance amongst our speakers and at least 30% female participants, and we offer tuition waivers and scholarships to those who are from conflict-affected and fragile countries. We have also developed a range of courses specifically for women – both open access and customised with partners on areas such as mediation, and our leadership courses foster inclusive practices. In our dialogue activities Ambassador Greminger has made a commitment as a Gender Champion to: strengthen inclusivity of different genders, geographies and perspectives by consulting with women in the process design of all dialogue activities, including through bilateral meetings, and incorporate their perspectives; encourage parties to include women representatives and finally, to consult with peers to form a cross-hub Impact Group focusing on Women Peace and Security. 
Why do you think it is important to celebrate International Women's Day? 
Women's rights have been hard fought for over the last century, yet we are still 132 years from equality in political and economic participation, health and education globally, according to the World Economic Forum. In some countries we are seeing resistance, backlash and regression of rights as well as increasing gender-based violence. Progress is not to be taken for granted. We all need to reflect on our own position and how we each reinforce or break-down the barriers. Actions can range from creating a culture of respect and challenging outdated stereotypes and roles in our homes, workplaces and communities through to reforming laws and policies, investing in the care infrastructure and women and girls' health and education, closing the digital gap and creating opportunities for women's increased participation in decision-making at all levels. 
As a woman, what are the most important challenges you have overcome to fulfil your role? How did you overcome them? 
For me, the biggest challenge has been parenthood. When our children were born in the UK, my husband had 2 weeks paternity leave, childcare was expensive and neither my job nor my husband's were conducive to flexible working. I continue to find it hard to balance work and home life and it requires continuous learning and adaptation for myself. However, I am finding that I have a richer life for the challenge – I aim to nurture wellbeing for myself, my family and colleagues and be mindful and present when I am in each environment. I try to prioritise tasks for myself and empower those around me – including my children, to grow in their responsibilities and independence. And my relationship with my husband has grown stronger through our shared commitment to making both of our careers and family life happy and fulfilling. 
What is your proudest achievement while working at the GCSP? 
That's a tough question to answer as I wear two hats. For the GCSP it has been to see how our Inspiring Women Leaders course has taken off and proven to be valuable to women across the world in a variety of peace and security settings. Receiving positive feedback makes me proud of what we have achieved together. For the International Gender Champions, it has been to develop the Secretariat team's capacity, role in service of the network, and impact. 
What is the best piece of advice you were ever given? 
Take care of yourself and be kind to yourself. 
What is the most important message you want to send out to young women thinking about their careers? 
Seize the sparks that interest you and pursue them with passion and perseverance. Grit goes a long way (Angela Duckworth has a great book on the topic). 
How can we encourage more women to pursue entrepreneurship or senior leadership roles in the field of peace and security? 
Continue to imagine what a positive vision of leadership, peace and security mean to you and hold onto it. The first barriers we face are in our own minds. Once we have overcome those, it is amazing what possibilities open up to engage with and lead others. 
Check out the other stories in our "Women of the GCSP" series: